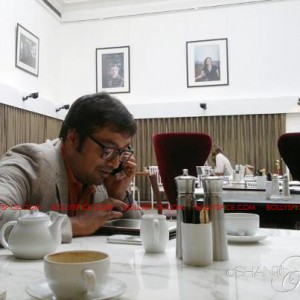 Anurag Kashyap's Gangs Of Wasseypur has certainly taken the world by storm and it in fact does not open officially in theaters until tomorrow! It premiered at the prestigious Cannes film festival and received a standing ovation. Last night, it had its UK premiere at the London Indian Film Festival and once again audiences were blown away with the power of the film. We were able to catch the director the day before the LIFF screening for a very quick chat about Gangs of Wasseypur.
What draws you to a certain subject for your films?
I don't know. It's always a wonder. Anything that I've not seen or heard before, anything that has not been done before excites me. It is just like when you see something new or experience something that you've never experienced before and like a child who goes through that and he's so full of wonder… that's what it is. That's what excites me.
What was it about the story of Gangs of Wasseypur that made you want to make it into a film?
The film is about this place called Wasseypur and this gang war that's been going on there for 60 years, 6 decades. It was the world of Wasseypur that was so exciting to me.
When I talked to Manoj Bajpayee, he said that GOW was very dark because of the violence that is just so much part of the characters' world, but also it was a comedy in many ways.
Yeah, violence is as much part of their life like eating food or having sex or sleeping. That's how much violence is part of their life. But yeah, it's kind of funny. It's funny without being slapstick. It's an extremely funny world.

Tell us about working with Manoj Bajpayee.
Manoj, I've worked with right from the beginning of my career. There was a big gap of 10 years we didn't work together. But this was a great way of getting back together.
Then you also have Nawazuddin Siddiqui…
Nawaz has been doing films for a long time but he's been playing these smaller character roles. He has never played any major roles before. He is outstanding in the film. Now he is doing so much. He has some nine films coming out this year.
How do you work with your actors to get them ready for the film?
Get to know them. We do workshops were we talk about each other, we talk about ourselves, everybody talks about themselves. I spend a lot of time with my actors, a lot of time talking with them, a lot of time hanging out with them. I need to know them as people. I need to know everything about them. It's very important that I know my actors inside out. Then we go to the sets and it begins.
The film is in two parts. What made you tell the whole story in 5hrs and 20mins and then divide it into two parts?
I was not conscience of those things when we began. I just wanted to tell the whole story and it didn't matter how much time it takes. I just went out and I made the whole film about the whole story and we put it together. It turned out to be 5hrs 20 minutes, so we made it in 2 parts. It was a very good experience making this film.
How long did it take to make GOW?
We shot for 100 days over 4 months. After that, we did 1 ½ year of postproduction – 15 months of postproduction and there was some 18 months of pre-production on the film. It's taken 3 years of our lives.
And now you are finally at a stage when it's out in the world. How do you feel now?
I feel good. I feel relieved that is finally over and it's getting out and people are liking it. At times there was uncertainty surrounding the film and suddenly everything changed after the first screening of Cannes. That was a big turning point.
Yes, I was just going to ask that it was screened at Cannes and got a standing ovation.
Yeah, it got quite a good response. It was crazy, that screening changed everything.
So why did you choose to premiere the film at LIFF?
It's a lucky festival for me. Last year I was here for my film Girl in Yellow Boots and it got sold for UK release and Dev.D was premiered before that. So I like the festival. I like the people involved with the festival.
The music is incredible. Can you tell us a little bit about creating the sound?
Sneha spent three years on the sound of the film. Music was the first thing we started on the film and she went looking for the sound. She's not from Bihar and we wanted the sound to be very rustic rooted so she did a lot of research. She and her songwriter, they traveled across the state recording in every village, town, whatever local folk songs they sang, getting traditional lyrics from here, from there, voices from every village. We actually found a lot of first time voices from small town, villages, of Bihar.
What do you think of Hindi films today in general?
Hindi films are going through a big change. Hindi mainstream is being defined. You know five films this year have been big hits which did not have big star, which was not your general films, Paan Singh Tomar, Kahaani, Vicky Donor, Shanghai, and Ishaqzaade. It's going through great change. I am very happy about it. Audience is changing, everything is changing.
What are your hopes for Gangs of Wasseypur?
I'm just hoping that the Indian audience loves it as much as the Western audience. They've just loved it in Cannes and Sydney Film Festival and New York. I hope the Indian audience is equally crazy of the film. I want them to be ecstatic about it. If they are, I'll be very happy.
Gangs of Wasseypur stars an eclectic and impressive cast including Manoj Bajpayee, Tigmanshu Dhulia, Nawazuddin Siddiqui, Reema Sen, Huma Qureshi, Richa Chadda, Syed Zeeshan Qadri, and Jaideep Ahlawat. It opens on June 22nd, and this is one we think you must check out! Be sure to stay tuned for our review and report and even more from the director exclusively from the screening at LIFF coming up later today!