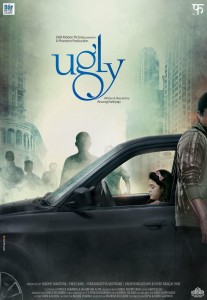 Critically acclaimed writer, director, producer and screenwriter Anurag Kashyap's movie Ugly, released in France today. Ugly has been receiving rave reviews for its brilliant script and amazing performance.
The film has left the audience and critics in France impressed with its sheer brilliance. Movie reviewers have labelled it, 'a black diamond that should not go unnoticed,' also terming it, 'A gem of Indian independent cinema', 'the film is a major work that immerses the viewer,' and a 'visceral experience'. The movie has been doing the rounds of various international film festivals including Cannes and New York Indian Film Festival. At Cannes 2013 too, the film opened to a huge critical acclaim.
Director Anurag Kashyap has once again proved his aptitude in cinema churning out one good film after another.
Ugly is an emotional drama with an edgy thriller element. The film revolves around three main characters; Bose, Shalini and Rahul and how the turmoil of their past has collided with their present and the subsequent collateral damage which is the situation to be dealt with.
Ugly is directed by Anurag Kashyap and stars Ronit Roy, Tejasvini Kolhapure, Rahul Bhatt, Vineet Singh, Girish Kulkarni, Siddhant Kapoor & Surveen Chawla. The movie has been produced by Phantom Films and Dar Motion Pictures Ltd.