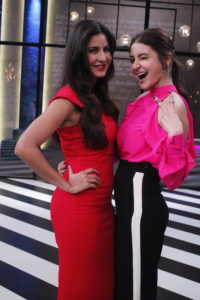 Move over boys because the girls have arrived! After being discussed, rated and analyzed in almost every episode of Koffee with Karan this season, Bollywood beauties, Anushka Sharma and Katrina Kaif, will finally grace the talk show together to brew a storm on the Koffee couch. And by storm, we mean a whirlwind of fun and madness that will leave the otherwise cool, calm and collected Karan Johar having a meltdown in the midst of the show, a first in Koffee history!
The next episode of Koffee with Karan season 5, which will air on Star World and Star World HD on Sunday at 9 PM, will see these actresses being candid like never before even as they gang up against Karan. From admitting that the polls about her bothered her enough to stay away from appearing on the show to making some startlingly funny revelations when she discloses that Varun Dhawan and Arjun Kapoor actually had a club called the 'I hate Katrina Club', Katrina is at her charming best. And even as Anushka denies that she is equally as bad as Katrina, she causes Karan to have a meltdown as she twists and overanalyzes his question about whether the actresses have ever thought about choosing stability over passion in a relationship.
The comfort and rapport of the two actresses is evident as they rag Arjun Kapoor, who is back in his third appearance this season, this time for the 'Kiss With Arjun' session. From Anushka jokingly calling him a bigger continuity than the Koffee couch to Katrina donating the Koffee hamper to him as charity, Arjun is left speechless and in splits between the two girls.
So come catch all the fun and conversations with the two, in Karan's words, 'crazy' actresses and the maestro himself – Karan Johar – on Koffee with Karan Season 5 every Sunday at 9 PM only on Star World and Star World HD.