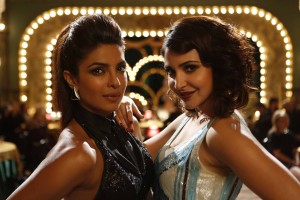 Coming fresh from the stables of Dil Dhadakne Do is another riveting, high-on-energy song called "Girls Like To Swing". The soundtrack has been composed by the musical trio Shankar-Ehsaan-Loy, while Sunidhi Chauhan has lent her voice to the number. The lyrics have been penned by Javed Akhtar while the chorus has been sung by Crystal Sequeira, Shannon Donald, Vivienne Pocha, Gwen Dias, Keshia Braganza, Suzanne D'Mello.
Fans of Anushka Sharma will see their desi girl twirl and swing effortlessly to lyrics like "Girls like to swing.. swing..Zara aage nikal ke.. swing..Naye rango mein dhal ke.. swing"… Accompanying her briefly on the dance floor is diva Priyanka Chopra where the two put on a great show and ooze ample chemistry.
The song is shot in a vintage style and has a great tempo. Along with Priyanka and Anushka, fans will get to see Ranveer Singh enjoying the Gatsby-esque performance by the divas.
Priyanka Chopra took to social media to share her excitement about the song: "#GirlsLikeToSwing much awaited song from Dil Dhadakne Do, stay tuned to "Swing" at 4pm today".
Ranveer Singh also took the opportunity to tweet: "You gotta see this! Coming right up at 4pm #GirlsLikeToSwing #Dil Dhadakne Do.
While Shefali Shah called it a "fun track", Anil Kapoor playfully tweeted: "If these #GirlsLikeToSwing, you know you'll like it too!
Dil Dhadakne Do is a bittersweet comedy drama about a family that takes a trip that changes them forever. Kamal (Anil Kapoor) And Neelam Mehra (Shefali Shah), one of the most popular couples in Delhi society are entering their 30th year of marriage. This is an occasion that calls for a lavish celebration in their circles. Kamal and Neelam take these social responsibilities very seriously and invite close family and friends on a 10 day cruise of Europe. Once on the ship, their lives start to unfold. Kamal is heading to bankruptcy; Neelam and him can barely tolerate each other. Their business savvy daughter, Ayesha (Priyanka Chopra) is sick of her marriage and wants a divorce, which leads to a lot of drama with her husband, and in laws who are also there. Their son Kabir (Ranveer Singh), who is slated to take over the family business and hopefully save the company by marrying the only daughter of the wealthy Sood family, starts to have other ideas. He falls in love with an entertainer (Anushka Sharma) on board the ship and realizes he is not cut out for business after all.
Will the Mehra's socially sink? How will they be able to confront the society that is so fake and judgmental? How will they swim to shore and survive as a happy family? This is what Dil Dhadakne Do is about.
The film is presented by Junglee Pictures and Excel Entertainment and produced by Excel Entertainment. Dil Dhadakne Do is set to release internationally on June 5, 2015.