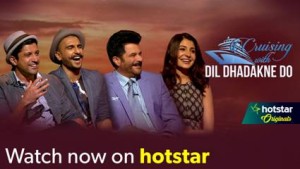 "When we worked together four years ago for Band Baja Baraat, Ranveer used to be very anxious and hyper on set; he used to do weird things," Anushka Sharma, who was his co-star in the film, has said. "I used to be amused earlier by his behavior. But now he is calmer, less anxious. He's a better actor now." Anushka shared this interesting piece of information in an exclusive and entertaining chat show shot for mobile audiences to promote the forthcoming Farhan Akhtar-Ranveer Singh-Anushka Sharma-Anil Kapoor-Shefali Shah starrer film, share their inner most secrets on an exclusive promotional video capsule for Zoya Akhtar's keenly awaited film Dil Dhadakne Do, which follows the phenomenally successful Zindagi Na Milegi Dobara.
The chat show, Cruising With Dil Dhadakne Do, shot exclusively for hotstar, will be available from Friday, 29th May 2015 for 15-million-plus mobile users, to tell them about the film and its stars. It features the actors in free-wheeling, entertaining conversations sprinkled with reminiscences, jokes, memorable experiences from both, life and the making of the film. The entire episode is full of fun  interactions through which fans will also see the stars really let their hair down and speak.
In a rather amusing beginning to the entertaining episode, Ranveer is seen joking with host Cyrus Sahukar saying that since the episode is being shot exclusively for the digital medium, he can say anything he wants, use any words he wants, including swear words! At this Anushka quickly reminds him of what had happened the last time he did that online!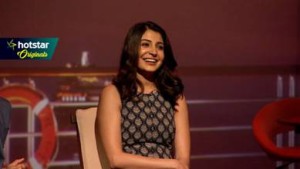 Did you know that Ranveer wanted to sing a song in the film, and was annoyed that they didn't allow him to sing one? He tells this to Cyrus Sahukar in the episode, and Anushka pipes in to say Ranveer wanted to sing only because Farhan and Priyanka had sung a song in the film!  Ranveer and Anushka break into song too, and at one point, Ranveer defends his desire to sing by saying he thinks he has great potential as a singer, but it remains untapped. However, Cyrus and Anushka are seen giggling on Ranveer's statement.
Ranveer takes off on Farhan Akhtar, whom he describes as the biggest photo bomber around. "Wherever a photo is being shot, you will suddenly find Farhan in the picture! Always, Farhan!" he says.
Ranveer also launches into Anil Kapoor's obsession with checking his own hair in a mirror several times between takes, and hilariously mimics the senior actor's style and mannerism of doing a quick mirror check, to the great amusement of the other stars. 
The stars also reveal their favourite pickup lines, and on another topic, enact how desperately they have tried to a co-star with bad breath a mouth freshener.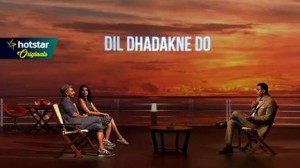 One being asked whether the stars were hounded by co-passengers on the massive cruise liner the film was shot on, Anil Kapoor says, "Most of the travelers on-board the ship were European,  so no one really bothered us. In fact, it felt like the co-passengers were the stars and we were the fans!"
Anil also shares that he was amazed to see that Ranveer Singh's luggage had literally rows upon rows of protein supplement containers!  To this Farhan adds that Ranveer was probably looking to do a side business on the cruise!
Catch all this and much more on Cruising With Dil Dhadakne Do – exclusively on hotstar. Premieres Friday, 29 May 2015, and features Farhan Akhtar, Ranveer Singh, Anushka Sharma, Anil Kapoor, Shefali Shah and Cyrus Sahukar.