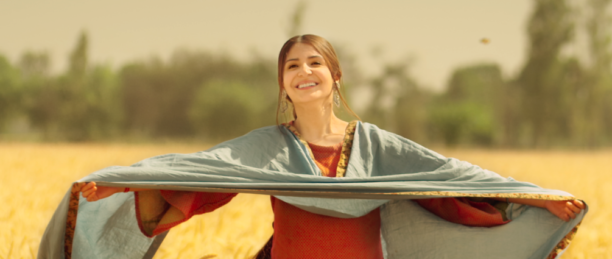 Set to release on March 24th is Anushka Sharma's Phillauri. Ever since the first look, through the trailer and the songs the feedback from fans and critics has been nothing but positive. In fact, people can't wait to see this film!
The story revolves around a young man who has come to Punjab to get married, but a local priest says he will have to get married to a tree first in order to combat the bad setting of his stars.
The tree happens to be the home of Shashi's (Anushka Sharma) spirit. Incidentally, the young man ends up getting married with the spirit. And what happens next, well you will have to see the film to find out!
Anushka is quite happy with the "encouraging response" from the industry and said, "I feel very happy when the audience and industry people say good things about Phillauri."
The actress is playing a ghost bride in Phillauri and says, "It was fun to play a non-living character because normally we play characters which are in the flesh and it's boring to portray a living character in each film. You should keep doing a different thing. I think I've represented the ghost community well."
The actress ventured into production with 2015 thriller NH10 and for her banner's (Clean Slate Films) second project they are presenting Phillauri. When asked about what she enjoys the most, she shared, "I enjoy both. I have realised that when I have too many responsibilities on me, I perform better. Acting and producing both are very different things. Like when I am on set I just do my job and when I am producing a film I have to collaborate with ALL, right from the inception of a film. Both are going well for me."
Directed by Anshai Lal, the film also features Diljit Dosanjh and Suraj Sharma and is releasing on March 24th.
Watch this exclusive #PhillauriKiKahaani as Shashi, as who has won over your hearts, takes you through the journey of Phillauri. Here's the Chapter 1 of the story that travels through time. The story of Shashi the bride… in spirit – dead and alive!