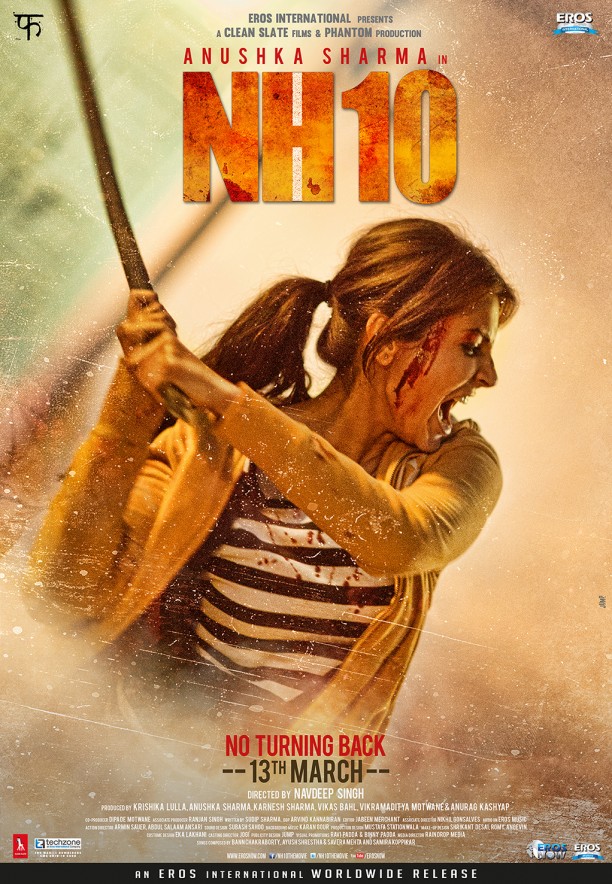 When the first poster of Anushka Sharma's NH10 hit, audiences knew that this was going to be something very different from the actress. Then we saw the first trailer, and in just those few minutes we were blown away by Anushka's powerful performance and could not wait to see the full story when the film released.
Directed by Navdeep Singh (Manorama 6 Feet Under), NH10, which hits theaters this Friday, is a very edgy, gritty thriller. The drama is essentially a story of survival and courage – of how a woman stacked against all odds manages to not just stick it out but take matters in her own hands and fight back.
Not only is Anushka starring in NH10, the actress was so excited and passionate about this film that she came on board as a producer with her new banner Clean Slate Films, joining Eros International and Phantom Films.
In a short but very cool and open interview, Anushka Sharma talked to Stacey about NH10, how playing this character and the intense scenes affected her and so much more!
What drew you to this film as an actress?
I was very excited by the originality of the subject. I had not read anything like this before. This is the kind of storytelling that attracts me. I was able to imagine this world while I was reading this script. I knew I had not seen something like this before. I really think it is a very original idea. Also because I was getting a very, very exciting and challenging role.
This is certainly something different for you, did you have any reservations, especially since you have to get very angry and also play very scared, going into this space and this character?
No, not really. As an actor while preparing and working on this film I really understood the journey of this character enough to be able to enact all that. So I really didn't have any reservations, but yes, it was challenging for me because you need to be completely in the character and in the moment. I have to say this has been one of my most difficult roles, if not the most difficult.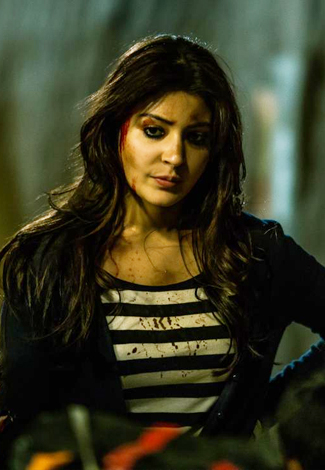 How do you put yourself in a place and really let yourself go to play the scenes where you are hurt and scared?
The film really follows her character and her struggles. Our director Navdeep Singh spoke to me about some real life incidents that might have happened to try to kind of engage me and to make me think of it as if it was something that happened to me. To try to put me in that space enough for me to be able to feel that kind of fear… the worst that one can imagine. It was all really because of Navdeep's guidance.
Did you have a hard time coming out of those scenes?
It took me sometime to get out of the film. It definitely was quite hard on me. One particular incidence was that I would actually feel quite low for a couple of days after shooting one very intense scene in the film. You know, it really did take its toll on me emotionally and mentally. But I was very happy to be able to give that much for a film like this.
You had to do some stunts for the film, tell us about those.
It is very real action. That is a little harder to do because you have to make it look like it is happening then and there. It couldn't look like it is choreographed action. I was just doing the training I was doing and keeping up with it. I was just trying to make sure I had enough strength, endurance and stamina to be able to sustain myself through the shoot. I would work out according to that.
Did you find the stunts hard? What was your experience shooting them?
It was hard. It was very tiring; at the end of the day I would feel very tired. I would feel completely bruised and battered. But, you know, during that time there is this high and you are so excited to be doing it and playing this role and that this is your career that you kind of just let go.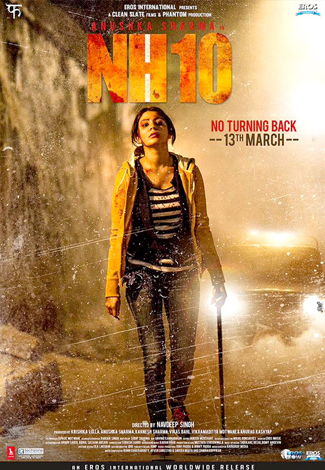 Tell us about working with Navdeep Singh, especially as a debutante and as you said it being such a different film.
I love Navdeep. He studied and has worked in the US. I think his sensibilities are very different. This is essentially a very Desi film in essence and story, but the way he has made it is in a very Western kind of view, like the way he looks at things, the way he has presented the scenes, and the storytelling is kind of designed that way. It is very interesting because it is a nice color combination, you know the story is very heartland of India but the shots that he has taken and the feel are more Western. It is very nice because it is that edgy unique sensibility that he has that has entwined those two very well in this film.
The music is very cool; it has that jazzy undertone that I really liked. Would you say it is more of a background score?
Yes, yes exactly.
What are your thoughts on the music?
I thought it was really nice. Like you said, it had that jazz feel to it and I thought that was very, very exciting. The music is a big plus point in the film and you will see that when you watch the film. Yes, it is the background but it is setting the tone and giving that edge, you know? Kudos to Navdeep for really thinking out of the norm.
So it is your first film as a producer, what would you say about the experience?
It has been good – it has been great! We have all collaborated together. I think it is a very honest film. It is very unique. I am very excited because we have faith in this film. When the trailer came out the response was very good. Now we are just awaiting the release and are very excited to see what the audience thinks.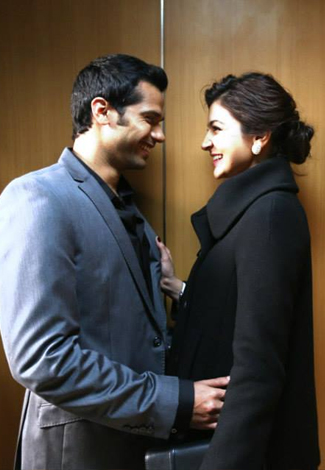 What do you think audiences are going to say about NH10?
I am guessing they will say it is a very different film and that is something that I think people take out of it. It is an illusion idea. The kind of diversity that the film shows within our country, I think that is very exciting. It is kind of inspirational to see a person kind of stand up for themselves and fight back. I think it is great.
What kind of films do you want your production house to be known for?
We like to pick up unique ideas. We like to do stories that have not been said or done before. We want to think out of the box definitely. I think that has just always been the way I have been. I always like to do emotional stuff, things that excite me, different things that have not been done before.
Between my brother and me we have shared some good ideas, like different things and we share the same sensibilities. You can definitely expect very exciting different films from our banner.
What are you most proud about about NH10?
I think I am proud that we made a very good film. I am proud that we have made something different. It is always hard to make something that's different, you know, because we always tend to fall prey to a pattern. With this film we have tried to and have manage to do that, at least that is what we think… let's see if the people feel the same way.
Do you a have message for your fans out there who are looking forward to seeing you in this film?
First I want to thank them for all the love. You know this is something I have always said, I have always promised my audience that I would give them different films, and to play different roles and I think that with NH10 I have done this. I hope that they like it and enjoy themselves.
NH10, which also stars Neil Bhoopalam and Darshan Kumar, hits theaters on March 13th.