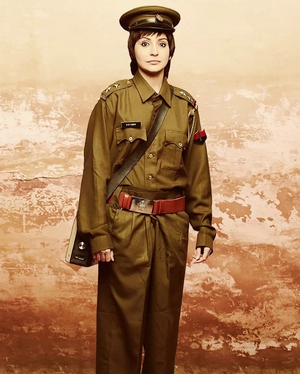 Since the very first motion poster and with each new poster reveal, the trailer, the stills and now the song promos we have been eagerly awaiting to enter the world of Rajkumar Hirani's PK. We only have small idea of what PK will be, since Hirani has kept the story under wraps and has only given us glimpses into the tale we will see unfold on December 19th. We do know that PK is a comedy of ideas about a stranger in the city, who asks questions that no one has asked before. They are innocent, child-like questions, but they bring about catastrophic answers. People, who are set in their ways for generations, are forced to reappraise their world when they see it from PK's innocent eyes. In the process PK makes loyal friends and powerful foes, mends broken lives and angers the establishment. PK's childlike curiosity transforms into a spiritual odyssey for him and millions of others. The film is a simple and humane tale of love, laughter and letting-go. Finally, it is a moving saga about a friendship between strangers from different worlds.
Fans are eagerly awaiting for the film to hit the big screen so they can finally get the answers to their questions about Aamir Khan's PK and who he is, how Anushka Sharma's character fits into the intriguing tale, and in the end what will we take away with us when the screen finally fades to black.
Though she could not reveal much about the essence of her character and the film, because as she says, they want you to discover the film when you see it, Anushka Sharma did give us some wonderful answers about working on PK and so much more in this exclusive interview. It was a fabulous and fun conversation so check it out!
What was your first thought when you heard the narration for PK?
I was very overwhelmed actually. I was crying throughout the movie narration and I was laughing. Honestly, I couldn't imagine how it would be when you actually watched the film, with this script turning into a film. It was wonderful. He [Rajkumar Hirani] is a very good narrator. This script and the writing are the most important things to him and Abhijat Joshi, what they write, their scenes, their lines. I would say even now, they are still thinking that we can do this or add one scene there, even as we are dubbing. They are always trying to get the best out of themselves. I could see that and I could hear that when I was hearing the narration of the script. It is a bulletproof script if I can say so myself.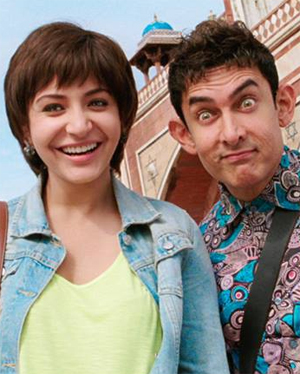 What can you tell us about your character?
I am not at liberty to talk about my character.
I was afraid of that…
And I do like to talk about it. As an actor it is a pleasure to talk about my character but with this film they are not letting me reveal things about my character. And you know what, I feel with this film it is really nice if people don't know too much about the film and then just go and watch the film and they discover the film for themselves. I think when you discover something without knowing too much about it is always more special.
The lead up to it and the little looks and glimpses into the characters and world of PK that we've gotten are intriguing…
Yes, I think so far there's no real clue to know what is coming. You don't know what is going on in the film. It started with the posters and now it is happening with the teasers and promos and it's just to maintain that curiosity in people. But I am sure everyone can guess from whatever they have seen so far it's going to be a fun film. It is going to be a proper Rajkumar Hirani film.
How was it to act opposite Aamir and especially with him playing someone, who from what we have seen so far, is a bit off?
It was lovely. I think this is Aamir's best performance so far. It's always wonderful to see such good work. There would be times when I would just start laughing because there would be lines that he is speaking where it would be very difficult for me to keep a straight face. It was really nice. You enjoy the process more because while you are shooting the film you know what is coming and you know you are part of a fun scene and it is amazing. I have never experienced something like this before.
Tell us about working with Rajkumar Hirani.
He is really, really particular about his scenes and especially about doing the right thing. He is always a little anxious about getting the shot right. He is just so particular and a real pro. It is really sweet and nice to see that he doesn't take himself so seriously. I think that is a wonderful quality in him. After being so successful that you can be that way and if you can treat people the way his does, it is really something that is commendable. It is lovely.
Do you think he brought out something different in you as an actress?
I think so. I definitely think so.
And you probably can't tell me what that is?
I really can't tell you about it much but we were able to achieve what we went out to do.
Tell us about creating the look for your character and finding who she was…
When he was narrating the film to me and after he was done we were discussing it and it was probably within just 10 minutes that he said I want to do something different with you. I was cheering that because as an actor you want look different with every film. You want to be fresh with each film. We worked on it a lot. I think it was 10 completely different looks we tried out. We were focusing on that and getting the right kind of look. I was shooting for another film so I could not cut my own hair so we went with a lot of wigs. We tried reading glasses and nose rings and many other things. Would she dress up girly or is she a tomboy or in between somewhere, what was she like? We did like few look tests and then finally we came to this look and we all loved it. I am glad that people are loving it.
Do you have a song on replay from the music of PK?
I love 'Chaar Kadam' and 'Dil Darbadar' also. So right now only PK songs are being played in my car when I am driving.
And that is especially good because you heard them playing over and over again while you were shooting for the songs sequences of the film.
You never get bored of them.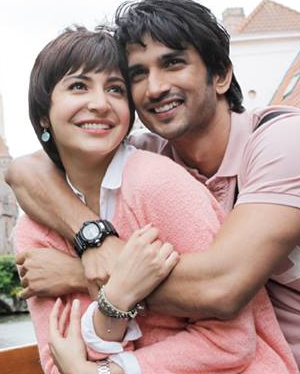 Speaking of 'Chaar Kadam', you also star opposite Sushant Singh Rajput. What was it like to work with him?
It was really nice. I didn't know Sushant before we shot for this song. I think sometimes you feel like you really match as actors and that's what happened with Sushant and me. I could gauge how he would approach a scene and how he would act. It was very easy actually. We really slipped into playing those characters very easily. It was a lot of fun. He's a very young actor and he is a very dedicated actor. He has some really good films coming up I think and I wish him well.
How would you describe PK if you had to describe it to someone? Well, with what you can tell us… (We both laugh)
If you have liked all the films that Rajkumar Hirani has done then you must come and watch this film because it is even better than what he has done before.
What do you love about being an actress?
I like the fact that I don't have a monotonous life. Every few months I am doing something new, I am working with different people and playing a different role so I am experiencing a new different world. Then I go to another film and then it is all new again. I don't think you can do that in any other way. And to me that is what is most exciting. Because when I was a kid I wanted to do everything… I wanted to be a journalist, I wanted to be a doctor, I wanted to be a pilot, I wanted to be everything … and I think as an actor you get to do that, you know? You get to be a lot of things. I think that is what I love about being an actor that my job is never boring.
Looking back over your career so far, what would you say?
I would say that I have done what I have always wanted to do. I wouldn't change anything about my career so far. The coming year is very, very exciting for me. I am working with the best directors in the country. I am just thrilled because that is exactly what I wanted to do. After I did Band Baaja Baaraat I made a list of directors I wanted to work with. I still have that list on a wall in my house. I am working with a lot of those directors. It is all going really well and it is going as per my plan. I am very, very humbled by it.
Can you tell us anything about NH10 because you have turned producer as well as starring in it?
Yes! You know it is just a very, very good script. I was very excited by it. While I was talking with them about it, I just thought it would be really interesting to do this job, to produce a film. I have always wanted, in the back of my head, to produce films. This one just made it really easy and interesting for me to get into it. I think it is the next release after PK. I think we will have lots to talk about when I speak to you when we come closer to that release. So far I am really happy that I am doing something other than acting because I enjoy doing different things and I enjoyed my experience as a producer. It is not very beautiful and glamorous and nice but it is good. I think I learned a lot about movies through that experience. You know you are very protected as an actor you really don't get to see everything.
A message for your fans out there?
I just want to thank everyone who has always supported me so far. I just hope and wish I can continue entertaining so that you continue loving me forever!
Along with Aamir Khan and Anushka Sharma, PK also features performances by Boman Irani, Saurabh Shukla, Sushant Singh Rajput and Sanjay Dutt.