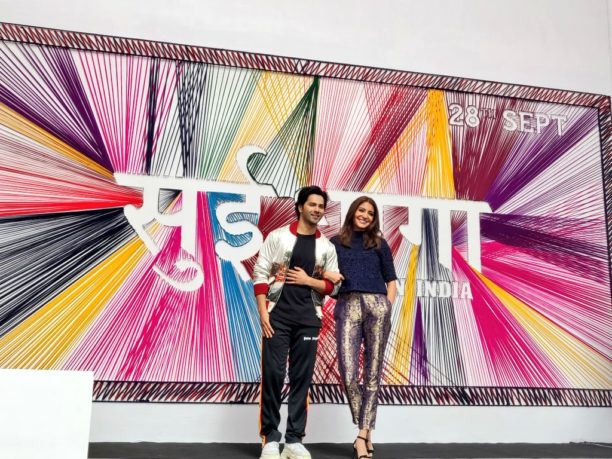 Anushka Sharma and Varun Dhawan have had fans eagerly awaiting the trailer of upcoming film Sui Dhaaga. Influenced by India's 'Make In India' campaign, Sui Dhaaga tells the story of Mauji and his wife Mamta as they work hard for a living that will earn them respect.
The pair hosted a Made In India event to launch the highly anticipated trailer. The event took place in India and the stars took time to answer questions about the film. Speaking about the response they have received so far, Anushka said "Both Varun and I are very thrilled with the response to the trailer, Sui Dhaaga is a film which celebrates entrepreneurship."
Many stars have come out in support of the film since the trailer has been released, including actress Bhumi Pednekar and producer and director Karan Johar.
Karan Johar took to Twitter to show his support, tweeting "For me undoubtedly one of the best trailers I have seen this year! Texture, language, strong messaging and the promise of brilliant performances!"
A film about finding love and respect through self-reliance, starring Varun, who plays a tailor and Anushka as an embroiderer, Sui Dhaaga – Made in India is a heart-warming story that is rooted in the Indian milieu and celebrates the spirit of self-reliance. The film's plot is inspired by the Make In India campaign launched by India's government. Both champion actors, Varun and Anushka have been paired for the first time and are one of the most awaited on-screen Bollywood jodis(pair)of 2018. The National Award-winning, dream-team of director Sharat Kataria and producer Maneesh Sharma seem to have taken the bar of perfectionism several notches higher with the looks they have crafted for their leading actors. Yash Raj Films' entertainer Sui Dhaaga -Made in India is set to release on September 28 this year.
It is safe to say that the world cannot wait to see Anushka and Varun in action.
Plus ICYMI here is the trailer, which has already hit of 13 million views on YouTube

And some more shots from the launch