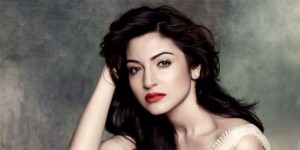 She made a huge splash in her debut film Rab Ne Bana Di Jodi and from her first shot everyone could see why she was the one chosen to star opposite The King Shah Rukh Khan. Anushka Sharma has continued to impress with each new role and is still going strong. In fact, she is now working hard on two films that boasts fabulous co-stars, two of the best directors in Bollywood and are on many a fans' list of 'Films I cannot wait to see'.
The actress just finished a shooting schedule for Vishal Bhardwaj's dark comedy Matru Ki Bijlee Ka Mandola, which also stars Imran Khan. Talking about the film she said in an earlier interview, "I think our film is every entertaining it is like a dark comedy. I think it is Vishal sir's most commercial project if I can say so. The movie's cast is exciting – there is Imran Khan, Pankaj Kapur, Shabana Azmi."
Talking about Matru Ki Bijlee Ka Mandola and Anushka, Bhardwaj said, "I have had the idea for this comedy in my head for a long time, almost 8 years. It's a totally new genre and completely different from what I have done in my previous 7 films. Anushka, I would say that she is a ball of energy and I am looking forward to shooting with her."
Anushka says she was nervous to take on such a different role, "For me, it was a little different. The kind of films that I have done was different from this one. I was nervous in the beginning, but I think it's going really well."
With nothing but praise for Bhardwaj, "He is one director who is known to take out the best from actors," Anushka adds, "I am really happy to be working with Vishal Bhardwaj. He really is a genius director."
Next up on her schedule beginning May 2nd, is Yash Chopra's still to be titled film and the young actress is ecstatic to be part of the cast, "Not only am I working with Shah Rukh Khan again but also working with Indian cinema's one of the finest filmmakers ever Yash Chopra"
Talking about being paired opposite SRK once again, she says she feels really lucky, "I didn't think I will get a chance to work with Shah Rukh again after my first film, but I did. I am the lucky one."
Of course, she is thrilled to be working under such an esteemed director as Yash Chopra, " I think it is any actor's dream to work with Yash Chopra. Mr. Yash Chopra is an institution in himself literally. I guess I would get to learn a lot from that film."
Besides these two projects we hear rumors of films opposite Aamir Khan, Ranbir Kapoor and SRK again but none confirmed as yet so we will have to wait and watch.
We will be bringing you all the best news about these projects and more so stay tuned!