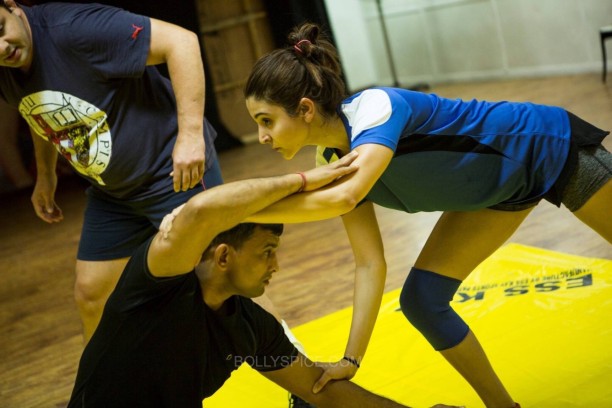 Since we first learned that the upcoming film Sultan not only stars Salman Khan and Anushka Sharma but that the film will be centered around wrestling we have been very intrigued. Directed by Ali Abbas Zafar, the film is set to release Eid 2016.
Now we know that Salman Khan has been rigorously training for his role but we have now learned that Anushka Sharma is training just as hard! In fact, the young actress took on the physically demanding challenge of learning wrestling for her forthcoming film 'Sultan' with gusto.
Anushka made it a point to train and prepare for 6 weeks before shooting for the film. She practiced for long periods of time regularly and tenaciously followed a fitness regimen to live the part of a wrestler to her best abilities.
The film's director, Ali Abbas Zafar, was very impressed and complimented Anushka's efforts when he said, "Anushka's dedicated 6 weeks wrestling program has drastically changed her body language and has also transformed her body into a very authentic looking wrestler."
Anushka's wrestling trainer Jagdish Kaliraman who couldn't stop praising about her said, "Anushka ma'am is very hardworking and she has a lot of will power. Wrestling is a very tough game but in spite of it being so tough she is very confident and always wants to be the best at it. She observes every move that we show her very carefully and after showing her maximum two times she exactly knows what to do. She is such a big superstar but she is so humble, down to earth and extremely sincere towards learning the art form of wrestling. She gave her 100% for the training and always up for learning more and more and to be the best at it. Wrestling is a very rough and tough game which needs a lot of stamina for which she has worked a lot in the gym to be best at it. When people watch the film they will know that Anushka ma'am has put in so much hard work and has moulded into the character so well."
The actress took to twitter to thank her trainers to get her ready for the mat!
On my way to the shoot, Thank you to these amazing teachers/ pro wrestlers (1/2) pic.twitter.com/Wbss2XUzN3

— Anushka Sharma (@AnushkaSharma) March 11, 2016
From whom I have learnt the sport (wrestling) over the last 6 weeks ???? grateful for having teachers like you'll ?? (2/2) @SultanTheMovie

— Anushka Sharma (@AnushkaSharma) March 11, 2016
Check out another cool pic Anushka's wrestling moves!