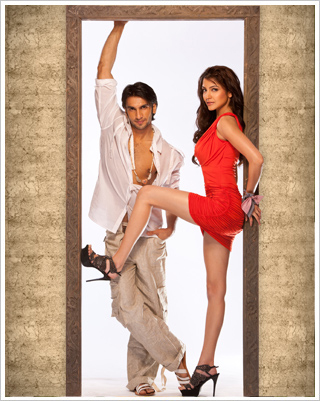 Anushka Sharma is getting back in the media lights with the promotion of her upcoming film Ladies Vs Ricky Bahl getting under way, however thats not the only reason why the media are taking interest. Since filming started on Band Baaja Baaraat, Anushka and her co-star Ranveer Singh have been romantically linked together despite the two rejecting any claims, and again in an interview the actress looks to set the story straight. Let's read what Anushka has to say about the men she is rumored to date and the women she hates
You refused to wear a bikini for Ladies Vs Ricky Bahl? Why?
I need to make every character I play believable. So I decide my dresses accordingly. Yes, there are films where girls wear revealing outfits for just the heck of it. Sorry, Ladies Vs Ricky Bahl is not that kind of a film.
But you did bold scenes in Band Baaja Baraat and Badmaash Company. Are there objections from your family now?
Not at all. I see it as a job and my parents see it as my job too. And I am not doing what I do on screen in front of my parents. My parents are very intelligent and broadminded. I come from an army background. In fact, I am more orthodox than my parents.
People believe that you have become anorexic.
Rubbish. I am very tall. 5′ 9″ to be precise. This means that if I really put on weight, I shall start looking like a giant. I don't have the tendency to put on weight. (Pauses)
Go on…
After seeing me in Rab Ne Bana Di Jodi, people got the wrong impression. In the film, they made me look bigger. I have always been a lean girl. And for heaven's sake, I am not anorexic. Anorexics eat so little. Watch me eat and you shall know (laughs)!
It's also said that you travel with an entourage.
Well, I know of actresses who do. But I don't. Only my Man Friday Babu travels with me.
At an awards function, you asked for a vanity van as big as Shah Rukh Khan.
Firstly, we had been given rooms and not vans. I cannot compare myself to Shah Rukh even in my dreams. There was an actress who wanted a room as big as SRK's but I shall not name her.
It's said you don't get along with Sonakshi Sinha.
Untrue. We are fine with each other. Are we are supposed to be at loggerheads because of a guy (Ranveer Singh)? It is so immature to fight with another girl for any guy. As I said in Karan Johar's chat show, she is free to have Ranveer because I am not dating him.
But you were dating Ranveer at a point in time?
We never dated each other. We are very good friends. But we are two very different individuals. I am a restrained person. He is totally opposite. It's not possible for us to date. Yes, we are very fond of each other. But at the same time, we can even beat each other up. We have a very volatile friendship.
We heard you didn't like Ranveer getting close to Parineeti Chopra.
Ridiculous. Please do not embarrass two of my co-actors. And let's respect women.
Is Parineeti a friend?
Gosh! Can't I defend her on moral grounds?
But Ranveer said in an interview recently that he and you have drifted apart.
Probably we weren't shooting together in those days. So there might have been less communication.
So are you and Shahid Kapoor dating now?
Am I not supposed to be dating almost everybody currently? I am dating Shahid. I am dating Arjun Kapoor. I am also dating Ranbir Kapoor. Baba, I am single. I am 23, isn't it natural for me to go out with my friends? Shahid, Arjun and Ranveer are my closest friends. I still don't know Ranbir well enough.
Out of Shahid, Imran, Ranveer and Ranbir, who do you think is the best looking?
1 Shahid and 2 Imran
And the hottest?
(Smiles) Ranveer.
Something about the four actors' flip sides.
Shahid wears his heart on his sleeve, he trusts people too easily. Ranveer is a spontaneous actor, yet he goes methodical. He drinks four litre of coffee every day. Imran is intelligent and has a dry, wicked sense of humour.
Out of the four, whom would you want to be marooned on an island with?
Ranveer (smiles). Since I know him the most, we will find our way back quickly.
Ladies Vs Ricky Bahl will see Anushka and Ranveer Singh pair up again in the Yash Raj production after the success of their first film together Band Baaja Baaraat. The music is currently on sale with the film ready for release in December.