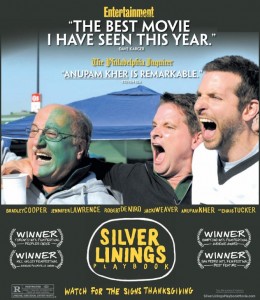 Mr. Anupam Kher is one of the most esteemed actors in Indian cinema and has also made a name in the British, Canadian and Hollywood film industries with his roles outside of Indian films. Recently, Mr. Kher was honored by The Hollywood Reporter as one of the 5 Best Asian actors, but more on that in a minute. The actor was in New York last week for the premiere of his new high profile Hollywood film David O. Russell's Silver Linings Playbook, which also stars the incredible cast of Bradley Cooper, Jennifer Lawrence, Chris Tucker and Robert De Niro. Yes, THE Robert De Niro and THE Anupam Kher! After the premiere we had fabulous, inspiring and enjoyable conversation. Read on to see what he told us about the film, working with that incredible cast and how all things are possible!
Tell us about how the role in Silver Linings Playbook came about.
I have an agent in London and she sent me a mail that David Russell wants to audition you on Skype. Now, I had never done Skype ever before in my life and at that time I was shooting in a village in Rajasthan in India. Over there no one had even heard of Skype so there was no way I was going to get any help from the local authorities about using Skype. I had recently seen David Russell's Fighter and I was completely bowled over by that film. I didn't want  the lack of not having Skype in a village be the interference between me and David Russell. I turned the whole world upside down and told my manager in Mumbai I don't care how but we need to have Skype. In the neighboring town, Jodhpur, we got Skype but unfortunately the sound was missing. David came on the line and he saw me but he couldn't hear me so he said let's postpone it. I was depressed and I said 'Oh My God technology is going to be the main problem for me for this role'. I went to Toronto for the film festival for Breakaway and I was supposed to do the audition again there from my hotel. I was staying at the Four Seasons. There was this Bangladeshi room service guy who was making tea for me at that time and I was supposed to do the Skype in the other room. So I had set it up. Everything was done and when we started again. There again was some technical error of the voice. I thought this is not destined to happen to me but I wanted to try and then fail rather than not that I was unable to do it. I think David was a little impatient and he said why don't you just shoot it today and send it to me now. Now the Bangladeshi guy who was making the tea was a fan of mine. He saw me depressed and he said, 'What happened sir?' I said, 'I have just lost out the possibility of getting a role with David Russell.' He did not know who David Russell was. I said, 'I have to shoot the tape and send it to him but how will I shoot it now? I don't have any means to do it. I'll have to go out and buy a camera'. He said, 'Dada, (in India dada is called elder brother), I have an iPhone, I will shoot you and I will send you the link'. He was very sincere. I said, 'You will shoot me with your iPhone?'. He said 'Yeah, yeah dada I have an iPhone'. So there I was, a so called Indian actor with 400 films, with awards, with international recognition being shot by a Bangladeshi room service guy on an iPhone. And to add his own flavor he's telling me 'Action dada'. (You can hear the smile). Then he shot it and he said 'Cut dada…' and within half an hour he sent me the link. And that is the video and link that decided that I am in the film.
It's amazing. The title of my autobiographical play that I do in Hindi is called Kuch Bhi Ho Sakta Hai, which means Anything Is Possible. So I always lead with the philosophy that anything is possible.
That's so cool that he was able to do that for you.
Yeah! I think it's because he did it with so much admiration, love and warmth, I think part of that got transmitted to my link and it worked. I must thank him for that.
Tell me about who your character is in this film.
The film is about Bradley Cooper. His mother, who is played by Jackie Weaver, brings him out of the mental institution after eight months. His father is Robert De Niro. As part of his parole when he's out of the asylum he has to visit a therapist and I happen to be that therapist. Basically, the film is about dysfunctional people. It's about a person who is bipolar. What I think David has tried to do through his film, of course it is in the novel as well, is that he says that bipolar people or people with OCD are to be treated with lot of love and warmth. In today's world the people we think are abnormal are more normal than normal people. There is a lot of warmth in the film. My character is also dysfunctional which you discover in the end; there is a major twist to him. The story follows how through me there is a certain change in Bradley's character's life. Because there is a change over in the end and because Bradley's character becomes a little better I think there is an importance added to my character in the film.
I wanted to start this film as a newcomer. I totally forgot that I have done so much work because it was important to start from scratch. Sometimes when you are confident you can never be brilliant because if you know that and if you start with this much confidence you will think I will do it, I will manage it, etc. etc. I just wanted to start from scratch. Also I don't think in English, I think in Hindi and the dialogues that I have they are not conversational dialogues necessarily, even though they are spoken like that. I had to be a therapist who is talking in a certain language, saying certain things. So I had to translate Hindi to English and then make it happen as if this is the way I speak. It needed a lot of focus. I decided that I don't know anything. I went back to my drama school thinking about my first Hindi film. I thought what I need as a therapist in the role is that people should believe that this man is absorbing everything that Bradley is saying. He does have a certain kind of authority and he does have a calmness about him. So it was more of an internal journey as an actor rather than an external journey.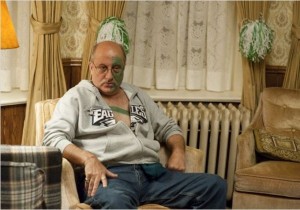 That must have been fascinating.
I loved it. I loved the process because I think it's so wonderful to educate yourself. As an actor I felt that when you work with complete newcomers, newcomers as in people you haven't worked with before, then you are in a new arena, you are representing your country and you want to give your best. It also gives you an opportunity to constantly look at various aspects of your performance. Sometimes you want to be physical and want to impress the world or sometimes you don't have to do anything and just listen to the other person. All those thing could only come because I needed to clean my slate as an actor before I started this film. So that was my preparation.
Cast and Crew
You know I was working with an unbelievable set of actors, producers and directors.
David Russell
David was a dream director to work with as an actor.
Bradley Cooper
Fabulous. I think he is like a crawling tiger on the sets. He's hungry as an actor. Every actor wants to reinvent themselves and I think he's in the phase of reinventing himself and he was on an edge in terms of positive energy.
Robert De Niro
Then there is Robert DeNiro and even though I don't have many scenes with him in my mind I was saying, 'Oh My God, I am sharing screen space with Robert De Niro, an actor that almost every actor has worshipped'. So again I went back to my roots from a small town in India and now I am actually in a film where Robert DeNiro is featuring, I thought to myself Anything is Possible.
Jennifer Lawrence
She is an amazing actor.
It is an A-list of people and you have no other alternative than to give your best.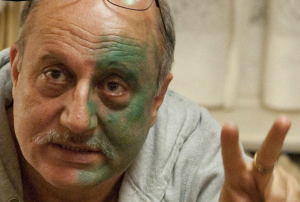 Each day on set must have been amazing…
Yes, and even when I was not working I used to go on set just to watch people. It was wonderful.
The film has been given rave reviews, and it won an award at the Toronto International Film Festival…
Yes, it was amazing. This film has gotten unbelievable response from the audience and the critics.
What is the impression of Indian films in New York, in Hollywood and around the world?
I think for a long time we were called a cinema of dance and singing, they called our films musicals. But over the last 3-5 years the perception is changing. I have no issues with our films being called musicals because I think by nature Indians are larger than life. Everything is loud for them, their laughter is full blown, we like to eat. We are a country where there are 28 official languages and there are 2028 unofficial languages. We are country where every 500km there is a different cuisine, there are different costumes, there are different habits and there is a different culture. But what unites the country is song and dance because that does not need to have any language. We are still a young country and it is very important in the initial stages when you get independence that what you just want basically to happen is that this cinema is representing life and life is beautiful. I do sometimes feel that the West's concept of Indian cinema is only that they dance and sing and they are not 100% respecting it, but that is all right, I have no issues with that. Life and time change that. Today, India is called one of the most happening countries in the world so I think time and happenings change perceptions.
That is what I love about it… the song the dance, the celebration and the happy…
Yes, exactly. We go to the streets when someone dies, we celebrate death as well. Before, movies were made for a certain kind of audience who have too many issues in their lives and so for the two-three hours they went into the cinema it was to forget their miseries. Now with the onslaught of millions of satellite channels, globalization and everything the audiences are educated so we are making different kinds of films, but at heart we will remain what we are and we should.
Yes, please!
Exactly!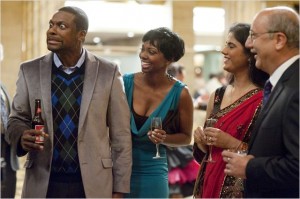 You were recently named as one of the best Asian actors by The Hollywood Reporter, how did that feel?
(Chuckles and you can hear the smile) I don't hide my excitement. I am thrilled about it. I don't want to play subtle. I don't want to play 'Ohhh this is so nice of them'… No, it is amazing, I am excited. I think this is the best thing an actor can ask for. The article says that these are the five best actors if you want a global success in a global film. So it is not only for the best talent but also they are saying that to make your movie a blockbuster use one of them. They are in a brilliant way endorsing not only the acting capability but also the popularity and the dependability of the actor. It was great honor! I was ecstatic.
You also have Midnight's Children coming up, releasing in December. Can you tell us about that project?
Yes, I have about 2-3 scenes in the beginning of the film. It sets the pace of the film. I did the film because Deepa called me up in the last minute and she said I want you to do this film and because I don't take myself so seriously as a person or as an actor I said I will do it for her. And I am happy that I did it.
What other films do you have coming up?
I don't have any English language films coming up as of yet but I am sure there will be. There are one or two scripts but until things materialize I don't want to fly high. The best thing that Silver Linings Playbook will do is give me a certain kind of visibility over here in the US and it will give me a certain kind of respectability. It is a very important film. It has an Oscar buzz about it. It will be talked about. I have a starring role and I have got top billing in it. I will be more accessible to people in terms of my face. But again, work only will come when it is required. You know if a role like this happened 10 years back I would have been running down the streets of New York saying 'WOW' this is what has happened to me. I think I am much calmer now. I am much more comfortable with myself. I am happy that my book on life coaching is in its 10th edition in 10 months. It is so remarkable. I am happy running my acting school. I do motivational lectures. I speak on social issues and that can only happen when you are comfortable with yourself. So that for me is a golden lining rather than silver lining… (laughs)
When I first saw Mr. Anupam Kher in Bend Like Beckham, Bride and Prejudice, and DDLJ, I never imagined I would be interviewing him! NEVER; but, as he said, his play's title is that Anything is Possible, and I would have to agree. Mr. Kher is one of my favorite people to chat with: I always walk away from our conversations inspired and smiling. I am so honored and thankful that I have had the opportunity, and wish him all the best.