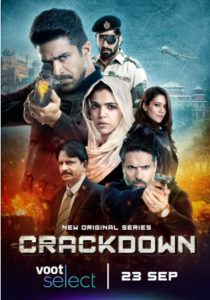 Crackdown (Voot)
Starring Iqbal Khan,Saqib Salim,Sipriya Palgaonkar, Rajesh Tailang
Directed by Apoorva Lakhia
Crackdown, the new suave series on RAW activities,treads on a familiar ground—RAW agents with problems amongst themselves trying to protect the country from terrorists with scars running across their cheeks with dastardly ambition to match.
But this one does it with style. If you have seen Apoorva Lakhia' large-screen projects you would see he has a knack of filming arresting action scenes. Crackdown too has its share of heart-in-the-mouth fights where our brave hero Riaz Pathan, aka RP(Saqib Saleem) carries out impossible rescue missions, many of these involving a pretty , economically challenged workingclass girl Divya(Sirpriya Pilgaonkar) who is coerced into playing a RAW agent to nab a dangerous terrorist.
Divya's drill to prepare for her role as an undercover agent(burqa and all) conveys a tone of casual urgency. Pilgaonkar brings a workinclass sincerity to her dangerous mission.She isn't much into posing, and that's a relief. Her muted burgeoning romance with 'RP'(Saleem) is less convincing than her covert operations to save the world from scarred ghouls.
I saw more chemistry between Saqib Saleem and Iqbal Khan(the latter playing the former's RAW superior) than between Saqib and Pilgaonkar. Iqbal with his booming baritone and pronounced personality. brings much muscle to the plot which tends to get a wee malnourished at times.
Lakhia and his writers(Chintan Gandhi, Suresh Nair) keep the proceedings purposely minimal. There is no hurry here to catch the next shootout. The characters get plenty of time and space to converse and bring out their inner misgivings. Specially engaging are the barbed exchanges between Iqbal Khan and Rajesh Tailang as two RAW rivals whose professional animosity threatens to spill over into their professionalism.
Tailang has an amusing sub-plot to himself where he can't bear to see his daughter marry her wimpy fiancé who goes by the name of Mehak. "How can any man named Mehak look after our daughter?" Tailang asks his wife (the underused Eakavali Khanna) who gently reminds her husband his name is Ashwini.
I looked for more such moments where the soldiers are shown in their pyjamas. Lakhia has always preferred heroes in fatigues. No sign of any fatigue as yet, thought. Crackdown cracks down its terror-triumph trajectory with confident steps until the climactic fight on an airport runaway where the hero rips off his shirt without warning.
Salman Khan has a lot to answer for.