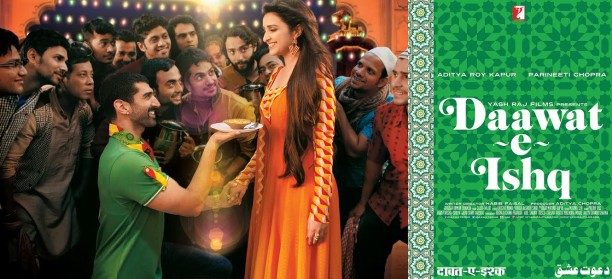 The deliciously romantic music from Daawat-e-Ishq is now ready to be served!
From the ever so talented music duo, "music chefs" Sajid-Wajid with delectable lyrics by Kausar Munir comes a Daawat to savour 6 flavoursome tracks and one aromatic instrumental with generous measures of qawali which instantly envelope you with the zesty cultures of Hyderabad and Lucknow:
Daawat-e-Ishq – A fresh and modern Qawali with a beautiful amalgamation of the bulbultara and a rock grunge guitar
Singers: JAVED ALI, SUNIDHI CHAUHAN
Mannat – Fall in love with the tunes of the romantic rebab played with a very soulful Arabic composition
Singers: SONU NIGAM, SHREYA GHOSHAL, KEERTHI SAGATHIA
Reprise Singers: SONU NIGAM, SHREYA GHOSHAL
Rangreli – A very festive dance track celebrating the vibrant colors of love!
Singers: WAJID, SHREYA GHOSHAL
Shayarana– A soft and indulgent Rock ballad with dreamy lyrics
Singers: SHALMALI KHOLGADE
Jaadu Tone Waaliyan – A passionate union of Rock and Sufi… a Sajid-Wajid masterpiece!
Singer: SHABAB SABRI
Daawat-e-Ishq (Instrumental)
Arranged and Produced by: HITESH MODAK
Arrive at a "tuning-setting" Sajid-Wajid style as the sizzling pair of Lucknow ka Aashiq, Tariq, Aditya Roy Kapur and Hyderabad ki Tez Gulrez, Parineeti Chopra, make their own masaledaar albeli rangreli pichchar… Daawat-e-Ishq!
Produced by Aditya Chopra, the film is written and directed by Habib Faisal. Watch the first delightfully delicious title song from the album here:
This new age "Rock Qawali" will leave you mouth-watering and lip-smacking for more!
Stay tuned to the yrfYouTube Channel for the full album – out tomorrow! Go to a music store and grab it fresh off the shelf – CDs & MP3s in stores tomorrow!
Watch Love Happen Over Food on 5th September, 2014.