Apur Panchali, director Kaushik Ganguly's homage to renowned Bengali director Satyajit Ray's Apu trilogy, is all set to win over a whole new generation of British cineastes when it premieres at the world's best cinema, the British Film Institute's prestigious National Film Theatre 1 on July 14and subsequently at the Cineworld Wembley on July 15 as part of the 5th anniversary celebrations of the London Indian Film Festival.
The event is being held in association with the Satyajit Ray Foundation and the screening will also honour the Foundation's Founder and Chairperson Pam Cullen, a dear friend and tireless advocate of Ray during his lifetime, and former member of the Free India Movement in her younger days.
The President of the Foundation is Mrs Bijoya Ray and the Vice President is Sandip Ray. The Foundation's Patrons are a glittering array of film personalities including Lord Attenborough CBE, Julie Christie, Saeed Jaffrey OBE, Suresh Jindal, Asif Kapadia, Shashi Kapoor, Sir Ben Kingsley and Mike Leigh, amongst others.
The objective of the Foundation is to ensure that the work of Satyajit Ray, India's most outstanding filmmaker, is shown and appreciated and that his particular vision, artistry and humanity remain an example and inspiration to the generations of filmmakers and the film-going public.
The UK Premiere of the magnificent Apur Panchali, is a perfect match for the BFI. Based on the life of child star Subir Banerjee who played the immortal role of Apu in Ray's Pather Panchali (1955). After screening at the Cannes Film Festival in 1956, the film has subsequently played at the National Film Theatre, so the story is a welcome home, for the Song of Apu.
Top Bengali star, Parambrata Chatterjee, who was in Sujoy Ghosh's blockbuster Kahaani, alongside Vidya Balan, essays the role of Subir Banerjee. Parno Mittra plays Ashima, Subir Banerjee's wife in this film. The film uses several minutes of footage from Pather Panchali in its narrative.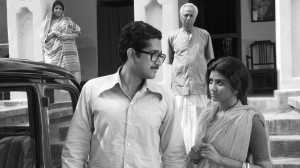 Apur Panchali Synopsis
One of the greatest child characters in cinema history is the little boy Apu in Satyajit Ray's Pather Panchali (Song of the Little Road). Kaushik Ganguly's heart-touching, jewel box of a film is inspired by the real-life actor Subir Banerjee, who played the young Apu. 58 years after Pather Panchali a film student goes in search of Subir. He carries news that a German film festival are keen to honour Subir, but the student discovers a reticent older man, whose life has ironically reflected the tragic character he played. With sparkling character performances and intercut with Ray's Apu trilogy, this film is cineaste heaven.
This gorgeous song sung by Arijit Singh, from the film, has been most appreciated: http://youtu.be/Rm0lQRu5hxY