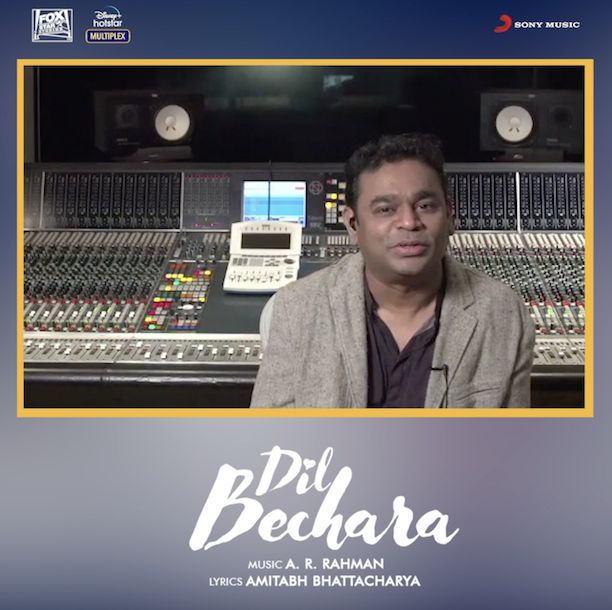 Directed by Mukesh Chhabra, Dil Bechara starring the late Sushant Singh Rajput and newcomer Sanjana Sanghi, premiered on Friday, July 24th on Disney Hotstar. Dil Bechara is the official remake of 2014 Hollywood romantic drama The Fault in Our Stars based on John Green's popular novel of the same name. Dil Bechara is the story of Kizie Basu and Immanuel Rajkumar Junior or Manny and explores the funny, thrilling, and tragic adventure of being alive and in love. Together Kizie and Manny embark on an on-off-up-down-sad and sweet profound journey into the heart of that crazy little thing called life. It teaches them what it means to feel truly alive and fall in love.
Right before the digital release of the film, maestro AR Rahman took time out of of his busy schedule to talk with members of the press about the music of Dil Bechara in a very special virtual Zoom event. Hosted by Tommy Sandhu, the digital Q&A was attended by over 40 journalists from the UK and around the world.
BollySpice was part of this amazing call and we have a special report. During the almost hour long call, the composer gave some incredible insight into the inspiration of the music for the film, including highlighting the creation of the title song 'Dil Bechara', as well as 'Taare Ginn', 'Khulke Jeena Ka' plus so much more.
We have a couple special videos from the event plus some fabulous quotes that the AR Rahman gave in answer to questions from Mr. Sandhu as well as other members of the press. Read on!
First up is a short video on the inspiration behind the music

Talking about the songs of the film he said, "You can feel the melancholy in the music whether it is a happy song or a sad song. The whole soundtrack has a romance and a little bit of melancholy."
Mr Rahman spoke on not only creating the title song, 'Dil Bechara', with director Mukesh Chhabra but also the song sequences with Sushant and choreographed by Farah Khan, "'Dil Bechara' came and when they first heard it they said it was kind of slow but it works. It has it a kind of bounce. When I saw the choreography and how Sushant excelled in it was amazing. It was one shot. I felt like I never had seen that before in Indian cinema. It is slightly slower and they brought so much energy to it. Farah Khan did amazing choreography. He [Chhabra] made it a masterpiece."
He also touched on choosing Mohit Chauhan to sing for 'Taare Ginn'. He said that originally the song could be for Arijit Singh but the director really wanted Mohit to sing the song. So he told Mohit okay sing like you are Andrea Bocelli and said he did a fabulous job. Here's more on the song
Mr Rahman also mentioned that originally it was just in Mohit's voice but then later added added Shreya Ghosal. Since the film was delayed due to lockdown and he did have the time he kept working on it. One of the most interesting things he revealed is that he would go out to his car and listen to it to see how it sounded and if anything needed changed or another mix or layer needed to be done. In fact, in the end 'Taare Ginn' turned out to be one of the favorites!
Talking about the instrumental 'The Horizon of Saudade' (a personal favorite) he worked on that one quite a lot too. "That one is the theme from the movie. When we composed it was very patchy because in the movie they only use part of it. So I went back to it, extended it and tried to make it very satisfying for the album. We worked very hard on this track."
Asked about working with lyricist Amitabh Bhattacharya he replied. "He's so good! He is one of the most sought after lyricists. You know, we would just jam. When I work with people I want something else to come out of me and I want to bring something else out from them so then we can create something unique. So for the song 'Khulke Jeena Ka', he wrote these lyrics which I love. It is today but still has a sense of nostalgia."
The music is very unique with a nostalgic and a modern flavor intertwined in many of the songs and Mr. Rahman spoke about his process in creating this musical space. "I was listening to what was going on. There is really cool stuff going on. I was thinking why should I do music for this movie and what should I bring out from this movie. There are so many good people out there. So I was trying to do things that would push me to rise up. So I went to that zone. Here is a movie that has so much emotion, so much heart in it – this is a movie you can do that in. In this movie here the two characters are mingling together. They are suffering together. They are celebrating together. They are complimenting each other. There are so many lessons to learn from these two characters. This movie actually celebrates that kind of love and that kind of a positive energy. So that gave me the courage to do this."
In another question he continued with this theme of the characters, "From the beginning of my career I though there were three movies I thought I would never do and this one is comes under that category. My father died of cancer and my mother in law died of cancer. In everybody's family there is somebody whose been affected by this. But when you see the characters, they teach you how to rise above that fear. They teach you how to stay positive and be something. That is the beauty of this script and and the beauty of the interpretation that Mukesh ji has done. Naturally it is a love story, but this is a different love story since it has 2 people who are challenged. Life is challenging them and what they are doing is very charming. The charm is what we have taken along with the melancholy which is another layer to this movie."
In response to creating music for film, Mr Rahman replied, "Doing film music is tough and very, very simple at the same time. Our music with its Hindustani and Carnatic traditions is very rich. So, when a film maker comes and says this is the kind of movie it is and this is what we need – it becomes how can you inject beautiful things and how can you inject complexity in it so it has got harmony and things that will resonate with the whole world. How can you put all these things into the movie and into what the director wants. For a composer, I always think how much classical music can I put in. I always want to inject something beautiful. So can you inject counterpoint harmony, great harmonies and vocals – these are things which subliminally you can put in so that it makes more. Whether it be Hindustanti or Carnatic or classical you can use that to educate and I try to use every opportunity to do that. The old classic filmmakers used to bring this all back because of the richness of the composition. So, that puts pressure on the composers of now and that is my challenge. So, it is not as simple as it looks. Can you bring in all the stuff in the movie? When you embed it within a scene it takes the scene to another level. Movies are a marvel!"
About singing for his films he said with a smile, "I mostly try to avoid singing and especially as a music composer and producer you don't want to take opportunities from other people. But when they specifically ask me and they ask me three or four times I think they really want it so I say let me try. Then I will check to see if it is good enough. I sang it for Mukeshji he loved it and kept it."
So what are his thoughts on seeing his music coming to life on film. "It's cathartic actually. See I work on many different genres of movies I do sometimes dark movies, and I do others which are not like this. It has become a rarity that I am doing romantic movies. I was doing Viceroy's House and I was doing a couple of other movies like Mom from Sri Devi Ji, which is a dark movie in a way. I love to do movies like this often but then the right scripts and the right projects have to come to me. So in this case I was very happy that I was doing a movie with a new age hero like Sushant. That inspires the whole thing for me."
Finally Mr Rahman closed saying ever humbly, "Any stuff that you do has to be blessed. The blessing is from the love of the people and from the divine. I think you are empowered to do your own thing and that is a great thing. To come up with your own sound, your own orchestra sound or production sound is a great thing and is what I think I should be doing. I am trying my best."
Be sure to check out Dil Bechara and also the outstanding OST!