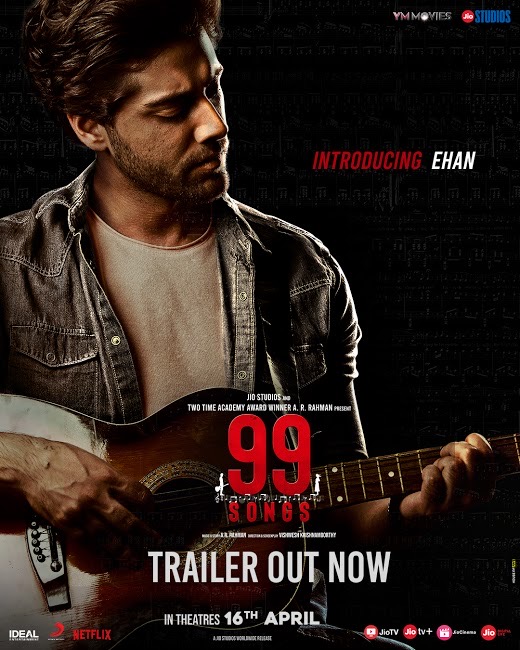 Academy Award-winning composer A.R. Rahman's musical romance 99 Songs is all set to release in cinemas across India on 16th April, 2021. A musical love story with music at its soul, 99 Songs will release in three languages: Hindi, Tamil and Telugu.
The movie follows the journey of a young man named Jay whose life centers around his two great loves: music and his girlfriend Sophie
A film of many firsts, 99 Songs witnesses music legend A.R. Rahman debut as producer and co-writer in his most ambitious project yet. 99 Songs also marks director Vishwesh Krishnamoorthy's (The Dewarists, Bring on the Night) first foray into cinema. With 99 Songs, music maestro Rahman also introduces a new powerhouse talent, actor Ehan Bhat, who makes his debut opposite actor Edilsy Vargas in the musical film.
This is the debut film for Ehan, who will be seen playing a musician in the film. The young actor went through intensive music training for the role and has left no stone unturned to prep for this role of a lifetime. Ehan worked extremely hard to suit his character with Rahman mentoring him closely. In fact, he trained on the piano at Rahman's KM music conservatory in Chennai for nearly a year. He earlier revealed about the porcess of training for and playing the role he said, "Being a musician isn't easy but playing one is even harder." This was followed by acting workshops in LA and voice training back in Mumbai.
The actor is ecstatic that this is his first role and film, "It's nothing less than a dream launch for me and I feel so blessed to be chosen by AR sir. I drew tremendous inspiration for my character from sir's own intense dedication to music. And 99 Songs is a beautiful story whose strong characters unveil themselves with his storytelling".
AR Rahman, he had nothing but praise for his young star, "Ehan is a complete package with his passion, talent and good looks. His quest for learning is incredible and his level of commitment towards his work is commendable. He owns the big screen and is here to stay".
About making 99 Songs the maestro said, "I wanted to leave no stone unturned in giving it my best. Also, since I was working with other debutants – the director and the actor – I was reminded that I have a completely new team and we had a modest budget. I didn't want to spare any effort in presenting it well and try to make our own epic." (Smiles)
Presented by Jio Studios, 99 Songs is produced by A. R. Rahman's production company YM Movies. 99 Songs releases on April 16th.
Check out the newest trailer: