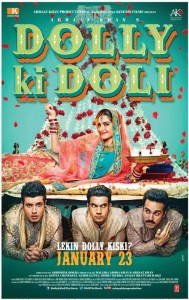 Dolly Ki Doli is set for release on the weekend leading to Republic Day and its producer Arbaaz Khan is cool as ever. With a stable head over his shoulders, Arbaaz is gearing up for the release of his third film as a producer. While Salman Khan starrers Dabangg and Dabangg 2 proved to be blockbusters no less, Dolly Ki Doli is Arbaaz's first film to boast of a female (Sonam Kapoor) as the central protagonist.
What was that special something about Dolly Ki Doli that made you place your bet on it?
Post Dabangg 2, I wanted to make a film – it could have been just as a producer or a producer-director both. I was meeting many people, especially writers. Amongst a couple of scripts that I heard or read, this novel idea of Dolly Ki Doli stuck with me. It was a reasonably woven screenplay, and of course when I came on board then there were certain changes that I brought in creative inputs. I knew that this was a story that needed to be told. I wanted to get the right kind of casting and production planning in place. Today I am pretty satisfied that the film has been noticed quite well. I am proud of Dolly Ki Doli.
You seem to be confident about the buzz surrounding the film.
I am quite happy with the response so far. Honestly after the very first promo, the reactions were overwhelming. There was so much positivity from audience as well as the film fraternity. They called, sent SMSs, shared thoughts on social media, the works. For a film like this to get noticed and visibility is something very important. It is all very encouraging. The momentum that the film is gaining is perfectly right.
Now here is hoping that the results are perfect too once the film arrives this Friday.