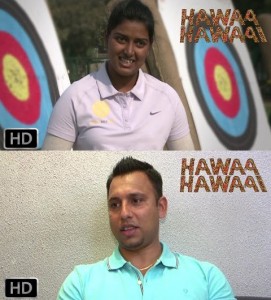 The makers of Hawaa Hawaai have released two new videos as part of their Dreamer video series, which showcase celebrities from different walks of life. They are of renowned sports personalities, Archer Deepika Kumari and Hockey player Jugraj Singh, who are seen speaking about their dreams and the journey towards fulfilling them.
Deepika Kumari, who became World No. 1 in Archery at the age of 18, has represented India at various championships. Talking about her journey, Deepika says that it takes a lot of hard work to go from one point to another. She reveals that she faced many roadblocks at the beginning of her career – no academies, coaches or equipments. However, Deepika reveals that she was determined to make a mark for herself in Archery and reach a platform. She also dreams of winning an Olympic medal some day.
In the second video, Jugraj Singh – who was part of the Indian Hockey team that won the junior World Cup – is seen talking about his achievements and what it takes to make one's dream come true. He shares that the happiest moment for him was when he was playing against Sohail Abbas, the man he grew up watching and learnt a lot from. According to Jugraj, there is no greater pride than standing in front of that very person, scoring goals against his team and not letting his team score.
The videos in the series makes one believe that anything is possible if you set your sights on the target, and not budge at any cost. Others in the series include famous personalities across Bollywood and Sports including Farhan Akhtar, Yuvraj Singh, Rohit Shetty, Kapil Sharma, Vidya Balan and Boman Irani, amongst others.
Hawaa Hawaai is the story of the remarkable journey of a poor boy 'Arjun', rich with dreams, as he tries to achieve his goal of becoming a champion Inline Skater. The movie stars Partho Gupte as Arjun, an in-line skater and Saqib Saleem as his coach. Presented by Fox Star Studios and written, produced and directed by Amole Gupte, the film is slated to release on 9th May, 2014, and is touted to be the first film on in-line skating in the world.