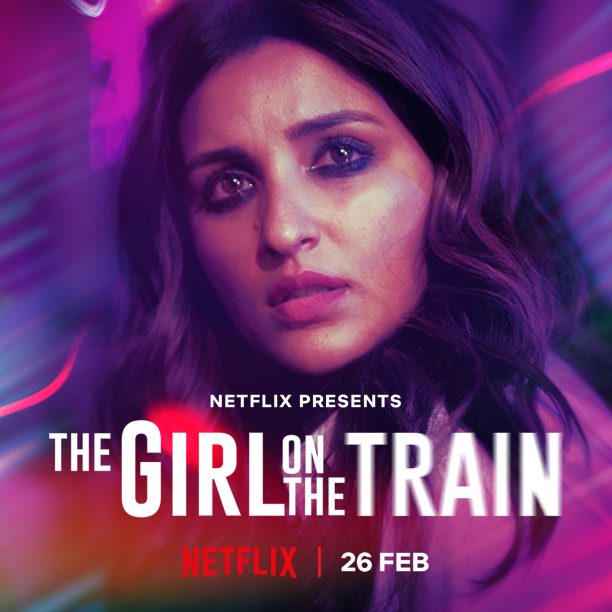 The edge of the seat thriller The Girl on a Train, headlined by versatile and much-loved actors – Parineeti Chopra, Aditi Rao Hydari, Kirti Kulhari and Avinash Tiwary is set to premiere in Feburary.
A night she cannot remember, a crime she cannot forget, comes to life with Netflix's upcoming murder mystery The Girl On The Train, will have you holding your breath as the emotional story unravels. Directed by Ribhu Dasgupta and produced by Reliance Entertainment, the film is slated to release on 26th February 2021 on Netflix.
The Girl On The Train is the story of Meera (Parineeti Chopra), who fixates on the perfect lives of a couple from afar, during her daily commutes on the train. One day, she witnesses something out of the ordinary, that shocks her. She soon gets embroiled in a murder mystery that unfolds revealing truths about her own life. The film follows her journey as she tries to unravel the truth. The Girl On The Train is an official adaptation of Paula Hawkins' bestselling book by the same name.
Check out the hold your breath teaser!

Director Ribhu Dasgupta said, "I always wanted to explore this genre and loved this unique story. There is plenty to relate to both in terms of the emotions and mysteries that I was able to delve into in this thriller – rejection, loneliness, voyeurism, daily commutes on which we see and don't see things. It was an extremely fruitful experience working on the film and collaborating with Netflix is always incredible. Hope the audience will be as excited watching The Girl On The Train as I was making it."
Parineeta writing on Instagram about her character said, "Something I've never done before. And the most difficult character I have ever played in my life.
"For two months I forgot my family, friends and barely called anyone. This film changed my DNA," she said in an interview.
After finishing the shoot in London she posted, "This is a film that has for the first time, stayed with me after I finished it. A character that will love inside me permanently. I miss her – I miss playing her."
Adding, "I feel like I've grown up. I feel so much. But most of all, I feel grateful. Life-changing is an understatement."
Shibasish Sarkar, Group Chief Executive Officer, Reliance Entertainment said, "The Girl On The Train marks our first film collaboration with Netflix, with many more to come! We are very excited about this suspense thriller, Ribhu's directorial sensibilities and the extremely talented cast."
Pratiksha Rao, Director- Content Acquisition, Netflix India said, "We are thrilled to bring The Girl On The Train to our members in India and around the world. We want to be the home for the most entertaining films in the country. This riveting murder mystery is a great addition to the incredible and diverse selection of films on Netflix across many languages."
Call us intrigued! We can't wait to see this passionate, brilliant cast and director take us on a thrilling journey of The Girl on the Train starting February 26th on Netflix.
More pics!