We have seen his work in both Slumdog Milloinare and Prague, and now Arfi Lamba is taking on the role of Aditya in Kabir Sadanand's Fugly. A fast-paced entertaining thriller with a social message, Fugly is a story of four friends – Dev, Gaurav, Aditya and Devi who are just about to finish college and are at a turning point in their lives and what their future will be. Their fun filled and carefree life comes to an abrupt halt, when they are faced with an extremely corrupt Police Officer. This puts a series of events in motion which will test their friendship and characters000their life becomes 'Fugly'. FUGLY represents today's independent youth who are ready to take a stand and challenge the status quo.
In an exclusive interview, the young actor tells us about his experiences working on Fugly. Not only did he reveal it was a challenge to find his character Aditya because he is so different from what he has played before and who he is in real life but so much more. Read on to see what else Arfi Lamba had to say including what he thinks the movie and Fugly stands for and what they hope the audience will take away.
Is acting something you always wanted to do?
I think I grew up being fascinated by films. Coming from North India, where everyone wants to be an actor, I was way too shy and introverted for that. But somehow when I left home for studies when I was 16 and finally joined a job when I was 21 in Delhi, I realised that one can go after dreams. And like any other profession, one can be an actor too with hard work and dedication. Delhi was the game changer for a shy kid like me where the parties and the charms of a big city opened whole new avenues for me. The more I opened up, the more my heart started getting vocal about what it wanted to do and I finally packed my bags to come to the city of dreams without knowing anything about it.
How did you become a part of Fugly?
I knew Kabir Sir before but I was not the first choice for Fugly. When he finally called me for audition and after getting a satisfactory clip he showed it to our Producer Ashvini Yardi and she loved my audition. Then came a week of rehearsals where they tested my approach to work and if I can be the character Aditya that they are looking for. Finally when they were satisfied, I was signed on.
Tell us about your character and his story arc.
I had to find Aditya in me. He is so unlike me. He stays with his parents, he holds middle class values strongly and he is a protected kid. I am so unlike him. I question everything that wants me to conform and that I feel is restricting me. I left home when I was 16. I have travelled on my own and explored destinations I knew nothing about. I am an avid reader. Of course, I am the life of a party I attend, but it's difficult to convince me to attend one as I prefer reading a book or watching a movie instead. To find this over cautious, middle class mama's boy was the biggest challenge from being this overtly cautious guy. Aditya ends up taking a huge step for his friends that you would never expect him to do. And he is the comic relief in the film.
What would you say Fugly means?
We have defined Fugly as F* Ugly, and it means fight ugly as per what the film stands for. Anything that is ugly and dysfunctional is what we want people to stand against. It's not just that we are raising issues like rape, in spirit, for us, even when you watch and do not take a stand against some wrong happening in front of you, you are being Fugly.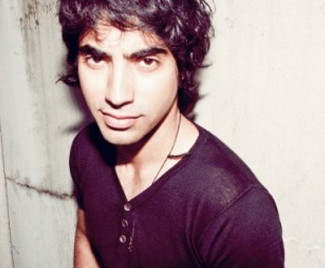 If you had to describe the film to someone what would you say?
It is a light hearted socio thriller. Light hearted for it's a lot of fun as it's the journey of four young people, socio because we have a strong message in the film and thriller because every 15 minutes there is a new twist. It is a very entertaining film that will leave you with a lot of thoughts.
How do you become your characters?
We had to go though rigorous rehearsals. I had had a lot of discussion with my director who gave me a lot of time to find Aditya. There was a 6 page character sketch that we further built on. We were thrown into different situations in groups and made to react and then evaluated upon who got his character right. So it was a very inclusive and exhaustive process.
What would you say the message is of the film?
In two lines, we are trying to say, do not try to bring the change, be the change that you want to see in your society.
What was it like to work with a cast full of newcomers as someone who has done films before?
They were all wonderful people and hard working individuals and since the story is of friends, somewhere during the rehearsals we all became good friends. It was a lot of fun and we all did feed off each other.
What was it like to work with Kabir on this film?
Kabir was the best thing for me on this film. He is himself a wonderful actor and he would know when you are not exactly there in the scene, cheating it, and when you are fully true to the emotion. He brought out the best in me and whenever I had an actor's block, he would resolve it effortlessly as being an actor he would know what's hampering me.
How was doing that video with Akshay and Salman?
That will be one of the best memories for a long time to come. I still cannot believe that we are being welcomed by two of the biggest stalwarts of this industry in our first commercial break. And I do not know when will I get another chance like this. It's like as if I was dreaming that day about them and someone had recorded that dream.
Your thoughts on the music of the film.
I think we have a very versatile album. I love 'Banjarey' and the title track as much as I love 'Dhupchik' and 'Dhuan' and 'Good in Bed'. 'Lovely' is a number that's very popular in north and 'G pe danda' is an all time favourite.
Your favorite part of the film?
I loved shooting in Leh, it was mesmerising. That was our first schedule and we all broke ice and became real friends there. And I am a mountain person. So Leh Ladhak shooting is something that I can never forget and I plan to go again this year.
Your thoughts on Hindi cinema today?
I think we are in a very exciting phase where content is becoming important and industry is open to new talent. There are a lot of wonderful films being made and there is a huge influx of new talent. People are challenging the genre and formula driven cinema and even established actors like Vidya and Ranbir are experimenting and this is very exciting.
What will the audience see when they come to see Fugly?
Through the journey of these four friends, we are trying to raise the issues that have become the headlines in our day and times. We are trying to bring home a message in a lighthearted way and I am hoping people will leave the theatre with a thought in their mind that its time we took responsibility for our actions and our country.
What will you see you in next?
There is a Hollywood project on the cards and many offers but right now I am basking in the glory of a job well done. We hopefully should make some announcements in coming weeks.
What are your hopes for your career?
I am an outsider here and I have a come a long way on my own. Being a farmer's son, I know there is no substitute for hard work. Considering where I am today, I am sure of reaching my goals sooner than later. There is nothing that I fear anymore and I know my career and my dreams are my responsibility. It's my unique journey and I am not here to compete or to succeed by someone else's parameters. I am here to live my passion and dreams and I am very happy that I am doing it.
Fugly is in theaters now!