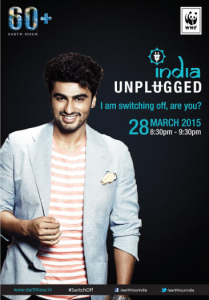 As we reported earlier, actor Arjun Kapoor has pledged his support to Earth Hour 2015. He has joined hands with WWF's global campaign to raise awareness and inspire individual action on climate change. This was announced at a press conference held in the city, partnered by the ITC Maratha. This is the second time that Arjun has pledged his support towards the campaign. Arjun spoke about his association with the cause and invited citizens of the city to come forward and show their support for the campaign. Arjun is also supporting the Sahasra Jyoti project of WWF-India, an initiative launched by the organization aimed at bringing sustainable development to the Sundarbans landscape in India, by enabling energy access to 1000 households in the region – all through solar energy. Earth Hour is the largest environmental campaign in history and enables individuals, organizations, governments and groups to show their support towards policies and practices that create a balance between development and environmental concerns.
Through "India Unplugged", Earth Hour 2015, which takes place on March 28th, not only calls out to people to switch off, but also encourages citizens across the country to explore and adopt a cleaner and more sustainable lifestyle by embracing renewable energy solutions. Seven years in the running, the Earth Hour 2015 campaign calls for:
Individuals to adopt household products powered by renewable energy;
Corporates to adopt renewable energy solutions to run their business operations and production processes;
Governments to promote policies favourable to the production and uptake of renewable energy
Emphasizing his support for Earth Hour, Arjun, addressing the media at Mumbai said, "Earth Hour was initiated by WWF to fight the acute threat that climate change poses. The campaign is truly a vehicle of change and has grown to garner the support of millions across the globe. Being a part of the same global community, I feel extremely proud to be associated with the movement and would encourage others to do the same."
Speaking about the campaign, Mr. Ravi Singh, Secretary General & CEO, WWF-India said, "Earth Hour brings together people across the globe to express their concern over the global crisis of climate change. In India, the campaign spans more than 150 cities, providing a platform to create awareness on renewable energy amongst individuals, corporate entities and decision-makers, while influencing behavior, opinions and policy to help mitigate the effects of climate change. The campaign's messaging and open-source model encourages participation in a symbolic switch off and leads people to adopt sustainable practices in order to conserve the finite resources of our planet. This year, Earth Hour hopes to reach out to a much larger number of people than before to promote the benefits of renewable energy."
Philippe H. Charraudeau, Vice-President (West) & General Manager – ITC Maratha, Mumbai said, "With a vision for a green world, ITC Maratha, Mumbai has endorsed WWF's initiatives ever since its inception in India. At the ITC Maratha we are conscious of our responsibility towards the planet and undertake initiatives and activities on a regular basis to ensure that we leave behind a greener future for generations to come. To raise awareness about climate change, we will minimise the consumption of lights for an hour and the Hotels' iconic restaurants will be serving 'candle-light' dinner and cocktail hours to enjoy the spirit and ambience of the evening.
The Earth Hour 2015 campaign in India was rolled out earlier this month with press conferences of various regional celebrities who have endorsed the cause and come forward to pledge their support. WWF-India will also organize Pedal for the Planet, a signature cyclothon event of the organization as a lead-up to Earth Hour across various cities.
About WWF-India and Earth Hour
WWF-India is one of India's leading conservation organizations with programmes and projects spread across the country. The organization works towards the conservation of biodiversity, natural habitats and the reduction of humanity's ecological footprint. The mission of WWF-India is to stop the degradation of the earth's natural environment and to build a future in which humans live in harmony with nature.
Earth Hour is WWF's global initiative and the largest environmental campaign in history where citizens around the world show their support for action on climate change by turning off non-essential lights for one hour, between 8:30pm-9:30pm. This year Earth Hour is scheduled for 28 March 2015 between 8:30pm and 9:30pm. Being implemented in India since 2009, the Earth Hour campaign has inspired individuals, governments and corporations to move towards responsible consumption and conservation of energy. It has received unprecedented support, demonstrated by participation in over 150 towns and cities by several city governments, the armed forces, public and private sector companies, celebrities and individuals. The Rashtrapati Bhavan, the Prime Minister's residence, residences of Chief Ministers and government buildings in every participating city have turned off lights every year, as a symbolic show of support.