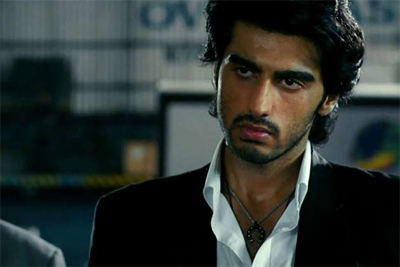 We first saw Arjun Kapoor in his power-packed performance in Ishaqzaade, which garnered praise from the critics and raves from the fans. The industry and audiences could not wait to see what this young actor had in store for us next. What's next is taking on a double role in a crime drama. Arjun leads an all star cast that includes Prithviraj Sukumaran, Rishi Kapoor, Jackie Shroff and Amrita Singh in Yash Raj Films Aurangzeb. See what the actor told BollySpice reporter Sunny Malik about working in Bollywood!
How are you feeling that your second film is releasing?
It's just a lot of excitement. We are presenting the film to the rest of the world and I want to know what they feel about my work as well as the entire film. It's a little hard to explain in words, but you have the same feeling before very film releases. I have always heard people say that the feeling is the same. But now I can actually say that it is. It's the same feeling I had before the release of my first film, Ishaqzaade.
Don't you feel more confident since your first film was accepted and was a commercial success?
Of course, I am confident. I was confident about Ishaqzaade as well. When we were making the film, I knew that we were making something unique. I knew that people will find it exciting. But I did not except the reaction towards the film as it has been unprecedented. So, yes there is confidence. But a year's hard work goes into making a film and you want to know what people think about it. Even if you are confident, there is always a part of you that is uncertain. Everyone wants validation from the audience.
Your first film, Ishaqzaade, did not get an overseas and UK release. Was that disappointing?
Well, it was unfortunate but I guess, not all films with newcomers get released overseas. I could not have asked for a better debut film. I could not have asked for anything more than what Yash Raj Films already did for me. They have to see value in you as an actor, to spend money on you and release a film. They also had a vision in mind as they wanted to release it as an overseas friendly film for the non-traditional markets as well. They took a chance and I don't mind that. Life is all about taking chances. They are releasing my second film overseas and in the UK and that means there is a market for my film. I am happy with that.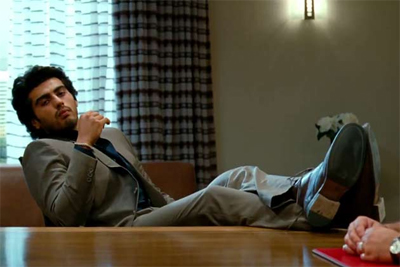 When will the international cut of Ishaqzaade release?
I haven't seen it myself. I am sure that they are talking to people. Yash Raj Films International distribution will be able to answer this question better. We have done our job as actors, made the film and put it out there for the Indian audience. I do know that many people from the UK watched the film as it's out on DVD in the UK. I do know that people enjoyed the film. I hope that the translation of Ishaqzaade's success in the UK will hopefully unfold with Aurangzeb's release.
When I saw the trailer of Aurangzeb, it reminded me of Amitabh Bachchan's Don. What was your reaction when you first heard the script?
The world of the film is set in the confrontational zone of the 70's and 80's when we had multi-starrers and films that had 'dialogue baazi'. The films had dialogues, confrontation, action, intensity and drama. The world is very similar but the take is completely new and contemporary. It's a very real and rooted story. It can happen to anyone in India. The double role has been given a lot of honest and genuine justification as there is logic behind it. The presentation and vision of Aurangzeb is completely fresh and new.
How was your experience working with your director, Atul Sabharwal?
It was great fun. He is somebody I got along with really well. I spent a lot of time with him for the preparations of Aurangzeb as I play a double role in the film. More than that, we get on really well personally. He is somebody who loves cinema, and so do I. We share that inherent passion for all kinds of cinema. He was also very clear about Aurangzeb. He knew how he wanted to set the world of the film, the way he wanted to shoot it and the way he wanted me to perform both of my characters. He is very patient and calm and a very positive influence. He never loses his cool on the sets and these are good qualities.
Aurangzeb is an action thriller like Ishaqzaade.
Aurangzeb is actually more like a drama and an action thriller. Ishaqzaade was more of an intense romantic film. That is a completely different genre. It would be unfair to put them in the same genre.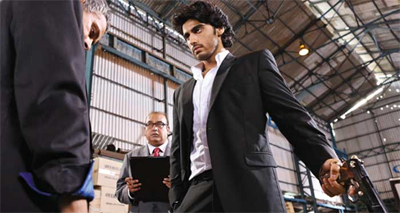 But a lot of newcomers start their careers with rom-coms. Was it a conscious decision to do something different in the beginning of your career?
It is good to be the exception right? It gets you the attention in the first place. It was a chance and it is good to take chances, like I said. Ishaqzaade wasn't something that I planned. I didn't come into Yash Raj Films and tell them that I want to do a different film. Aditya Chopra saw me in that light and able to pull of that part.
He also offered you Aurangzeb during the making of Ishaqzaade …
He saw the rushes of Ishaqzaade as we had completed the film. I was passing my time sitting at home. I was blissfully unaware that he had seen rushes of the film. He called me into the office and gave me a Valentine's Day gift two years ago by offering me the film. I was surprise to see him offering me a double role so early in my career.
You worked with senior actors like Jackie Shroff and Rishi Kapoor in Aurangzeb. Tell us about your experience.
See, I have grown up in the industry and for them I am Boney Kapoor's (producer) son. For Chintu Uncle (Rishi Kapoor), I am Ranbir's friend. He has seen me in that light. For me it was surreal and life coming to a full circle to be able to work with them and act with them. I had a blast with them as I felt a genuine connect with them. Jackie Shroff is playing my father in the film. I felt that the fatherly love he gave me was genuine. Rishi Kapoor Sir has such an intimidating personality but is a warm person and made me really comfortable. An interesting trivia is that, on the first day of filming, Rishi Kapoor Sir sent my father a message. He said "Don't tense. Your son is a really good actor". He basically told my father that he liked my work.
A lot of people from the Indian Film fraternity have been praising you for your acting skills…
You find a sense of belonging and I found my sense of belonging as actor when that happens. I felt like I belong here. I want to do good work and want to be an actor. But when people from the industry and your co-stars find your work good, it feels really special. For me, Amitabh Bachchan watching my film, picking up the phone and sending me a handwritten note, just underlines the fact that I was genuinely accepted into the film fraternity of actors.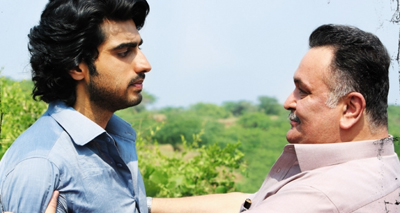 When you started out, some fans did point fingers at you for only being casted in a film because you are a producer's son.  What's your take on nepotism in the industry?
I respect everyone's opinion. If they spend their hard earned money on buying a ticket, then they should have an opinion. And they should share it with the rest of the world as well. Social networking is a very big platform and you should use it responsibly. I don't believe that nepotism exists because many have come and many have before me who are director's sons, producer's sons, actor's son and so on and have not survived.
So it's the talent that works?
Of course. I think there is a minority that has a myopic view. Our audiences are very intelligent. I don't think anybody sitting in the UK, beyond a point, cares about my surname. When they watch Ishaqzaade or Aurangzeb, they care about how well I do my job as an actor. They care about how I can bring emotions across to them using the character. It's very myopic view of looking at it and nepotism is a very strong word. Everybody has their own journeys and struggles. I don't undermine anybody else's and nobody should undermine mine. I respect every opinion. They matter. I don't appreciate it when it is hitting below the belt just because I have a 'surname'. It's unfair and unfortunate but sadly it happens. It exists and it's out duty to break that myth. The more good work you do, you can break that myth and dispel notion.
Yash Raj Films releases Aurangzeb in UK cinemas and worldwide on 17th May 2013.