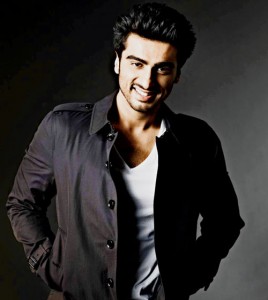 2014 certainly was a year of highs for Arjun Kapoor with three releases (2 States, Gunday, and Finding Fanny) and each performance garnering great reviews, especially for his work in the super hit 2 States. The young actor is starting off 2015 with a bang as well with the release of Tevar. Co-starring Sonakshi Sinha and Manoj Bajpayee, the romantic action thriller, directed by Amit Sharma, hits the big screen on January 9th.
The film tells the story of Pintu Shukla, a local Kabaddi champion from Agra who is a regular boy next-door type of guy but when he finds himself in the middle of a lethal fight for love he never backs down. There is a local Bahubali from Mathura, Gajender Singh, who has a penchant for sharp knives and instant death. Then of course there is a pretty girl, Radhika Mishra, who hails from the same city and just wants to escape from Gajender's domain. Pintu and Radha go on the run and what happens next… well we hear a new definition of love is about to be written and it will be written in bold.
I caught up with the actor last month to talk all things Tevar. Though a bit hoarse from dubbing for the film, you could tell with every answer he gave the passion he has for this film. See what he had to say about playing this character, learning Kabaddi, his co-stars and more about the making of Tevar!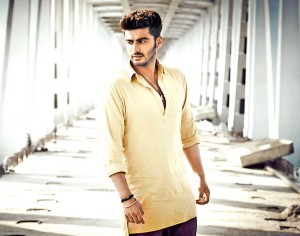 Why did you choose this film and this role?
I had seen the original Tevar, Okkadu, which is a Telugu film starring Mahesh Babu and Bhoomika. Before I became an actor, my father had given me the DVD and I really loved it when I saw the film. Primarily because I have always been infatuated by this thought about an ordinary man in an extraordinary situation. I was always inclined to do a role like that and I told Dad that I am going to do this film with him at some point. I never have played a regular guy in any films, so I wanted to play this boy next door who gets into a spot of bother and it is about how he manages to emerge out of it by being street smart and handling the circumstances that are thrown to him. We found the perfect director [Amit Sharma] in that sense who could understand my vision of what I had in mind for the film. I didn't want to play a quintessential Hindi film hero without having a character in place. Plus the other characters were equally important. I wanted it to be highlighted like an interesting world and that is what Tevar has finally emerged as. I am really happy that we chose to do it.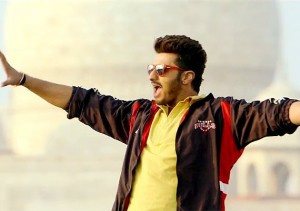 How did you prepare to play Pintu and then become him?
It is all there in the material and the material lends itself quite nicely for me to play this character. I obviously had to learn Kabaddi since I am playing a Kabaddi player. That was an interesting aspect that I had to explore. The language that I speak in the film is a colloquial UP accent but it is not perfectly UP because it's still Hindi-Hindi. So I didn't have to work really hard at it. I just had to follow my director's and my writer's material. And of course the body language needed to have a bit of aggression in it because he is a sports man; he has a certain attitude and there is a certain aggression that he needed to have. That really was about it.
It is a cool character, because he has that darker side but he also has a lighter funnier side like in we saw in the trailer when he introduces himself to Sonakshi's character… that boy next door side was there.
You know he is prominently that young boy but who has gotten into to trouble and now he is like 'Okay screw it I'm in trouble, I might as well save the day and the girl along the way as well!' He is very normal in that sense, he is a regular kid but he has the ability to beat people up because he is this broad built structured, aggressive sportsman. He is this Kabaddi player and that lends itself very well for him being able to handle himself with so many people being thrown at him. It is not just frivolous action. The Kabaddi has been utilized very well in the action in the film.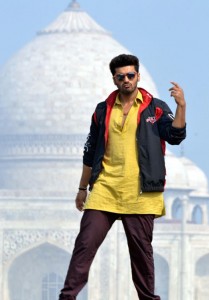 How did you train for the Kabaddi scenes and playing a Kabaddi player?
We got actual players to play with me because it is not something I theoretically could understand, I had to get into a Kabaddi field and play it and I kept playing it for about 2 weeks. I spent ample time with these boys – understanding how they dress, how they behave, how they prepare, how they go about playing this game. You know, that is actually where we got the styling for the film as well because they always wear track pants and sneakers. Always in track pants and sneakers! That was an interesting aspect that emerged from hanging out with them.
Tell us about working with Amit Sharma, what does he bring to the table as a director?
You know everybody might assume that he is a debutant and so he is new and might be unsure of himself but he actually had done about 600 ads! He is a very, very well established ad filmmaker. He has done the Google reunion commercial ad. You must check it out it is one of the best ads ever made in our country (It is! -ed). It is a five-minute short film – you must check it out! You will realize that the man has a definite understanding of the human side of people and the emotional side. He is really into performance. He is not just aesthetically sound director, he is really into getting out the performance. He was amazing to work with. He has tremendous clarity he wants what he wants and he won't stop until he gets it. He is exactly the kind of director we needed to put a spin on a generic commercial masala film to give it a new fresh interpretation.
What do you think he brought out in you as an actor?
Um, I think that is for people to say, it is for the audience to see the film and for them to tell me new what they saw. I think it is very boring for you to sit and talk about yourself all the time. But obviously, he pushed me in a different direction and a new direction as an actor. He made me smile a lot in the film because we were very clear this boy has to be a boy, he is not a man. He is a boy who becomes a man on this journey.
After the trailer hit, you were called the new modern angry young man, how does that feel and do you think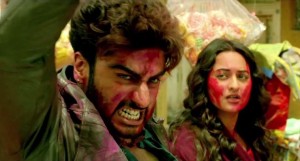 that fits the description of your character?
Yeah… I mean there is a lot more to me and my work as an actor than a so called angry young man I think. It is not just that dynamic that is in the trailer or in the film, there is a lot of fun also that is in this film. It is a compliment, I guess, but I think it is very undeserving. I mean, I think Mr. Bachchan is the only Angry Young Man in our country still. It feels nice in a way, but at the same time that is not all that there is to me, there is a lot more to me and I hope people explore that in the coming time.
Manoj Bajpayee is one of my favorite actors and he is one of those actors that just gets lost and transforms into his characters, how was it to work with him?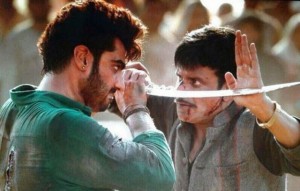 Correct! You know, I am a very selfish actor and I was looking forward to working with him in the film because I know subconsciously that a good actor in the same frame will always elevate your performance. I was really happy that he agreed to be a part of the film. I have been very, very fortunate to work with Irrfan, Rishi Kapoor, Pankaj Kapur, Naseerudin Shah, so I have worked with absolutely unbelievable actors from our profession and I now I can add Manoj Bajpayee to that list. I feel very proud of the fact that I shared screen space with him and I learned from him.
What do you think you learned from him?
Small things and really they are not tangible, they can't be quantified. It is just being around people like that that you kind of improve as a human being and as a performer sub consciously. I am sure I have taken in things that will come out in some point in time in my performances.
What do you think makes Sonakshi such a great co-star?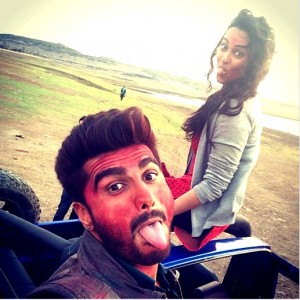 She is not fussy at all. She is very straightforward. She is very hard working and disciplined. I never once saw her throw a tantrum on set, which is an amazing quality to have. At the end of the day she does not take her stardom very seriously, which is very refreshing. She is born in a filmi family but she is the least filmi person I have met. And she has the ability to laugh at all the bad jokes that I crack! So that makes her all the more likable! (Laughs)
When we were talking for Finding Fanny, you said you shot on live locations throughout the country for Tevar. How was that experience?
That was something that Amit Sharma made clear from day one that he didn't want any sets and I kind of bought into that philosophy because the texture of the film wouldn't have come alive if we had shot on sets. It was an amazing experience to travel yet again into the heart of India whether it was Agra, Mathura, Sambhar or even the other locations. It just allows you to feel the world that you are projecting onscreen. It is always nice to do that. It is difficult, yes, because with every passing film you become more and more known as an actor so there are security concerns with the number of people coming to see you et cetera et cetera. But those are all peripheral issues. At the end of the day it adds tremendous value to a film being on a live location.
What was the most challenging thing about shooting this film?
The weather! When we shot, the weather was very inconsistent because India goes through a major transformation between February to May because it goes from winter into summer and then towards the monsoon. We actually shot the film from Feb to June and those are the exact five months when you experience all the three major weather conditions. So you are shooting in zero degrees and you are shooting in 40 degrees, then you are shooting in overcast conditions where the rains can start at any point.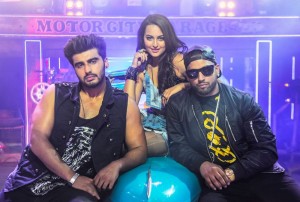 Tell us about the music for the film. Do you have a favorite song?
My favorite song is 'Superman', primarily because I have never gotten to do a song like that before – a really fun, quintessential Hindi film hero introduction song. I never had that before so that was really exciting for me. The whole album, I think you get the sense that it is a well-rounded Hindi film album. It has the hero song, it has the girl introduction, it has a love song, which is a rock ballad, and there is a nice young club number, which is by Imran Khan, the Dutch rapper who sang 'Amplifier'. Plus there is an item song, so it is a very full album especially for people who like typical Hindi film music.
What about filming the dance sequences what is that like?
I have always loved dancing since I was a kid. I know I am not the greatest dancer in the world but that has never bothered me because I enjoy dancing. I have always had an understanding of rhythm since I was a kid. It is different when you are doing it for a film. There is a certain body language that you have to have, there is a certain coolness and there is a certain finishing that you need to have. I like to rehearse a lot. I love to do it on set, I love to be prepared enough to enjoy myself on set.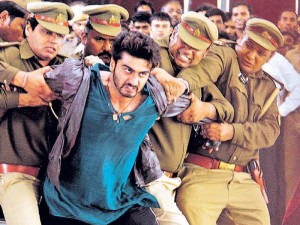 Then action or fight sequences, how is it to shoot those and do you get nervous shooting them?
No, I think that is where your technical team comes in really handy. The action directors, those are the guys we really trust, the guys who direct the action. They take care of the safety so you never need to feel nervous and I have tremendous faith in them that they would never make me do something that was not safe. I have done a lot of action from my first film. It is kind of something I am able to handle. It is something that I enjoy doing in front of the camera.
Your favorite thing about Tevar?
The fact that it is the first film that I have done for my home production company. In the bigger picture that is my most favorite aspect of it.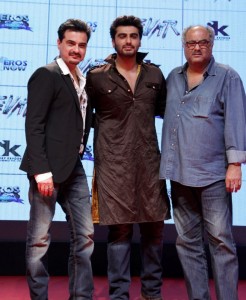 How was it to work for your home production and to be working with your father [Boney Kapoor] and your uncle [Sanjay Kapoor] on the film?
It didn't really feel very different when I was on set because they never interfere with my process. They were very non-interfering. Obviously it was nice to have them around to spend more time with them, but in an emotional and personal sense, not in a professional sense. That was the biggest difference from the rest of my work, but above and beyond that I guess that eventually filmmaking is a certain way and there is not much you can change even if it is your own production. You have got to put the effort in. Now obviously it is a bit different because I can get more involved, like in the promotion of the film, a bit more in the marketing, et cetera. I am enjoying that a lot.
How does it feel to have your father have nothing but praise for you and your development and your dedication to your craft?
He doesn't have much of a choice but to say that. Which father on the eve of his son's film release is going to be criticizing or not talking good things about him, (you can hear the smile). But yeah I guess he has publicly spoken for the very first time about the love he has for me as a performer and as a working man and it feels really nice that he has gone on the record to state that. It was really motivating, inspiring and encouraging. I am really happy he feels that way because again when you work for people who are close to you they should feel happy and proud when they watch you when you are doing well and are doing a good job.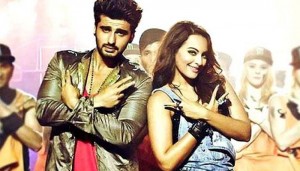 What are audiences going to love about Tevar?
The fact that it is a quintessential Hindi film but still told in a new way. The journey and the so-called treatment of the material is very fresh. It is contemporary. It is believable. It is not larger than life and frivolous. There is a story and there is emotion in it. So yeah, it is nice blend between a quintessential entertainer with a bit of heart in it as well.
What will we see you in next?
I have no idea at the moment, when I do I will announce it to the world. I still haven't found anything that excites me.
Make sure you catch the film at a theater near you on January 9th! Stay tuned we have Sonakshi Sinha and her chat about Tevar coming up soon !