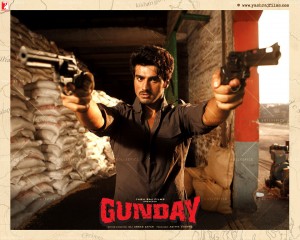 Arjun Kapoor will be seen in UK cinemas in GUNDAY, this Valentine's Day, 14th February 2014. Yash Raj Films' GUNDAY also stars Ranveer Singh, Priyanka Chopra and Irrfan Khan and is directed by Ali Abbas Zafar.
Kapoor plays the role of Bala in the film who is like a child and possesses a tendency to boil over at odd confrontations. Bala is passionate and fiercely loyal to the one close to his heart. He is expressive and honest and doesn't know when to hold back his emotions. An artist at heart, he is gracious and generous with the needy. He lets his actions speak more than his words, especially at the heat of the moment
Speaking to Bollywood Reporter Sunny Malik, the 28-year-old talks about working in his third YRF production, his love for co-star Ranveer Singh, actresses Katrina Kaif and Priyanka Chopra and much more…
You made your debut with YRF and this is your third film with the production house. How did the film come about?
To be honest, I had finished Ishaqzaade and Aurangzeb for Yash Raj Films and was hanging out at Yash Raj Studios. I had known Ail Abbas Zafar, the director of the film, and he once discussed the film with me completely out of context. He told me, just in conversation, that he wants to make a film on two boys who become the biggest gangsters of Calcutta due to circumstances and the system. I found it very interesting then at the outset. I didn't know that I would be offered the same film after a few months. In fact, Ranveer Singh and I were given a joint narration and offered the film together. Aditya Chopra called us both together and said that we two are suitable for the roles. I have always had a passion to do a film with an ensemble cast. Gunday was a prime opportunity for me to do something that is commercial Hindi cinema and yet break the norms of the cinema being made right now where two mainstream actors have not worked together in the same film for a long time. Once I heard that script, I was on board.
Bollywood actors usually don't like sharing screen space with other mainstream actors.
I am the exception, I guess. I was very excited and I think, it can be seen in the trailer that we enjoyed working together. The camaraderie seen in the trailer comes from not being insecure of each other. I think, we turned out to be highly compatible.
Ranveer Singh calls you 'Baba' and people are talking about your 'chemistry' on-screen.
Yes, this Valentine's Day bromance is in and romance is out. I think our chemistry is very organic. We were never concerned about who is wearing what, who has better scenes or similar things. I don't like to procrastinate and think about how it happened. I am just glad it did because it is very rare in our industry to work with actors from your generation and have fun while doing so.
Were you surprised that your director Ali Abbas Zafar was making a film like Gunday after Mere Brother Ki Dulhan?
If I had not known him, then I would be surprised. The good part was that I had spent time with him at Yash Raj Studios. I knew that he has this side to him. While he was narrating the film to us, I could see that Gunday is inherently him more than Mere Brother Ki Dulhan. He is a big Hindi cinema fan and you will also see comedy in the film like there was in Mere Brother Ki Dulhan. But there is more drama, intensity and story in Gunday compared to his first film. I was happy that he was doing something different from his first film and wasn't stuck in the same genre and space as his first film. That is something everyone complains about as people say that we do the same stuff again and again.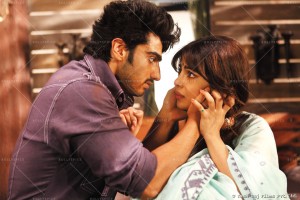 Katrina Kaif was apparently considered for Gunday. Were you disappointed that you didn't get a chance to work with her?
I spend so much time with Katrina off-screen that my disappointment would just be not having more time to spend with a friend. I don't have an opinion on that because it's something decided by the director and producer. Priyanka Chopra is also a friend and I have known her because I was an assistant director of Salaam-E-Ishq. For me, both of them are friends. I look forward to working with Katrina in the future. Priyanka is very aptly cast for the film. I don't know how to explain this but both of us, Ranveer Singh and I, were boys without her and we became men when we shared screen space with her. That's a very important quality for a woman to have. She makes us feel like men.
Did you have to go through a lot of physical preparation for Gunday?
My history suggests that I need to go to gym more often than other people as I have a tendency to gain weight easily. I have been overweight all my life. I had to look muscular for the film but what I really had to prepare for was running. I had to improve my stamina for running. We have a lot of running, chases and action in the film and I wanted to enjoy that. Our introduction and climax has a lot of running and I wanted to be comfortable while doing the scenes for which I trained a lot. I had to look muscular but also someone who has grown up on the streets. For that, I had to look as lean and muscular as possible.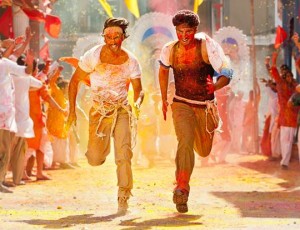 Don't you think that the two trailers released have given away too much of the storyline?
I think conjecture and discussion is good. That means we have raised questions in the audience's mind. I think there is nothing more exciting than getting an engaged audience into the cinemas. People always complain that our films have no stories and now they are complaining that we have too much of a story in the film (laughs). The best thing for people is to come and see the film for themselves. Of course, audiences like to be involved in knowing what is going to happen in the film. They want to feel smarter than the film. When I watch movies, I always guess about what is going to happen next. But they will be pleasantly surprised and shocked when they see the film and that will bring more footfalls into the theatres. I don't think we have given away too much. It's always important to sell your film correctly and that is what we are doing.
The soundtrack of the film is really good…
I am still listening to the album and I've had it for a year now. I have never had a song like 'Saiyaan' in my career before. There is a lot of pain, emotion, angst and romance when you are in love and that comes across in the song. It's a true Hindi hero song, like a lover boy track. It is beautifully written and beautifully sung by Shahid Mallya.
GUNDAY is out in UK cinemas on 14th February 2014.