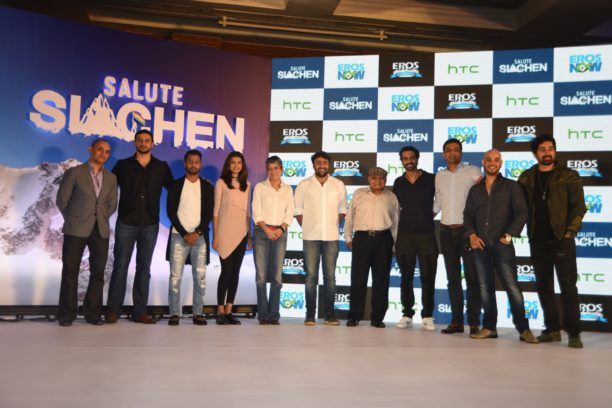 They fall, they rise, and they march ahead relentlessly, through extreme climatic conditions. Siachen Glacier. The world's 2nd longest glacier has come to represent the resilience and fortitude of the Indian Army. It all started in April 1981 when the Indian Army made history by traversing the uncharted Siachen, also known as the Third Pole.
On the occasion of the 35th anniversary of this daring expedition, Eros Now, the leading OTT platform of Eros International Plc, announced today a ground breaking initiative, Salute Siachen, India's first-ever celebrity expedition to the Siachen Glacier. The unique expedition will see nine celebrity adventurers from different walks of life, retrace and relive that journey. The 20-day expedition flags off this Independence Day (August 15) from Leh, and will culminate at Kumar Post, named after Colonel Narinder "Bull" Kumar, PVSM, KC, AVSM, MacGregor Medal, IMF Gold Medal, Padma Shri, Arjuna Award, FRGS. Bull Kumar planted the India flag on the Siachen Glacier in 1981 and became the first person to scale the uncharted Siachen from its freezing snout to its icy source.
Commenting on the announcement, Rishika Lulla Singh, CEO, Eros Digital said, "We are very excited and proud to launch this initiative on Eros Now. We have gathered a team of notable individuals who have come on board in support of this mission to Siachen and become ambassadors in expressing the nation's gratitude towards the valour of these brave soldiers. Eros Now being the front runner in the digital landscape believes in pushing boundaries and creating path-breaking content such as this initiative".
Zulfiqar Khan, Business Head, Eros Now added, "Salute Siachen is Eros Now's landmark initiative, getting together much loved faces from the world of Bollywood, Television and Sports, to traverse the icy frontiers of the Siachen Glacier, giving the world a glimpse into the lives of our real heroes at Siachen. This epic journey will be documented by the adventurers and showcased on Eros Now."
When asked about this expedition, Col. Kumar said, "Of all my exploits in the mountains, this was the most pivotal one for me. For the first time, I was leading an expedition as a soldier of the Indian Army, not just as a mountaineer. I wasn't just doing this for myself or my team, this was for the entire nation. Thirty-five years later, I am very happy that civilians from all walks of life are going to Siachen to see for themselves the hardships our soldiers are undergoing there, and to show them that their efforts are being appreciated by a grateful nation."
India's much-loved celebrities have come together to take this arduous journey to salute the courage of our soldiers who man the posts there in conditions of extreme adversity.
This select squad includes
Arjun Rampal: With an eclectic background and moody looks, Arjun Rampal stormed the modelling world and went on to become an iconic face of our time. He followed it up with some stellar silver screen performances, that led to a coveted National Award for Rock On, amongst other accolades
Arunoday Singh: Coming from one of the first families of National Politics, Arunoday Singh has many talents up his sleeve. Having trained in acting from one of the finest institutes of the world, Arunoday made his mark under the watchful eye of experimental maestro Sudhir Mishra. Taking baby steps towards mainstream Bollywood, Arunoday is also a poet and photographer in his spare time
Rannvijay Singha: Coming from a family that has had 14 generations serving the nation, Rannvijay bucked the trend and decided to don the war paint for extreme reality. Rannvijay is the enduring face of the epic reality series MTV Roadies, having won the first season with his charm and daring. Loved and revered by youth across generations, Rannvijay loves a tough challenge any given day
Rudra Pratap Singh: Re Barielly Boy Rudra Pratap Singh made his mark when he took eight wickets in the Under Nineteen World Cup. With his sharp bowling, RP has represented in all formats, including test, one day and 20-20. The man for any season and any format is calm and unassuming, letting his bowling do all the talking.
Yuvraj Walmiki: Maharashtra's pride, hockey player Yuvraj Valmiki is part of the dream team that brought home the 2011 Champions Trophy. A part of the World Cup Side, Yuvraj has been a part of professional German Hockey for four years. Humble, patriotic and hardworking, Yuvraj missed these Olympics because of an injury, even as his younger brother represents India.
Namratha Gujaran: Known for her grace and elegance Namratha is a popular model and has featured in several commercials across industries and brands. With her winsome smile and petite grace, Namrata possesses the natural confidence to take on any situation head on
Hasan Zaidi: Hailing from a family of academics, Hassan Zaidi comes from the city of culture, Aligarh. With his charming personality and easy demeanor, Hassan is a household name in the world of daily soaps. The face of prime time India, Hassan has just been blessed with a baby daughter.
Shlok Sharma: Trained by Anurag Kashyap, Shlok Sharma, spent his formative years assisting on such masterpieces as Dev D and Gangs of Wasseypur. Shlok has gone on to make a deeply enigmatic, life drama titled Haraamkhor featuring the talented Nawazuddin Siddiqui, that won the Silver Medal at the 17th MAMI Festival
Sonnalli Seygall: Cover Girl for hit music videos, the gorgeous Sonnalli Seygall is an Indian actress who debuted on the silver screen with the sleepr hit Pyaar Ka Punchnama, followed by its sequel Pyaar Ka Punchnama 2.
The celebrity participants have undergone rigorous training and prepping for the expedition which will begin with a five-day acclimatization trek to Stok Kangri base camp near Leh. Once geared to face the journey ahead, they will proceed to Siachen Base Camp for the expedition to Kumar Post. They take with them the goodwill and gratitude of an entire nation as we join them in saluting Siachen…!
Check out this cool video!