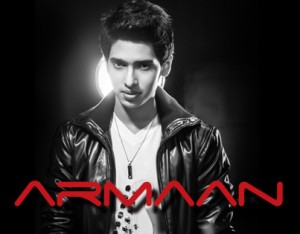 Indian pop singer Armaan Malik presents us with his debut self-titled album 'Armaan.' He is the son of singer and music director Daboo Malik and the nephew of music director Anu Malik. Hence, in Armaan's own words; "music is in my blood, so it is natural for me to find my future in it." He has sung for a number of Bollywood films and commercials and was even a finalist on Sa Re Ga Ma Pa L'il Champs. So does this 18 year old lad from Mumbai deliver great music with his debut album? Read our review to find out!
First up is 'Krazy Konnection' featuring Salim Merchant. I do like the arrangement of the song and there are cool techno and bass elements to it that will grow on you. Although it may take a few listens for you to fully appreciate this one, it is ultimately a respectably composed song which deserves its due credit. There is also a remix version of this song which is equally great and full of zing. Do give both versions a listen!
Next is 'Bas Is Pal Mein' which is average overall and does not have much fizz to it. This song just steered in the wrong direction which is a shame as it had the potential to be a great number! Hence, give this one a miss!
Following this we have 'What Love Is.' This is a great number and I very much enjoyed the up-tempo sounds which gave this a lot of flavour. In addition, Armaan's vocals are superb and he manages to carry this song quite well and with a lot of ease. This feels like a summer anthem which may go on to be in the minds of millions of youths. Do hear this one out and see if you agree with us.
We also have 'Kyon,' which has nice melodies and a smooth composition. I liked the use of the piano, with some bass being interspersed with it. This is definitely a cool track which has a delightful feel to it that will be appreciated by many.
Next is 'Tu Hi Hai' which has some good vocals by Armaan but sounded a bit like a pop song which a ten year old would listen to. I don't think this one will appeal to the mature group of listeners, despite the fact that it is not a badly produced song. My main problem is with the tone of the song, which is a bit immature and assuming it will appeal more to kids.
Following this we have 'Roke Na Koi.' I love the music to this song which has been brilliantly composed and has a cool club feel to it. In addition, Armaan sounds great in this one and he manages to add a lot of flavour to it through his voice. Do listen to it and see if it appeals to you.
Finally we have 'Le Ja Zakhm Tere' to close the album. I like how the song opens with a nice strumming of the guitar and this manages to be well executed throughout. Armaan sounds fantastic in this song and manages to give this song a soul by singing so passionately. A special mention should be made towards the lyrics, which have been well written and have a expressive tone to it. I think this is one of the big highlights of the album and manages to present Armaan in a mature 'avtaar!'
Before bringing this review to a close, I found Armaan's debut album to be a catchy listen and has been well produced overall. With the exception of 'Bas Is Pal Mein' and 'Tu Hi Hai;' the music, lyrics and vocals have a strong quality to them which deserves appreciation. At the tender age of just 18; Armaan has proved that he is an immensely gifted singer and will no doubt go far in his life and career. Moreover, I am sure that his music will mature in time and he will present us with more great work in the near future. For now though, I think this young man's work should be listened to and I recommend that you indulge in this album, which is bursting with freshness!