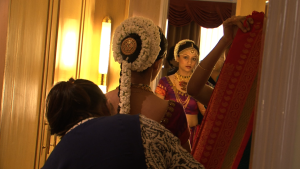 The arranged marriage feature documentary "WHAT'S LOVE GOT TO DO WITH IT?" will have a US Theatrical On Demand release in May thru Gathr.  Gathr Films new distribution model allows a film's audience the opportunity to take action and directly participate in bringing the film to their community.  Theatrical-On-Demand crowd sourced distribution empowers audiences to pull films to their local theaters by aggregating their interest and pre-ordering tickets in advance.  Gathr audiences are passionate, active filmgoers that use the unique power of the film medium to share new ideas and stories with their communities.
"Gathr is thrilled to partner with "WHAT'S LOVE GOT TO DO WITH IT?.  Rohena's film touches communities all across the country and we feel that Theatrical-On-Demand is essential to engage audiences no matter where they are," states Jay Hogan, Director of Marketing and Outreach.
WHAT'S LOVE GOT TO DO WITH IT? is an unscripted micro-budget feature documentary that uses humor to expose subtle insidious conflicts at play in Indian society.  What makes well-travelled urban Indians, who have freedom and privilege, choose arranged marriages over love?  The film, which premiered to packed houses at the Mumbai Film Festival, is an amusing portrayal of young urban upper class Indians coming to terms with expectations about love, marriage, happiness and tradition. The individuals featured in the film grapple with decisions about how and whom to marry, at once juggling societal and parental desires with their own. Other interviews with parents, marriage brokers and matchmakers, paint a larger picture of a changing society in which ideas about matrimony are themselves being transformed and challenged by new values and desires. Ultimately, the film provides a touching profile of the individuals whose lives and decisions are caught up in these changes.
Just as stated in a recent New York Times front page story, "For centuries, fathers sought matches among their social connections, often with the help of local matchmakers who carried resumes door to door.  But village-based kinship networks are fading as more families move to cities, and highly educated women often cannot find men of equal standing in those circles."  WHAT'S LOVE GOT TO DO WITH IT? explores the evolving arranged marriage scenario with humour… and brings out some of the underlying issues amongst the supposedly progressive sections of society.
This film is Rohena Gera's most recent project in her almost 20 year career in television and film.  The feature documentary went from a Mumbai Film Festival premiere in 2013 to an independent release in Pune through Inox cinemas, and now has a US Theatrical On Demand release, as well as an upcoming 5-city release in India.  Gera has also independently produced and directed a non-profit campaign called Stop the Hatred to fight communalism.  This featured 16 national Indian icons including Amitabh Bachchan, Zakir Husain, Aamir Khan, Ashutosh Gowariker, Sachin Tendulkar and various others.  Stop the Hatred was screened in 240 cinemas nationwide and on all national television channels in India.
Director Rohena Gera says, "I am thrilled to be back in the US where I studied, and more importantly where I learned to ask questions.   I remember people at Stanford asking me whether I would have an arranged marriage, and at the time I thought it was a ridiculous question, but years later I came back to it… I started to wonder whether people who opted for "arranged love" had it figured out! I am not a practical person but I could see the logic: marriages are expected to last a lifetime so people think why not base it on factors more measurable than love?"
"WHAT'S LOVE GOT TO DO WITH IT?" currently has 7 live requests (as of 4/28/15) for screenings in New York and California so far and requests are in for San Jose, Philadelphia and Jersey City.
NEW YORK
Wednesday, May 13 @7:30PM with special Q&A afterwards with director Rohena Gera
Regal Union Square 14, New York, NY
Wednesday, June 3 @4PM
Regal Union Square 14, New York, NY
CALIFORNIA
Monday, May 18 @7:30PM
Guild Theatre, Menlo Park, CA
TEXAS
Thursday, May 21 @7PM
Studio Movie Grill, Lewisville, TX
Wednesday, June 3 @7:30PM
Studio Movie Grill, Plano, TX
CONNECTICUT
Saturday, May 16 @11AM
Avon Theatre, Greenwich, CT
MARYLAND
Thursday, June 18 @7PM
Snowden Square Stadium 14, Columbia, MD
For more information, trailer, tickets or to request a screening: www.whatslovethemovie.com