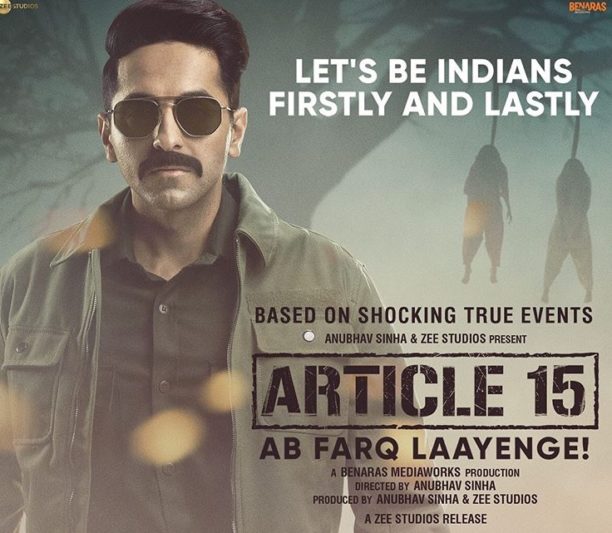 Opening night for the London Indian Film Festival 10th birthday celebrations was the World Premiere of Anubhav Sinha's Article 15. A reference to an article in the Indian constitution that prohibits discrimination on the basis of caste, religion, race or sex. An area that is always in the news for one reason or another recently. A very relevant subject in today's climate not only in India but across the globe. To say that I had high expectations from this film would be an understatement. I wanted this film to go out all guns blazing. Especially after speaking to a very close friend of mine earlier on in the year, who explained to me the discrimination he and his family had faced within India based on caste. He was also part of the reason I said yes to seeing this film.
Article 15 puts into the fore the caste system that is largely still prevalent in India but touches very briefly on place of birth advantages and sexual discrimination. Though the film doesn't take any 'sides' it does show the disadvantages faced by those individuals who are deemed scheduled castes or Scheduled tribes in India, especially in the villages. The film touches on the quota system that is in place for the lower caste but does not go into enough detail about it. It is something I learnt about through my own research post screening of Article 15 and maybe it is not covered as the people in the villages don't benefit as such from the system. It does make you think though, that how is such a system still in existence in today's day and age, why are humans not thought of as humans first.
Directed by Anubhav Sinha whose previous work has included Tum Bin, Tum Bin 2 and Shah Rukh Khan starrer Ra. One, Sinha has directed, written and produced a film which manages to keep the audience engaged from start to finish. This is largely due to the way the film unfolds. Parts make for uncomfortable viewing but the audience attention is held due to the intensity that is maintained from start to finish. Sinha successfully manages to make the audience think about what they see on screen and on some level question their belief system through the various characters on screen and their attitudes, the questions various characters ask each other, and manner in which certain situations unfold onscreen. You find yourself responding to the situations and characters as a result, which is the sign of a story that is written well and filmed well. Especially if it is issue based. You want your audience to go away thinking and that is what happens in this film. Sinha leaves you thinking.
Fresh of the back of Andhadhun and Badhaai Ho, Ayushmann Khurrana plays a police officer from a privileged urban, international, background. Khurrana is posted to rural north Indian village, where three teenage girls have gone missing. His honesty does not sit well with the existing, deeply entrenched corrupt system where, in 2019, a 1000-year-old practice where human beings are divided on the basis of caste continues.
Khurrana is everything you want an actor to be today. To be able to fit into any role with ease; be it Vicky Donor, Andhadhun, Badhaai Ho or the poker faced cop Ayan. I can see why Khurrana pursued this role. It is a well rounded character who does not fit the norms. Sinha has intelligently shown the character development with this film; you learn a little bit more with each scene. Known for becoming an actor who covers 'issues' in a comedic sense Khurrana has done a steller job in this drama that is so very different from his previous body of work. Sinha said in the Q and A session that he didn't see Khurrana in this role and that he cast himself. I can honestly say that I do not think anyone else could have filled his shoes in this film. This man is truly a force to be reckoned with.
Sayani Gupta is aptly cast as Gaura, a woman who is deprived of her rights because of her caste. A key character to the story, Gupta manages to act with her whole body. The scenes in which there are no words just the pain reflected in her eyes and through her body language makes the audience feel the range of her emotions.
Actors Manoj Pahwa, Kumud Mishra and Nassar play with your emotions. Not much can be said without giving away certain surprise elements in the film but a particular mention goes to Pahwa who stays with you long after the films credits roll. There are certain scenes that he has that are possibly the way a lot of those who believe in the caste system do think. Through his character you realise that it is the thought process of these people that need to be changed. Namashi Chakraborty makes his debut with Article 15 in a small yet pivotal role and does well in it. Isha Talwar's role is also small but of significance. She not only makes her husband think, but also the audience. Ayyub cast as a fed-up rebel brings to the fore the emotions that possibly every individual from the SD/ST caste has thought at some point.
Article 15 not a light-hearted film. There are precisely three points in the film where you laugh. The rest is sheer intensity. There are certain dialogues and visuals in the film that stay with you long after the film finishes. These are the signs I think of a film that is well thought out and executed.
To the team of Article 15 – take a bow, it's a job well done!
Article 15 opens on June 28th!