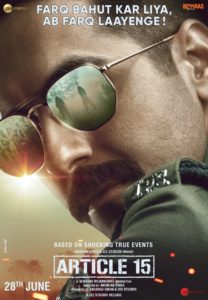 Article 15 of the Indian Constitution is clear on its prohibition of discrimination on the grounds of religion, race, caste, sex or place of birth. However, around the world today we still see plenty of times where one or more of these is breached. Article 15 the film is thus a patriotic thriller, which is not based on the real-life events of a legend making a difference that changed the face of India, but a modern day and shocking story aimed at stirring the soul of those who watch. The film, from what we see from the short trailer, is designed to make audiences scream in rage, understand what has gone wrong within our own society and look at solutions to avoid repeating history. Music for this has been given by Mangesh Dhadke and Piyush Shankar who while not being known in Bollywood have brought some great young singers to develop an album to match.
Yasser Desai and Aakanksha Sharma are both building strong discographies with some great tunes that they have lent their voices to. Naina Yeh is simply another one in this list for them except for a glowing issue in that it sounds almost exactly like 'Tera Chehra' from Adnan Sami's album of the same name. Since its been repurposed the music director has tried hard to cover the tracks but it's not often in Bollywood music over its 88-year history that listeners get to hear an iconic tabla flourish. Even the addition of the female voice to the song can't quite paper over the staccato rhythms which made that song such a hit. While the video for the original song did star Rani Mukherjee, this needed to be more Bollywood if the aim is to hide it.
Intezari is the next song but actually comes in 3 flavours in this album… an original by Armaan Malik, an unplugged by Ayushmann Khurrana and a jazzy version by Asees Kaur known as the Asees Version. Fascinatingly this is also inspired by previous songs but is better disguised. If listeners are familiar with the remakes by Armaan and Amaal Malik of songs like 'Ghar Se Nikal Te Hi', the truth of this song's origins come to light but generally speaking its not obvious. From the film's point of view, Ayushmann has sung in almost all of his films so the unplugged version is not a surprise, while Asees Kaur's version gives it a vibe more bent towards international audiences. The original itself is a slow, sad but gentle love song similar in feel to recent film De De Pyaar De's Chale Aana also sung by Armaan. Considering that this song is close on the heels of the one from DDPD, its hard to see it being a major hit with lyrics like "Hai zaban pe abhi taza saathiya".
Kahab Toh is the regional item number which is both a requirement for setting the film in its location but also as light relief for what is likely to be a hard-hitting plot. Sayani Gupta sings over the top of some very cut and clipped synth backgrounds; the lyrics making full use of colloquialisms to give an authentic experience. Audiences and listeners will need to listen out carefully for what she is singing though as both the language is hard to interpret and feels a bit all over the place with all the cutting and clipping. However, in doing this there is a blending of west and east which makes for a very interesting sound.
The album wraps up with Shuru Karein Kya. Being at the end of the album, this one likely to be either a title or ending song as SlowCheeta, Dee MC, Kaam Bhaari and Spit look to revive the drive created by the Gully Gang's album in the recent Gully Boy and use it to drive home the point "Baatein bohot hui, ab shuru karein kya". This song is right on message from start to end for this film and especially brings the anger that the people behind the film must be hoping to stir up.
Overall, it must be said this album is a major disappointment. Most action films use their albums to bring relief from heavy explosions and massive fight scenes but this hasn't been done here. Story based films will often use their albums to back up the story, giving character perspective on any given moment… but this hasn't happened here either. 'Shuru Karein Kya' is probably the only strong, on message and on point piece but like the others it's also somewhat of a rip off of already existing Bollywood motifs and thus doesn't add anything to this particular tale. To top that off the song that gains most traction in this album is 'Tera Chehra' by Adnan Sami as listeners will be digging it up from old playlists and being reminded of its haunting beauty.