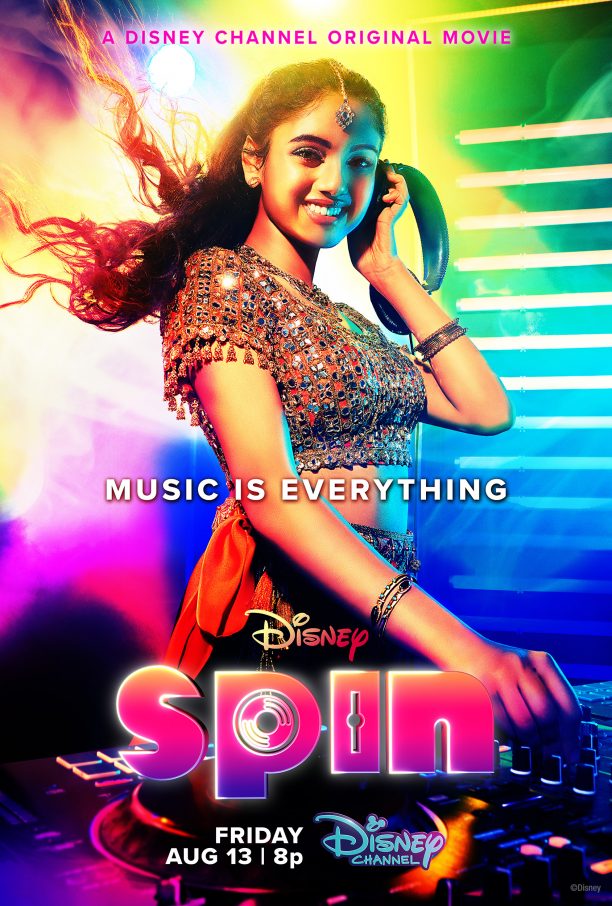 The exciting Disney Channel Original Movie Spin is getting ready to premiere on August 13th. Directed by Manjari Makijany (Skater Girl), the film features Avantika (Diary of a Future President) in the lead role of Rhea. Spin also features an international cast of talented veteran and burgeoning young actors, including Bollywood renowned actor Abhay Deol (Zindagi Na Milegi Dobara), UK comedienne/actress Meera Syal (Yesterday), Aryan Simhadri (Adventures in Wonder Park), Michael Bishop (Grace Beside Me), Anna Cathcart (Descendants franchise), Jahbril Cook (A Week Away) and Kerri Medders (Alexa & Katie). 




Spin follows Rhea, an Indian American teen who discovers her passion for creating DJ mixes that blend the rich textures of her South Asian culture and the beats of the world around her. Her life revolves around her eclectic group of friends, Molly, Watson, and Ginger, her family's Indian restaurant, and her tight-knit, multi-generational family, including her father Arvind, younger brother Rohan and her grandmother Asha. However, everything changes when she falls for aspiring DJ Max, and while falling, finds a passion for creating tracks to spin. Rhea discovers that she has a natural gift for making beats and producing music but must find the courage to follow her talent and find her music and play it out in the world. 
Aryan Simhadri
plays Avantika's brother Rohan the innovative restaurateur in the making. The young actor has quite the resume already. He is known for his recurring guest star role as Norvin Schnuckle on Disney Channel's comedy/improv mashup
Just Roll With It
and his leading role as Riyaz in the Netflix movie
The Main Event
, plus many other roles.  

We got the chance to do a Zoom interview with Aryan. In the fun and fabulous conversation, Aryan talked about his experiences working on Spin, working with Bollywood actor Abhay Deol and Meera Syal, plus what he hopes the audience will take away with them after watching
Spin
. Hit Play! 
 
 

The Disney Channel Original Movie
Spin
begins airing on August 13th at 8 pm EDT! Be sure to check it out!