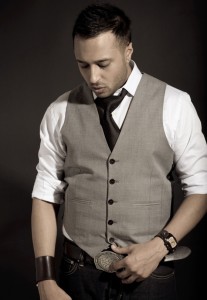 British Asian singer/songwriter Ash King is taking Bollywood by storm! After his hit track 'Te Amo' from Dum Maaro Dum earlier in the year, Ash has made a return this summer with the easy going ballad 'I Love You', which is taken from this week's monster Bollywood release Bodyguard. The film, starring superstar Salman Khan and Kareena Kapoor, hits cinemas around the world this weekend following the Eid festivities and is one of the most anticipated Bollywood releases of the year.
'I Love You' was produced by one of the Indian film industry's most recognised music directors, Pritam, who has now worked with Ash on several occassions. The song was originally sung by another more established Hindi singer but the current version was picked to feature in the film by Salman Khan himself due to Ash's unique vocals and ability to blend Hindi and English lyrics effortlessly whilst recording the track.
Ash explains: "I was in Kolkata with my dad and I got a call from Pritam as he heard I was there from a mutual friend. He then flew me over to Mumbai and I was in the studio as soon as I landed recording 'I Love You'. The song was also originally sung by a very famous Bollywood singer. The stylist for the film recently visited London and told me he was actually there when Salman heard my version of the song and chose it for the film . I'm very grateful to him and the team for choosing my version and have heard it's getting a great response in India and gone to number one on the Asian music charts in the UK as well! I hope everyone enjoys the song and this special movie."
West London born and bred, Ash King has been singing from a young age, with music running in his family and his father a close relative of Indian music legend Kishore Kumar. Ash's father was a classical vocal coach and along with Kishore Kumar, taught some of the world's finest Indian singers. Naturally Ash has inherited a musical talent and he is now becoming one of the UK's most gifted artists, with the ability to sing in several languages and record almost any genre of music. Previous songs include 'Dil Gira Dafatan', recorded in 2009 with Oscar winning music maestro AR Rahman for the film Delhi 6, 'Suno Aisha', produced by accliamed director Amit Trivedi for the movie Aisha and 'Love Is Blind', an English/Hindi/Arabic ballad which has generated over 3 million YouTube hits.
'I Love You"' has a combined total of over 1.5 million hits on YouTube in just a few weeks and has been regularly positioned in the Top 10 on the iTunes World Music chart in the last 2 weeks, currently featuring in the Top 10 of the BBC Asian Network's Official Download Chart. The track is being played heavily nationwide and has hit the number 1 spot on Sunrise Radio's Network Chart Show, Bollywood Top 20 and Buzz Asia's Top 20 Chart, proving to be a big hit amongst the UK audience. A similar response in India, where the song has been warmly accepted by fans and critics, shows Ash's growing emergence as one of the most talented singers to grace Bollywood.
Ash King will be performing 'I Love You' and other hits with a full live band at the London Mela this Sunday, 4th September.
He also surprised audience members at a special screening of Bodyguard on Tuesday by performing a few lines of the song before the film began!
Have a look and listen to the gorgeous unplugged version of the song!
httpvh://youtu.be/iIaLjcCXAuc