Bollywood editor for UK's leading cinema chain, Cineworld, and Bollywood expert for BBC London and BBC West Midlands, Ashanti Omkar in London, UK, hand picks a few of her favourite 12 Bollywood star interview quotes, from a decade in her career within UK's media circuit.
Omkar began her media career after working for top corporates like PepsiCo, Oracle and Hilton Group, by working with British music magazine Gargamel, moving quickly onto The Asian Post Newspaper as entertainment editor, and then senior features editor for Asian Woman Magazine, then producer of the South Side Show for DesiHits followed by being the editor in chief for Henna and Thamarai magazines.
She currently contributes cultural stories to Monocle Magazine Radio, as well as being London correspondent to Canada based Anokhi and India based Galatta magazines, in print as well as digitally, for worldwide audiences, on iPad/Android platforms. In her decade in media, one of her personal favourites, was presenting and curating Rahmania for B4U TV channel, on the advent of AR Rahman's double Oscar and double Grammy wins.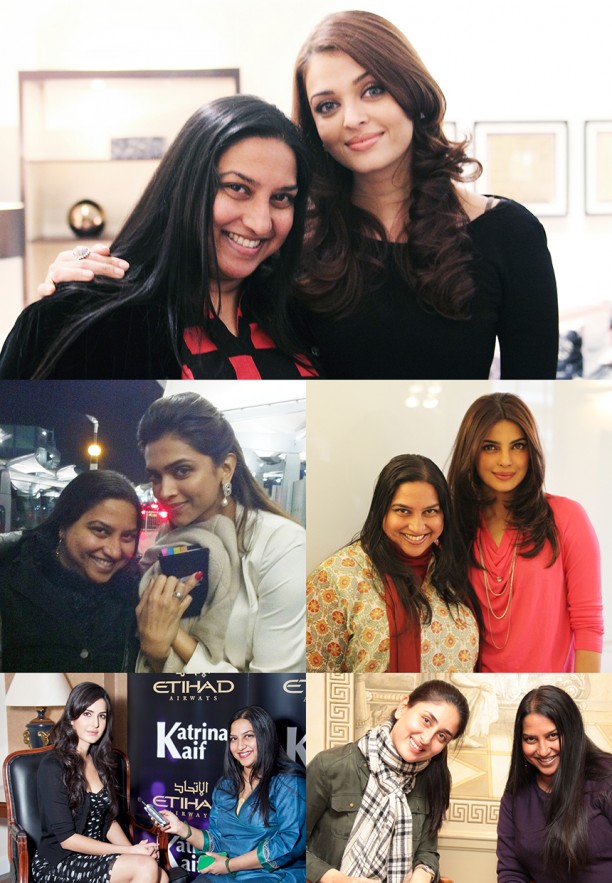 The Ladies…
Sridevi
"I am told by my husband that I'm a big joker (laughs)! I feel that speaking from the eyes as opposed to the lips, is of paramount importance for any artist and any character. It's about a healthy lifestyle, a good frame of mind and being positive. I'm a vegetarian, which helps a lot. My bliss is chilling out with my husband and kids." – Published in Cineworld Magazine, October 2012
Aishwarya Rai Bachchan
"Provoked was a very demanding role, yes. Not meeting Karanjit was so tough and interpreting her turmoil was tough as none of us had been there. The director's vision was an important factor for me and it all came down to working well as a team member. Domestic violence is a topic that is in the news all the time, it is so common yet so disturbing, but the society is almost blasé about it as it is so familiar. It is not a subject limited to the Asian community. It is everywhere and it is a social disease." – Published in Asian Woman Magazine, April 2007
Kareena Kapoor
"I am so lucky to be working with every Khan, from Shahrukh to Aamir to Salman to Saif to Imran. They are all tigers – all raring to go. They are all pillars in the industry, in my estimation. Thank you for always supporting me and please keep calling me back, as the UK always shows me so much love and I'd love to be here more often. I love Meryl Streep, especially in the movie Bridges of Madison County." – Published in Cineworld Unlimited Magazine, September 2011
Deepika Padukone
"(laughs) I don't think it's about being smokin' hot – it's a part of my lifestyle. Being fit and health is most important – inn  the process, when my body is in great shape, I feel good. Focus on being healthy, diet and exercise that I maintain and something I can cope with. As much time as I can. Try and workout as much as possible. Not time, but quality of work. Yasmin Karachiwalla – pilates and functional training together. The only thing I tell myself that one day the haters will start loving me, if I working hard to make it… I've always believed that focus on work, stay humble, keep the head down and all this success that has to happen, will happen in it's own own time." – Published in Cineworld Unlimited Magazine, July 2012
Priyanka Chopra
"My parents have supported me throughout and they moved with me when I moved to Bombay, as I was so young when I began. I was just 17 when I won Miss World and my dad wouldn't let me be alone. Even now, my parents are always with me and always support me. I was brought up as a very independent-thinking person, so when I decided that I wanted to pursue this line, they were with me all the way." – Published in Anokhi Magazine, July 2010 Entertainment Special issue
Katrina Kaif
"Inherently by nature, everyone has certain traits, mine is that I'm not comfortable opening up, which people often mistake for being stand-offish. I often live in my own world and I am thankful that I am able to come out of the shell to interact with fans, to an extent." – Published in Fusion Lifestyle Magazine, UK, Summer 2011 issue.
The Gentlemen…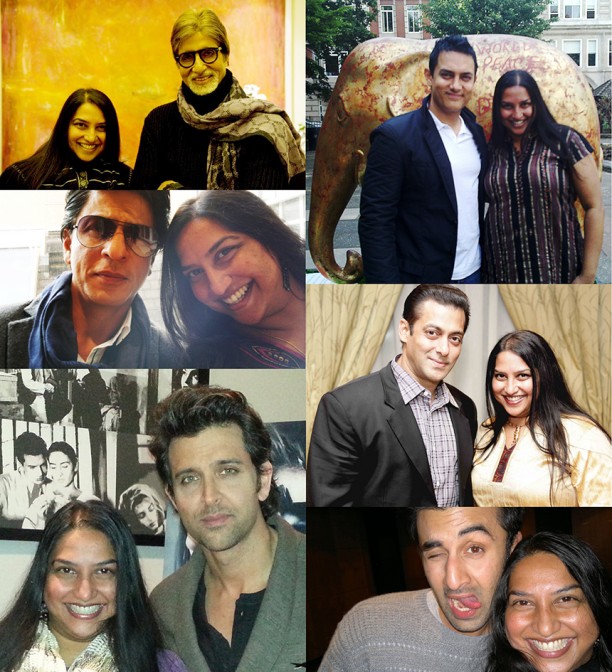 Amitabh Bachchan
"I have a busy schedule and I make sure I include my fitness regime first. In Mumbai, food is cooked at home as I am a vegetarian; I choose my restaurants when travelling. I enjoy any good vegetarian food and my favourite cities are London and Mumbai. I am always nervous before shooting despite the number of times I have been in front of the camera. I love all types of music especially Buddha Bar and Classical music. I dislike music without meaning. I'm very honoured and grateful by the love given to me by people all over the world and I thank God." – Published in Henna Magazine, Summer 2008
Aamir Khan
Over the years of my career, I've worked with new people, from directors to actors. It is a joy to work with a young, energetic, passionate crew, like in my recent productions. Their sense of cinema is very evolved. It doesn't matter their ages, what matters to me are that they are excited about it and that they have a positive and happy work ethic. I love cinema and it is not work to me, but my passion. That's not to say that people in the game for a long time don't possess these qualities, they also do and those are the people I choose to work with." – Published in Anokhi Magaizne, July 2011, Entertainment Special Issue
Hrithik Roshan
"The pain is inevitable, we're all going to experience pain, but the suffering is a choice. You can choose to suffer or not. But pain is going to be a friend of yours throughout your life. I don't say that in a dark way, as it is a catalyst that helps you grow and create. All the best creations in the world have come about from some kind of a personal experience that one has vented about. Pain is not a bad thing, it is a good thing and it eventually becomes the wind beneath your wings." – Published on Cineworld Cinemas Website, October 2013
Shahrukh Khan
"I work out a bit and the food I eat needs to be good, nothing special. I'm a small eater. I'm careful, I play, I exercise. When I need to really get into shape, I spend 45 minutes a day doing a diligent workout. My metabolism is good. To make a six-pack, I go on a high protein diet and add extra exercise. I play with my kids. I don't like to put on weight and am conscious of this. If I start feeling unhealthy, then I play football, run around and get back to my normal and comfortable weight. I love sports and love to play cricket with my kids too." – Published on India.com | BollywoodLife, sister site to HollywoodLife, Variety and Deadline, November 2012
Salman Khan
"As I was shooting for Ek Tha Tiger and this coincided with my promotional activities for Bodyguard, I had to find a way to keep fit. The tight schedule these days has left me with no time for my regular workouts so I took to cycling, as it was the best option to stay fit and save on time as I travel from one location to the other. I have to keep a regular routine, as my characters all require a certain look and even though doctors have told me to not to burden myself too much, I am keeping a routine and also being very careful with my eating habits. Eating good and regular exercise is my mantra to stay fit and this is what I'll suggest everyone to be in shape. I believe in staying fit and health is very important so being in shape with regular workout comes naturally to me." – Published in TLF Magazine, Winter 2011
Ranbir Kapoor
"I'm not a Rockstar but an actor playing the role of a Rockstar, with a lot of help from Imtiaz Ali and Mr AR Rahman. I was a bundle of nerves when Mr Rahman wanted me to be a part of his Rockstar concert – sharing the stage with him, Mohit Chauhan, Ranjit Barot, Sivamani and all the other amazing singers and musicians. Because I am not a musician. Mr Rahman was amazingly supportive and he persuaded me to play the guitar on stage and I actually did it. Id' been working on this film for one year, but those 5 minutes with him as a Rockstar was when I really felt like one. We went to the Nizamuddin Dargah for the 'Kun Faya Kun' song shoot. I see that Mr Rahman himself is such a spiritual person and a surreal connect with something out of the ordinary, which reflects in his work. It was an experience that changed us all and we thanked Mr Rahman for taking us there." – Played on BBC London 94.9FM, November 2011