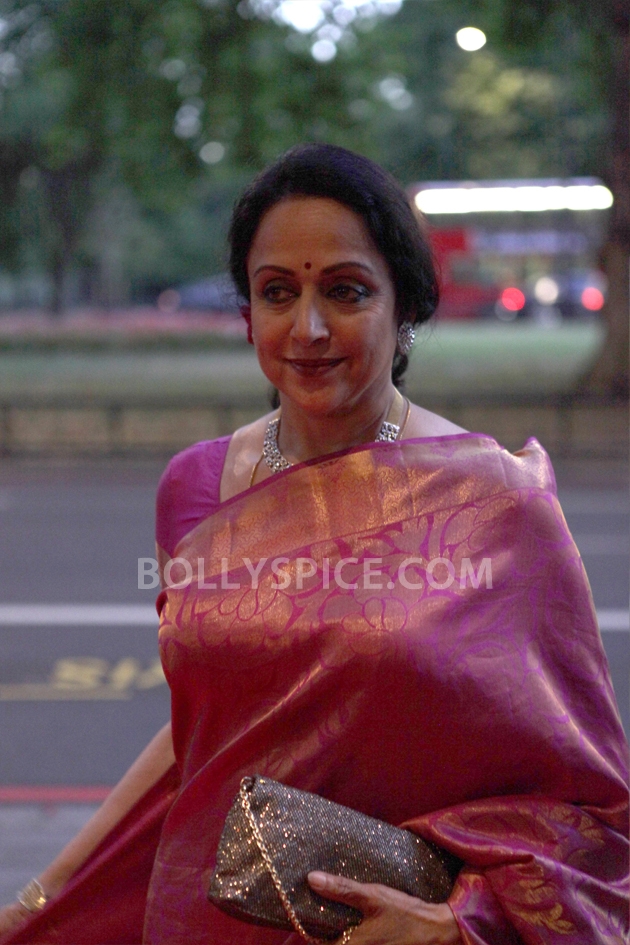 The Asian Achievers Awards took place in London last Friday and dream girl Hema Malini attended the esteemed ceremony and was honoured with the International Personality of the Year Award.
Taking place in Grosvenor House Hotel, London on Friday 14th September, the awards ceremony was hosted by DJ Lora and former England cricketer Mark Ramprakesh and saw a number of personalities attend the ceremony including cricketer Kevin Pietersen, music producer Rishi Rich, singer Navin Kundra and entrepreneur Shahnaz Hussain, to name a few.
Lord Archer conducted the charity auction, which raised £121,000 for the charity, Sarvam, which was represented by Bollywood actress Hema Malini.
The Chairman of The Sarvam Trust charity explained to guests what Sarvam represents saying it "is a unique rural development project" that seeks to empower the community and "create a model which is sustainable, replicable and scalable."
Speaking to guests Hema Malini shared her pleasure to be apart of the 12th Asian Achievers Awards. She explained her connection to Shri Aurobindo Society saying, "I have a very beautiful connection with my Guruma Indiradeviji and Shri Dilip Kumar Roy, those who are disciples of Shri Aurobindo. I was told some years back when Pondicherry Ashram was made, they needed some funding. Dadaji, who was a very great singer, sang at various places and collected funds to establish the Ashram. If such great people can do so much work, why not you and me? This prompted me to be a part of Sarvam."
The actress went on to say, "I immediately spoke to Vijay Poddar and I wanted to adopt a village, somewhere in the north of India, and be a part of Sarvam. I wanted both my daughters, Esha and Ahana, to be a part of it. If we all can adopt one village, what a beautiful future we can bring for [India]. I am here to support Sarvam, to be a part of Sarvam."
Hema Malini also told Bollyspice.com about The Sarvam Trust saying, "It is to develop a village, adopt a village, which even I would like to do it and it is coming from Aurobindo society, who is also my guru, I will say, so I would like to be apart of it."
Hema Malini gave a message to her fans telling the media, "I would like to only tell my fans that I love them all and since I am part of this project, to be for this charitable cause, so I would like many people also to join."
The Asian Achievers Awards commemorates individuals who are responsible for bringing the Asian community to the centre stage of British life as well as celebrating achievements of inspirational community members. The awards were created to create role models and thus encourage younger generations to follow in their footsteps.
A full list of winners at the awards ceremony can be viewed below:
AAA Gold Award for Achievement in Media, Arts and Culture
Founder of Bollywood Dance London, Nileeka Gunawardene
AAA Gold Award for Uniformed and Civil Service
Director and Controller of the Royal Navy Rear-Admiral Amjad Mazhar Hussain CB
AAA Gold Award for Woman of the Year
Pioneer and leader of herbal care clinics Shahnaz Husain
AAA Platinum Award for Sports Personality of the Year
Professional Boxer and Ambassador for The Prince's Trust Akaash Bhatia (the award was collected on Akaash's behalf by his father, Bipin Bhatia)
AAA Gold Award for Professional of the Year
Pioneer of the laser eye surgery technique LASEK Prof Sunil Shah
AAA Gold Award for Achievement in Community Service
Lecturer, speaker and teacher of Religious Studies Kishan Devani
AAA Platinum Award for Business Person of the Year
Group Founder and Chairman of the Lycatel and Lycamobile Group of companies Subaskaran Allirajah
AAA Gold Award for Young Entrepreneur
Managing Director of Icone Group of Companies Shamir Shah
AAA Platinum Award for Lifetime Achievement
Founder of Noon Products Lord Ghulam Noon
AAA Platinum Award for International Sporting Personality of the Year
Kevin Pietersen, who was presented with the award by fellow cricketer and AAA judging panel member, Sunil Gavaskar.
AAA International Personality of the Year
Bollywood veteran and philanthropist, Hema Malini, who was presented with the award by ABPL Group Chairman, CB Patel.
Editor's Award
HH Sir Judge Mota Singh QC
Asian Voice Special Award for Vision & Enterprise
Mr Samrat Bhandar
Photo credit: Monir Ali