Winners of the coveted Asian Achievers Awards 2013 were announced at the esteemed award ceremony on Friday 6th September amid the fitting grandeur of Grosvenor House Hotel, Park Lane, London W1. The awards recognise the outstanding work of individuals from across all businesses and professions, and acknowledge the accomplishments of the finest of the UK's Asian community. This year's event paid particular homage to the achievements of women from Asian communities and across all spheres of professional life.
Hosted by Asian Business Publications Ltd (ABPL), publishers of respected newspapers, Asian Voice and Gujarat Samachar, Asian Achievers Awards 2013 welcomed a who's who of high profile dignitaries, cross party politicians, celebrities and high achievers from the Asian community. Among them were Chief Guest, Cherie Blair CBE, QC; Special Guest, American civil rights leader, Rev Jesse Jackson; and Rt Hon Keith Vaz MP. This year's panel of judges was chaired by Rt Hon, Lord Dholakia OBE DL, Deputy Leader of the Liberal Democrats.
The esteemed award ceremony, presented by Sky News presenter, Ashish Joshi, and comedian Shazia Mirza, was interspersed with a line-up of world-class entertainment, a sumptuous dinner and charity auction in aid of the LILY Foundation. The NGO works to raise funds and awareness for its anti- trafficking work which spans prevention, rescue and rehabilitation, education and livelihoods through to advocacy, campaigning and legislation, with the ultimate aim of ending the trafficking of women and children.
In his opening speech, Mr. CB Patel, Chairman, Asian Business Publications Ltd. (ABPL) said, "The theme of this year's awards is solely dedicated to women. We all are aware of the manifold roles of a woman. The most unique and the greatest being that of a mother. She is also a wife, a sister, a daughter, a friend, and every bit of her role has its unique significance in a man's life. In a way, it is a happy occasion for me but at the same time, I feel very unhappy that women in every part of the world, including in Britain, suffer gruesome and unfortunate experiences – they are murdered in the name of honour, beaten up, trafficked and the nightmare is unbelievable. Even in the professional world, many of the women suffer endless obstacles, the lack of exposure and equal rights- the 'invisible' glass ceiling we have heard about.
Tonight we are celebrating the achievements, might and bravery of all those women who have not only dealt with the odds in their lives, but have fought for equal opportunities and have made significant contributions, sometimes more than men in this society."
Col Pickles Sodhi, Managing Director, Alpha G Corp – the Main Sponsor for the event – said, "At the outset, on behalf of our company, I would like to offer my congratulations to all nominees tonight. I would like to thank Mr CB Patel for giving us the opportunity to recognize and acknowledge excellence. From Alpha G Corp, always expect the finest."
Chief Guest, Cherie Blair, CBE, QC said, "Part of the reason for us being here tonight is to celebrate the British Asian community, and I consider myself very much an honorary member of that, not least because it gives me the great opportunity to wear the fantastic Indian dress. We're also of course celebrating Asian women here tonight and guys if you had to get dressed in this every day, you would realise that their achievements are even more extraordinary.
We've seen women triumphing to the top in education, the workforce and politics. I was privileged to see that on my table was a woman officer in the RAF. That would have been impossible 30 or 40 years ago. That is something that we need to celebrate. We will see this from many of the people we'll hear about tonight, from business, finance to my own field, the law… Women are making huge contributions in our country and in the world and tonight we're celebrating that particular mark that Asian women have made. So let's now look forward to hearing about incredible stories of achievement and thank the event organisers for once again putting on an incredible evening."
In his address to guests, Rev Jesse Jackson said, "I am delighted to be here to celebrate the 13th AAA. You should all give yourselves a big round of applause. In this past week, we celebrated Martin Luther King in Washington and everything he did in 1963. He never gave up. I thank you for the joy, the hope and let's keep fighting together. There is too much hate in the world, too much violence, too much war. We, as civilised people, must go another way. War is attractive, but peace has more benefit. We've tried war, it does not work. Instead, let's give hope a chance, and keep hope alive. Give peace a chance, give peace a chance."
Winners of the Asian Achievers Awards 2013 are:
AAA Gold Award for Achievement in Media, Arts and Culture: Seeta Indrani, Actress and Performer
AAA Gold Award for Achievement in Community Service: Professor Naina Patel OBE, Founder, Policy Research Institute on Community and Inter-faith Relations (PRIAE) in the UK
AAA Gold Award for Sports Personality of the Year: Ruqsana Begum, Kickboxer, British Champion, European Gold Medallist, World Bronze Medallist
AAA Gold Award for Uniformed and Civil Service: Surjeet Manku, Chief Superintendent
AAA Gold Award for Professional of the Year: Nandita Parshad, Director, Power & Energy Utilities Team at the European Bank for Reconstruction and Development (EBRD)
AAA Gold Award for Young Entrepreneur of the Year: Rajeeb Dey, Founder and CEO, Enternships
AAA Platinum Award for Business Person of the Year: Firoz Tejani, Chief Executive of the Lenlyn Group
AAA Platinum Award for Woman of the Year: Farida Gibbs, CEO of GibbsS3, a globally certified, woman-owned business empire
AAA Platinum Award for Lifetime Achievement: Hinduja Brothers, industrialists and philanthropists
Editor's Award for Lawyer of the Year: Mitesh Patel, Partner, Levenes Solicitors
Editor's Award for Philanthropist of the Year: Anita Choudrie, Founder of Path to Success charity
The Asian Achievers Awards salute individuals who are singularly responsible for bringing the Asian community to the centre stage of British life, and celebrate the exceptional and exemplary achievements of community members that are truly inspirational. The coveted Awards were first envisioned as a standard of excellence that would create role models and encourage younger generations to follow in their footsteps.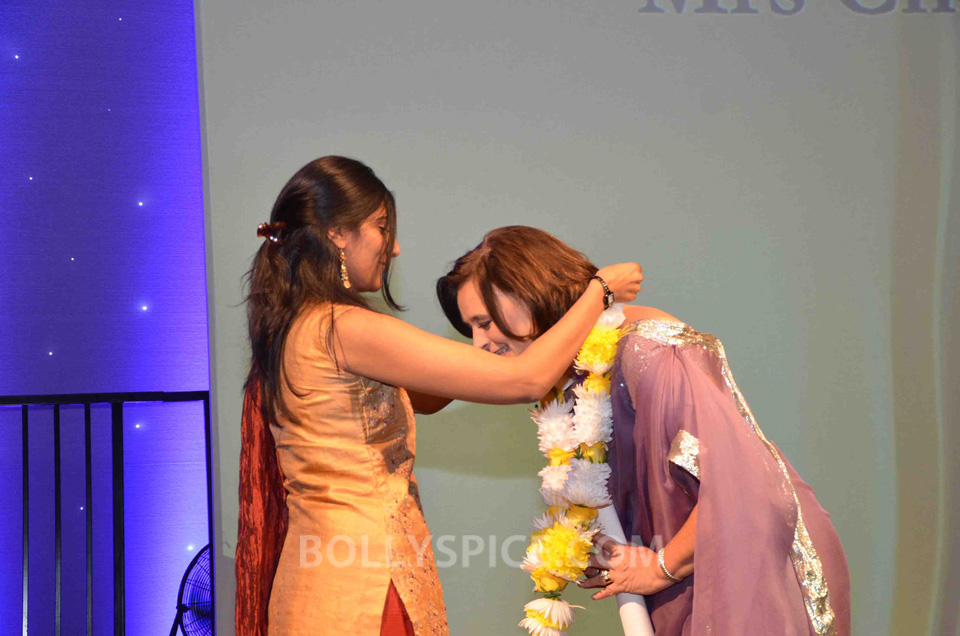 Cherie Blair CBE, QC being garlanded

rt Hon. Keith Vaz MP; Rev Jesse Jackson