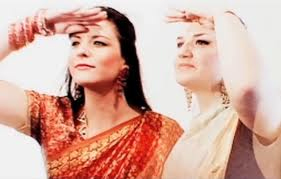 On March 7, 2012, ASIEXPO TV launched a new show dedicated to the world of Bollywood.
 Every month, thousands of fans of Indian cinema can watch, for free, a new five-minute program entirely devoted to Bollywood.
The exciting show is in French with English subtitles and hosts Claire & Ellie present to Internet users the latest news from planet Bollywood and will get you in the know about everything (or almost) of recent gossip as well as divorces, marriages, births and more. They also will have a special track a chronicle Cinema, which announces the latest releases, the Tops Flops of the month, exclusive trailers , and a selection of DVDs. Add in events about Bollywood from all over the whole world and you can see this show is 100% Bollywood.
Check out
April 2012 issue: 
http://tv.asiexpo.com/videos/100-bollywood-avril-2012.html
March: 
http://tv.asiexpo.com/videos/100-bollywood-mars-2012.html
About ASIEXPO TV:
ASIEXPO TV is a new web channel launched in November 2011 that works 7 days. Every Wednesday, it allows moviegoers to watch or discover new films, interviews or broadcasts streaming, dedicated to Asian cinema. Simply connect to the internet via your computer (Mac or PC), smartphone, connected TV, console, or tablet. 50% of the offer is totally free (emissions, interviews, short films, Asian). To view a feature film, a subscription is required: 3 € for a movie, € 9.90 for a monthly subscription and € 50 for an annual subscription. ASIEXPO TV can be found at 
http://tv.asiexpo.com/