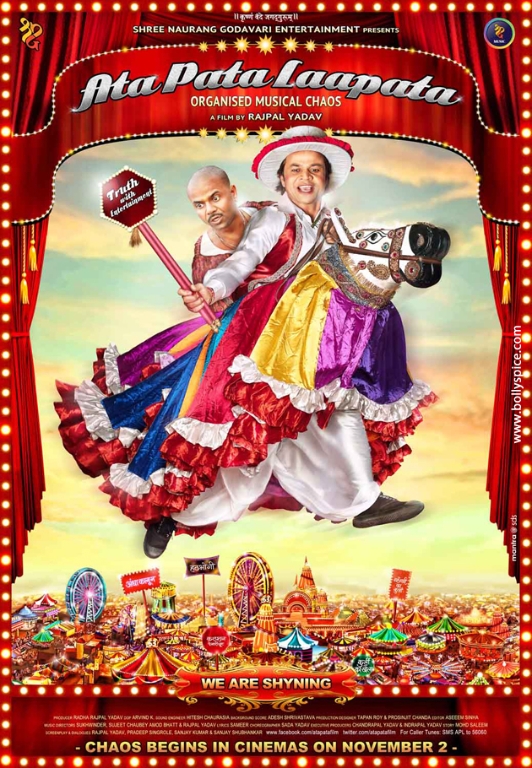 Ata Pata Laapata is an exciting musical satire on the corrupt bureaucratic systems which have deep roots not only in the governing stratum but also reflects in our society. 
It marks the Directorial debut of one of the finest actors of Hindi Cinema Rajpal Yadav, also embarking a new style of experimental cinema on the lines of Broadway.
Ata Pata Laapata (APL) uses intelligent metaphors and musical odes, to expose the undercurrent of corruption in a common man's life and brings forth the power struggle between the chair holders and contenders staking the welfare of the people and development of the nation. The story is woven around a common man resident of Izzat Nagar Manav Chaturvadi (Rajpal Yadav) whose house goes missing and he files an FIR and what follows is a chaotic roller coaster ride of confusion, political melodrama and much more. APL stays true to its nature of being farcical or ironic comedy veering around the systemic corruption that hijacks the welfare of the society.

CAST & CREW:
Starring: L.T. Dara Singh, LT. Pandit Satyadev Dubey, Asrani, Rajpal Yadav, Ashutosh Rana
Genre: Comedy
Director: Rajpal Yadav
Written By: Mohd. Saleem
Produced By: Radha Rajpal Yadav
Screenplay by: Rajpal Yadav, Pradeep Singrole, Sanjay Kumar, Sanjay Shubhankar
Facebook: https://www.facebook.com/atapatafilm/info
Twitter: www.twitter.com/atapatafilm
YouTube: http://www.youtube.com/sngentltd

Check out the trailer!
http://www.youtube.com/watch?v=CuR6PmAiRFU