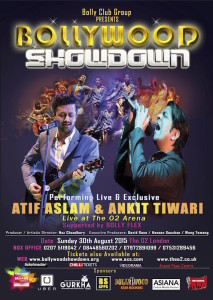 Bollywood Showdown, in its fourth year, returns with headlining act, Atif Aslam, due to popular public demand. The 'Jeena Jeena' and 'Zindagi Aa Raha Hoon Main' rockstar will be joined by the multi award winning music sensation Ankit Tiwari and supported by the spectacular Bolly Flex dancers. 
Two of Bollywood's biggest musical phenomenon's, Ankit Tiwari and Atif Aslam, from India and Pakistan respectively, will share the stage for the very first time. While Atif makes a historic third time return to performing at the O2 Arena, this will be the first O2 Arena performance for the 'Sun Raha Hain' and 'Galliyan' singing sensation, Ankit. They will both perform full feature length acts with the finest musicians from India and Pakistan. 
Atif Aslam, said: "I am really excited to return to The O2 for the 3rd time, this year I will be doing a new set with all my latest hits, I missed the UK fans, I will be there soon, be there on Sunday 30th August."
Ankit Tiwari, said: "It will be my first time performing in the world's most popular arena, I'm really excited about performing in Bollywood Showdown and performing alongside the likes of Atif and Bolly Flex, it will be a great night, don't miss out. I am also delighted to be part of a bigger vision to help support thousands of people to build a better life in Nepal."
Naz Choudhury, Artistic Director, said: "We have had a huge response from our fans and by public demand we brought back Atif Aslam and we are really excited Ankit Tiwari will give the show a new dimension. We have a great team in Bolly Club who have been working extremely hard to make this magical music show come to life. Catch me perform live with Bolly Flex, we will burn the floor, don't miss it."
In addition to live musical performance and the glitz and glamour of Bollywood dance and entertainment, Bollywood Showdown will also be selling exclusive Bollywood Showdown Atif Aslam and Ankit Tiwari merchandise. All funds raised onsite through merchandise sales initiative will be split evenly between the event's chosen charity, the Nepal Appeal, and The O2's chosen charity. Official merchandise will be unveiled nearer to the live date.
Bollywood Showdown Charity: The Prime Minister's National Relief Fund
The resources of the Prime Minister's National Relief Fund (PMNRF) are utilized primarily to render immediate relief to families of those killed in natural calamities like floods, cyclones and earthquakes, etc. and to the victims of the major accidents and riots. The fund is recognized as a Trust under the Income Tax Act and the same is managed by Prime Minister or multiple delegates for national causes. The PMNRF accepts only voluntary donations by individuals and institutions.
The O2 Charity: The Royal Marsden Cancer Charity
The Royal Marsden Charity is the official charity partner of The O2 Arena. As a world-class cancer centre, money is raised to help fund the research in pioneering technology and treatment to best diagnose, treat and care for their patients and saving life across the UK. The Duke of Cambridge, HRH Prince William remains the President of The Royal Marsden Cancer Charity since 2007.
For more information visit 
http://www.bollywoodshowdown.org
Book tickets
http://www.theo2.co.uk/events/detail/bollywood-showdown