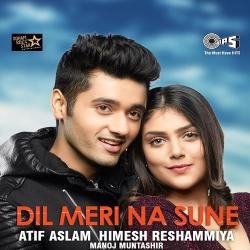 This one could well enter the record books of 'Believe it or not' but it has happened indeed. Within just 50 days of its release, Atif Aslam's 'Dil Meri Na Sune' has crossed the 100 million mark when it comes to the online views. With Himesh Reshammiya bringing the kind of 'desi' melody that has always been in vogue and is pretty characteristic of his style that has never faded in last couple of decades, this song from Genius has actually turned out to be a rage on internet.
"Especially amongst youth, the song is a huge chartbuster," says our source from Tips which has produced the album, "All credit to the simplicity that Himesh has brought in his music and the kind of lyrics that Manoj Muntashir has written. When it comes to the matters of heart, it is always the simplicity factor that works and that's something that we were looking for when it came to a romantic situation in Genius."
What turned out to be added bonus was rendition by Atif Aslam.
"Atif and we go back a long way," says Kumar Taurani of Tips, "We have collaborated on dozens of chartbusters together and now 'Dil Meri Na Sune' is a welcome addition to that. It is always so good when a song with so much of heart in there turns out to be so much popular across the country. A 100 million mark is a testimony to that."
Moreover, even in the 'caller tune' segment, the song stays on to be hot favorite.
"Melody and rhythm have been the pillars of music that is churned out by Tips and we have never settled for anything lesser. Success of our recent soundtracks like Race 3 and Genius has only strengthened our belief in that," smiles Taurani before signing off.
ICYMI