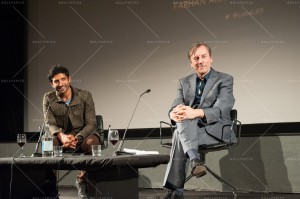 As we reported earlier, Bollywood superstar and filmmaker Farhan Akhtar attended a special screen talk as part of the programme for the fifth annual London Indian Film Festival. The evening was very much lively and full of great and memorable moments which Farhan kindly shared with his fans and movie lovers alike. We now present to you a report on what took place during the Q&A session with Farhan, where fans had the opportunity to ask the star questions about his career and about the film industry. Check out some of the cool and interesting questions they asked and how Farhan responded. Enjoy!
Q: Of all the movies that you've made, which one is the most closest to your heart?
A: Well it's impossible to answer. But I think for whatever its worth, I think Dil Chatha Hai will always have a special place. I think if it wasn't for that film, I don't know I'd be here at all. So probably that, but only just.
Q: You're a singer, producer, director and actor. Is there anything left that you'd still like to achieve or any role that you'd like to fulfil?
A: I haven't thought about it. Given everything that is going on right now, apart from my professional life, I have to give a lot of time to my kids also. I have to think of beyond of what it is that I just want to do all the time. So I haven't thought about it but I feel very grateful for everything that is going on and I hope that it will continue like this. And if something of course comes along that kind of peaks my interest and makes me want to devote some time to it, then I definitely will.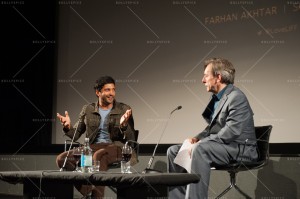 Q: How do you keep your head sane in a world like Bollywood which is fairly insane?
A: It's a very interesting question. I feel the only way to do it is to just have voices of reason from outside the film industry. I think that's the only way to do it. Apart from your family of course, who I think keeps you grounded, you should also have friends who you've known for years and who have known you for years and can tell you that you're behaving badly. Or who can tell you to not let things go to your head. Because it is easy to get carried away and there's no denying that.
It's important to have the right people and not just 'yes' men. So for me the circle of friends who I usually hang out with and people that I've known for around 25-26 years don't think twice of telling me that they just feel something is happending and that I'm changing in a way that is not a good way. And they always bring it to my attention. So I think that's the only way to do it and there's no other way.
Q: Can one film have any significant impact on society and culture? And if so, which one has done this so far?
A: I think films can and I think a recent example that comes to mind is (Lage Raho) Munna Bhai. It is a great example of how to bring about a change in society in a way that is non-violent and with Gandhian principles. So I think that is a film that had a huge effect on people.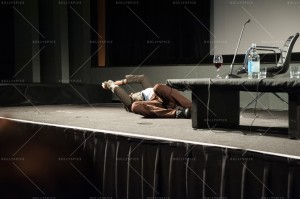 Q: When you wrote your first film (Dil Chahta Hai), did you have any fear of thought twice about going in to production with it?
A: With your first film, the last thing that you have is fear. You're just so excited and happy that you get a chance to make a film that you don't think about what's going to happen to it when it releases. And I try my best to feel that way with every film. I mean it's not easy but I do try that. Because there's no fear of failure, because you feel this is one chance that you have. If it works great! And if it doesn't work, then you go back to doing what you were before that. That feeling gives you a lot of strength and conviction to do it the way you want to do it. And I try my best to get myself mentally and emotionally back to that place every time that I make a film. It's not easy but I try.
Q: The films that you have directed and starred in were quite risk taking at the time. Where does the gutsy Farhan get his confidence to pick such project and do them? Because at the time you weren't a star and were building yourself as an actor and director. So where does this come from?
A: I think it's about listening to your inner-voice that excites you and which tells you that there's no reason to say no to something. If you have no reason to say no then you should say yes. There's many films and scripts you read that sounds extremely promising on paper. But if there's something that you can't connect with then you must say no. Because that script will then end up finding someone who believes in it the way you believe in something else. So that voice to me is very important.
Q: What's your relationship like with your sister (Zoya Akhtar) and how do you take direction from her? Do you guys fight or argue?
A: No not really, not anymore. I mean there was a time when we fought a lot. We're a year and a half apart so there was always a (fight) for space like 'they're my friends'etc.
Q: You've been working 14 years now within the film industry. What do you think has changed the most? Where do you see Indian Cinema standing currently now?
A: There's a great emergence of new talent whose influences aren't just the film that were made in their language. Their influences are from all over the world because the exposure is so much more. So they are more in-tune of telling stories that are true to who they are, to their culture and their influences also; as opposed to what it is that they think people want to see. And I think that's a very healthy thing and it's been happening for a while. And I feel that's it's probably going to get even more powerful as a voice. That young filmmaker voice talking about his or her story. I think that's a big change.
Q: There's some fantastic films that are coming out of India at the moment. Do you think this is the best time ever for Indian Cinema?
A: I don't know about the best time ever, but there have been phases in our movie-making history where we've done some great work. So I don't know about best time, but it's a good time for sure. I just hope that it can stay like this and get better. Courage I think is the most important thing that filmmakers and writers need to have. We do all try our best.
There's also a kind of a very strange system that we work with regarding censorship. Of having to maybe not even think of certain things as topics for films. And at times we do that to ourselves for fear that our film may not release so why bother. I mean many things go on, but I hope that can change and a lot more courage can come in filmmaking. I think right now there's a lot of diverse ideas, but I think there can be a lot more courage and hopefully that will happen.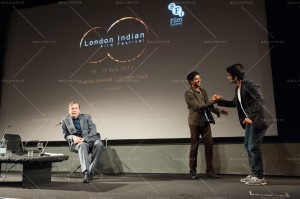 Q: As audience members, we find ourselves getting attached to certain characters and things stick with us. As a director where you are creating a character and as an actor where you are playing a character, how do you detach yourself from one and get into a whole new one?
A: It's definitely easier as a director because you are working on something and then you are giving it someone else to bring it to life. So I think they get a lot more attached to it than you do. You're attached to your film and sometimes it takes time to move on from that. But with characters (as an actor), it can be a bit dicey depending on what part it is. With a film like Rock On or Zindagi Na Milegi Dobara are so close to who I am and how I feel that it doesn't take too long to get in or get out. But with Karthik Calling Karthik for example, or with Milkha (Bhaag Milkha Bhaag), it was a huge process of getting in and then eventually working that character out of my system. It's not easy but you're living a life for that period of time. Like for Bhaag Milkha Bhaag, it was roughly for around 18-19 months of living like how Milkha Singh lived. Eating like him, training like him and looking like him. So for a year and a half, if you're looking at yourself in a mirror and see this one person and suddenly one day you just go and shave. It just feels so kind of removed from what your reality was at the time. So it is a process, but it is important to do and to move on and not to dwell. But with certain roles, it's not easy.