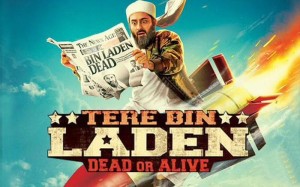 The much awaited sequel of the year 'Tere Bin Laden: Dead or Alive' which released on Friday opened to rave reviews from audiences and Bollywood celebrities. People have taken to social media to praise the movie and have labeled the film a laugh riot.
The film has incredible comic timing and has the audiences in splits. All the actors hold the film very well and have performed very well and received praises from the audiences. Manish Paul, Sikandar and Pradhuman have been spot on and essay their roles effortlessly and perfectly. They bring a lot of depth and authenticity to the scenes. Produced by Pooja Shetty and Aarti Shetty of Walkwater Media, 'Tere Bin Laden: Dead Or Alive' stars Manish Paul, Pradhuman Singh and Sikandar Kher. Directed by Abhishek Sharma, the will is released worldwide by Phantom Films & PVR Pictures on February 26, 2016.
Below are tweets from people praising the film.
Mayank Shekhar- (Very much a Win bin Laden!) Tere Bin Laden: Dead Or Alive, retains a fine balance. It is, black comedy at its best.
Bharat Sangvi- More madness than the first part. Manish-Pradhuman-Sikandar make an awesome threesome. Guaranteed 'Lara Lappa' laughs!!
Arjun Kapoor- Take a bow Shetty sisters,a worthy follow up to a zany film !!! Tere bin laden 2 is crazy fun…Super work by @ManishPaul03 and @sikandarbk
Anil Kapoor- India's answer to Sacha Baron Cohen @sikandarbk a.k.a #Yank a.k.a #DavidChaddha. Double dose of fun #TereBinLaden2! What a performance!
Karan Johar- #TereBinLaden2 is a hugely clever RIOT!!! A super spin of a sequel!! A terrific ensemble of actors make this a perfect parody!!! #mustwatch
Mika Singh- What a great fun! #Terebinladen2 did absolute justice to the legendary part 1, full of laughter..go & watch. Congo bro #ManishPaul
Hardkaur- U absolutely killed it #Terebinladendeadoralive What a character & superbly played by @sikandarbk Go watch da movie
Daaboo Ratnani- #TereBinLadenDeadorAlive is a Laugh Riot, Thanks to Impeccable Comic Timing of @ManishPaul03
Kartik Aaryan- #TereBinLadenDeadorAlive Is a laugh riot and @ManishPaul03 You are a rockstar Congratulations