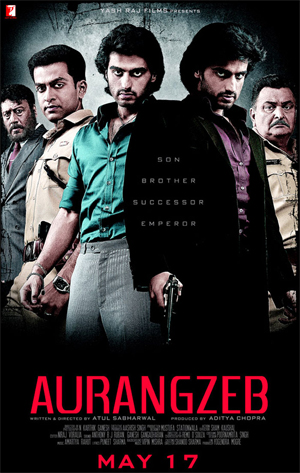 Produced under the Yash Raj banner, Aurangzeb is one of those films that expose the darker side of the Gurgaon and the National Capital Region. The movie depicts how the nexus of the corporate houses and politicians take corruption to a whole new level. It takes a lot of guts and audacity to present the tug of war of a real estate arena to the celluloid. I must say that Atul Sabharwal to that extent has done quite a good job. Read on to find out more!
ACP Arya (Prithhviraj Sukumaran) is from a Family of Cops and follows his paternal uncle (and godfather) Ravikant (Rishi Kapoor). Ravikant raises Arya as his own son and has a very happy family in the form of his son Dev (Sikander), who is also a cop, his wife (Deepti Naval) and a daughter who is also the wife of a policeman.
Arya approaches Ravikant for help for a clean chit to his late father (Anupam Kher), who was killed in an encounter. The last thing that Arya's father tells his son is about his second wife and son Vishal (Arjun Kapoor). His father's words being etched in his mind, Arya sets out with Ravikant to do justice to his step-mother Veera (Tanvi Azmi) and brother Vishal.
In a parallel world, Yashwardhan (Jackie Shroff) is a gangster who has an empire of real estate in the National Capital Region. He is teamed up with Neena (Amrita Singh), who is his fling and partner in crime. Yashwardhan's son Ajay (Arjun Kapoor again!), who is totally insensitive towards emotions and the realities of life has seen a very wealthy life. Ritu (Saseh Agha), is one girl who is blindly in love with Ajay and puts up with his abuse. What follows is a happenstance of the twins when they find their lives tangled by the cops.
Prithviraj, the Malayalee sensation has made a good comeback after his sloppy start in Aiyya. Kudos to his Hindi and the man himself, who has what it takes to be one of the most successful rookies of the industry. Prithviraj is one such person in the movie who has lived his character quite superbly.
Arjun Kapoor as Vishal and Ajay has done well, while Rishi Kapoor comes across us as an actor par excellence who can still deliver a product so flawless. Saseh Agha does get bold and intimate in some scenes in the film, but has to have some substance. There are times in the movie when she gets very annoying with very little or no acting.
Dialogues are apt and well timed in the movie. Cinematography by Kartik Ganesh is quite laudable and makes the movie really interesting. The movie does live up to its name and fame until before the climax which is totally predictable. We're all told Aurangzeb proclaimed that 'kinship shouldn't come in the way of kingship.', which the climax of the movie does support.
In the end, we will go with 2.5 for Atul Sabharwal's Aurangzeb