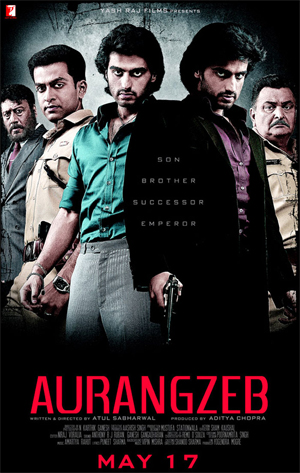 Having had a successful 2012 with his debut film Ishaqzaade, Arjun Kapoor returns to the big screen in a double role with Aurangzeb, his second outing with Yash Raj Films. Releasing on 17 May 2013, Aurangzeb also stars Rishi Kapoor, Jackie Shroff, Prithviraj and Amrita Singh, the latter returning to Bollywood after a long hiatus. Directed by Atul Sabharwal, the film is based on a real estate agent named Yashvardan (Jackie Shroff) who successfully engages in illegal activities thanks to his top associate Ajay (Arjun Kapoor). However, Ajay is eventually arrested and tortured by police and they dispatch his duplicate Vishal (Arjun Kapoor) to replace him in order to uncover what Yashvardan is up to. Little do Ajay and Vishal know that they are twins who were separated at birth. We will have to wait until 17 May to see the drama which unfolds in this film.
This is the first film to be released by Yash Raj Films without the presence of its founder Mr Yash Chopra. The celebrated Bollywood filmmaker sadly died in October 2012 following his last directorial Jab Tak Hai Jaan (2012). The music to Aurangzeb has been composed by Amartya Rahut, who has given albums like Mumbai Cutting (2011) and Vipin Mishra, who has given albums like Aloo Chaat (2009). They lyrics have been penned by three people, who include Puneet Sharma, Vipin Mishra and Manoj Kumar Nath. So let's take a look and see what the soundtrack to Aurangzeb has to offer.
The first track is Barbaadiyaan, which is sung by Ram Sampath and Sasheh Aagha. The song has a strong techno feel to it which is completely disconnected from the sounds of India. You can tell that Amartya Rahut is trying to deliver something unconventional but sadly it does not work to a great extent. The vocals were average in general and do not have much of an impact on you. It was really a one-time listen and is not a type of composition which I could listen to over and over again.
Next up we have Jigra Fakira, which is performed by Keerthi Sagathia. I love the way in which Vipin Mishra has tackled this song and he manages to give a unique style and texture to it. It has brilliant Sufi elements to it and the vocals are splendid to hear. Overall, this song is a winner and I strongly recommend that you check it out since it is one of the best tracks in the album.
Following this, we have Barbaadi which is sung by K. Mohan (Agnee). You can hear a range of western instruments being used in this song such as the piano and the electric guitar which gives it both a melancholic and rock feel to it. The vocals from K. Mohan were very strong and he manages to sing with the correct dose of passion. Although it's not your typical Bollywood song, I would advise that you give it a try since the composition works overall and has potential to grip the ears of many!
The title track Aurangzeb is next and has been performed by Marianne D'Cruz Aima. This one was really average and is slightly depressing to listen to. The music is lacklustre and does not have that oomph needed to catch your attention. However, the same cannot be said for the Rock Version of 'Aurangzeb' which is sung by Vipin Mishra. This version is youthful and full of energy and the vocals complement extremely well with the music. I very much prefer this version and is definitely another highlight of this album.
The album has quite a number of instrumentals which have all been composed by Vipin Mishra. It is highly likely that they have been composed as background music to the film for the use of specific scenes and situations. They include Trail of Fire (Main Theme), Battleground Gurgaon, The Father's Truth and Aurangzeb (Orchestral). Having listened to all four of these instrumentals, I can say that they will not appeal to anyone as of yet. Once the film has released, perhaps they will have some takers who may appreciate its use in the film. This certainly happened with me with regards to 'Ishq Dance' from Jab Tak Hai Jaan . During the pre-release promotions, this instrumental did not appeal to me whatsoever. However, after I had seen the film, I grew to love 'Ishq Dance' and now appreciate it in the same way as I do with all the other songs from this particular film. Hence, wait until post-release and perhaps the instrumentals from Aurangzeb may appeal to you.
To sum up, Aurangzeb does deserve praise for being a totally unconventional Bollywood soundtrack. There are some good moments in this album that make it worth the listen. However, I will be honest and say that it certainly could have been a lot better, had more consideration been taken into sounds and arrangement. Having said this, don't be put off from giving Aurangzeb a listen. It may just win you over!