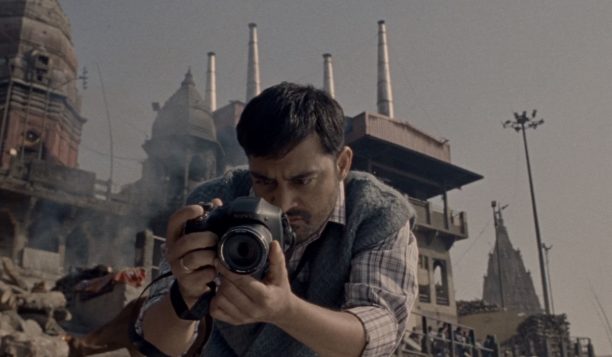 "'Tis impossible to be sure of any thing but Death and Taxes" wrote playwright Christopher Bullock in The Cobbler of Preston. And, indeed, when you are a death photographer – someone who takes final portraits of the dead before their cremation at Varanasi's burning grounds – as is Sooraj (Gyanendra Tripathi), you would probably think that you're doing a job that will always be needed. But Varanasi is a place that is changing, and Sooraj stands to see himself become irrelevant as high quality digital cameras and ever improving cameras on smart phones make it easier and faster to take pictures of great quality for mourning families. And those who worked on the ghats who find themselves irrelevent must leave or find other work. As one photographer who has given up says, "Death photography doesn't pay."
Barah X Barah ("Twelve by Twelve") looks not only at Sooraj and his profession, but documents others who work there: the barber shaving people in the corner of an alleyway; the burning ghats and those whose work relates to them, such as those who bring in the wood. The ghats are central to life, to the point that even Sooraj's son receives a school assignment to write ten observations about them. Sooraj refuses to take his son along to Manikarnika Ghat, considered one of the holiest burning ghats, noting that he thinks his son's teachers are good for nothing in creating that kind of assignment, telling his son he'll take him to Assi Ghat, a centre for scholars, foreign students and tourists, associated more with festivals than funerals.
Director Gaurav Madan chooses to divide his narrative into chapters and focus on a different person or angle rather than a using a strictly straight-line narrative. But each of these layers can have deeper or multiple meanings, as well. In the segment entitled "Son", Sooraj takes his own son to Assi Ghat, but he also talks to others as the son of a father who refuses treatment for his illness. And Sooraj's friend Dubey (Akash Sinha) is also the son of a family, and is so attached to his family home that he hugs the door. The film is about the people of Varanasi, but also about the place itself and it's changing landscape, particularly as a result of the construction of the Kashi Vishwanath Corridor, connecting the ghats and making access to Varanasi and the Ganga River easier for pilgrims to the ancient site.
The film's langorous pacing may not appeal to all viewers; however, the film with its episodic, slice-of-life view of a Varanasi in flux and the people who make this place a haven for pilgrims is well worth watching. Ultimately, the film shows us that Varanasi is a place of death, but also a place of life: people die, but before that they live, every day, in ways that reveal there are pleasures as well as sorrows in our complicated lives. For Sooraj, Varanasi chokes under the weight of life and death, and eventually he, too, must make the decision to move elsewhere with his family. In the end, the only thing certain in life is change. "Change is a great constant," says one character. "You must embrace it."
To find out more about this film and to purchase tickets to watch the film online during the virtual festival which begins today, plus to find out what else is being showcased at Indie Meme, visit https://www.indiememe.org/.