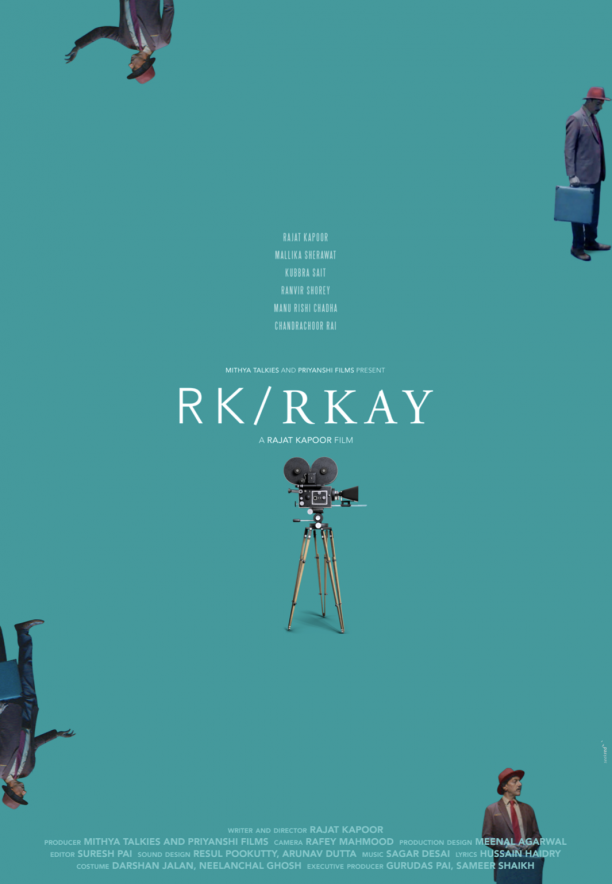 "I love the script," purrs Neha (Mallika Sherawat), the actress who will play Gulabo in director RK's film, "it's very… you." And indeed, this film production – "Mera Naseeb" (My Fate), a period film set in the fifties — *is* very RK, because RK (Rajat Kapoor) has written it, directs it, and stars in it as the film's hero, Mahboob. The production does not go as smoothly as its producer, Goel Sahab (Manu Rishi Chadha), would like. Neha has a reputation for being difficult on set, which she lives up to, unable to memorize her lines and cursing out the prompter after making the crew wait three hours while she prepares.
Despite the hiccups, the film is finished ahead of schedule (RK notes they finished the 40-day schedule in 36 days), but the producer has concerns about the film's ability to appeal to an audience. Mahboob's Urdu dialogues, for one – Goel says he can follow them, but worries about the "common man". However, Goel's main concern is that the hero of the film dies at the end, feeling that there isn't an audience for such a film. RK, however, tries to reassure him that the film will find its audience.
Despite his initial optimism, RK finds himself troubled during the editing of the film. Nothing seems to be working as he wants it to, so finally, his editor advises him to take a break from it – ten days, during which time the editor will try a cut and will call him when it's done.
RK does this – but during a lunch with his wife, where he's regaled by the waiter's witty rap that exhorts the listener to "find your soul and its keeper," (a timely thought for a director trying to figure out the soul of his film), RK receives a call from his frantic film editor. In a moment of inattention, when the editor walks away from his computer, Mahboob finds a path out of the forest where he is supposed to die, hops into a taxi, and goes missing entirely from the film.
RK is baffled – how can his lead character just disappear from the film? At first, he believes there must be some problem with the computer, that it's edited Mahboob out by some kind of glitch. But that is not the case, and RK is left with what he describes as an existential problem, one that puts pressure on the producer as well, since the film's release date is pending. So the search to find the missing Mahboob begins.
Rajat Kapoor's film is a kind of theatre of the absurd. We see RK as confident and in control of his process as the film is shooting, but the edit of the film and the disappearance of his hero serves to shock him out of a state of complacency as a director and writer. Both RK and Mahboob enter into a kind of existential dance, in which each of them must explore the meaning of their existence. For RK, it's simple: Mahboob exists only because he has created him. Everything about Mahboob, everything he needs to know, everything he says, only exists because RK has written it For Mahboob; it's more complicated than that. For him, RK only sees his characters as puppets that he can manipulate – he doesn't trust them enough to let them breathe. And Mahboob hits RK where it hurts, creatively. For Mahboob, RK has never made a good or successful film precisely because he has no faith in his own writing, and in the characters, he has created. Mahboob vows, in the end, not to return to the film with an ending he cannot accept; instead, he decides he will create his own destiny.
RK/RKAY is a meticulously crafted exploration of what it means to be a creative – Mera Naseeb, the film within a film, is very theatrical in style, and very warmly lit. When the film's characters (for even the villain makes his way into the real world) leave the film, they bring that theatricality and warm lighting with them. It's also a reflection of the self. What does it mean to be RK? To be Mahboob? And where is the line between a creative and his character drawn – if indeed it can be? RK insists that he is real, and Mahboob is not, simply because he has written everything he does or says. But his wife, Seema, challenges that. "You may have written the lines," says Seema, "but he is the one saying them". Mahboob cannot exist without RK having created him, but once created, he acts in ways that are more compelling than his creator and the author of his dialogue. Mahboob is the one who feels those words and believes them. "He's just like you," says Seema, "only a little better."
RK/RKAY is being screened on Sat. April 16th, 2022 @ 7:30PM
Venue: Austin Film Society
It also is available to stream during the online event of the festival, which runs April 22-25.
To find out more about this film and to purchase tickets, plus to find out what else is being showcased at Indie Meme, visit https://www.indiememe.org/.