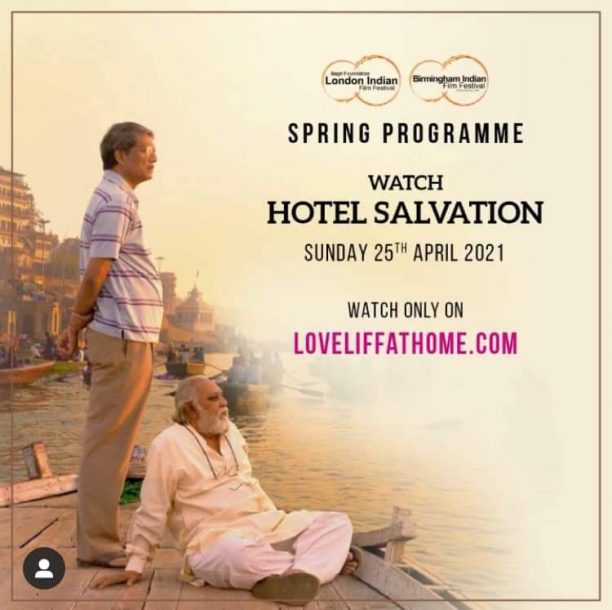 The incredible London Indian Film Festival, UK and Europe's largest South Asian Film Festival, continues to screen upbeat movies on the last Sunday of each month. Cary Rajinder Sawhney MBE, Executive & Programming Director of LIFF says, "After a challenging few months, we are bringing some much needed uplifting entertainment and as always our quality films offer fresh views of India and South Asia; movies that may even challenge and certainly leave you thinking."
Featuring, as always, some brilliant films, the 3rd film in the festival's Spring online programme is the much-loved festival hit and award-winning (32 International Awards) Hotel Salvation. The screening, for UK viewers, will take place on Sunday 25 April on LIFF's hybrid platform, www.loveliffathome.com.
A heart-warming comedy, Hotel Salvation, also known as Mukti Bhavan is a gentle charmer focussing on 77-year-old Dayanand Kumar, played by Lalit Behl (Titli, Made in Heaven), who has an ominous dream convincing him that his end is near. He takes the news to his dutiful son, Rajiv played by the critically acclaimed Adil Hussain (Life of Pi, The Reluctant Fundamentalist, Star Trek), who is left with no choice but to make the journey with his stubborn father, so that he can take his last breath in the holy city of Varanasi and end his cycle of rebirth by attaining salvation.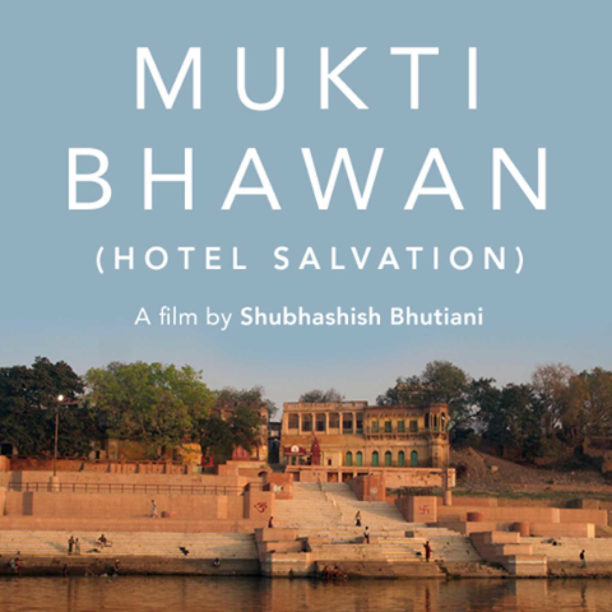 Daya and Rajiv check into Mukti Bhawan (Hotel Salvation) in Varanasi, a guesthouse designated for people to die there, but as the days go by, Rajiv struggles to juggle his responsibilities back home, while Daya starts to bloom in the hotel. Rajiv gives his father a shot at salvation but as family bonds are tested, he finds himself torn, not knowing what he must do to keep his life together. A strong supporting cast includes Geetanjali Kulkarni (Court, Sir, Bombay Rose), who plays Rajiv's wife, Palomi Ghosh (Typewriter, Nachom-ia Kumpasar) playing their grownup daughter Sunita and Navnindra Behl (Oye Lucky! Lucky Oye!, Maachis) as Vimla, a widow and long-term resident of the hotel who forms a friendship with Daya.
An added bonus on the site is that there is a very special Q&A with Shubhashish Bhutiani, whose directorial debut bagged him the Indian National Film Award – Special Mention at the 64th National Film Awards.
Our review had nothing but praise for this film: "Writer/director Shubhashish Bhutiani's first feature film is splendid on so many levels, and incredibly life-affirming despite its morbid subject matter. Daya's final words, written in his diary, are a testament to life and how it should be lived: follow your heart, because your heart knows the difference between truth and illusion, and the heart's truth will break through illusion's suffering. This, ultimately, is the key to salvation." You can read more of the review here.
Hotel Salvation (Mukti Bhawan) screens on Sunday 25 April and will be available from 3pm till 7pm and £3 tickets can be booked at loveliffathome.com.
Films from the London Indian Film Festival Spring Programme will continue on the online platform until the end of May. You can also catch up with Q&As of previous screenings including the cast, Mona Ambegaonkar & Devansh Doshi and Director, Sridhar Rangayan of Evening Shadows, which was shown in February and Kireet Khurana, Director of T for Taj Mahal shown in March.
This programme is supported by Film Hub London (managed by Film London), Film Hub Midlands and Film Hub North, proud to be partners of the BFI Film Audience Network, funded by the National Lottery. Major partners of LIFF are the Bagri Foundation and the British Film Institute (BFI).
Don't worry, the 12th edition of the London Indian Film Festival is ready to hit UK cinemas this Summer, as usual, and it will also include content on loveliffathome.com! Watch this space for all the news!