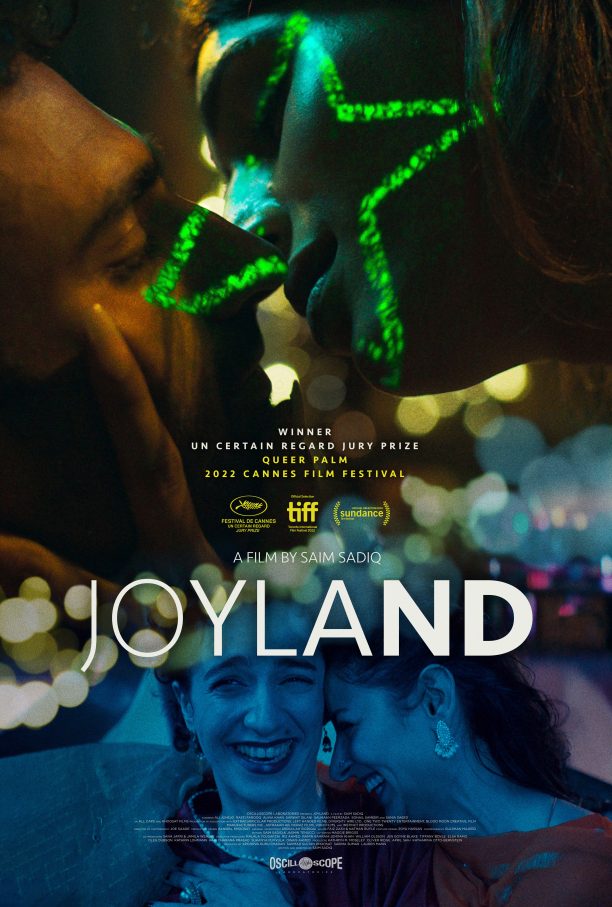 The widely acclaimed film JOYLAND, the first Pakistani feature to premiere at the 75th Cannes Film Festival in Un Certain Regard, has just won the Best International Film award at the 2023 Film Independent Spirit Awards. Starring Ali Junejo, Rasti Farooq, Alina Khan, Sarwat Gilani, Sohail Sameer, Salmaan Peerzada,
and Sania Saeed will soon be released in U.S. theaters beginning with New York on April 7, Los Angeles on April 21 plus more cities afterwards.
The debut feature from writer-director Saim Sadiq, JOYLAND explores the many sides of love and desire in a patriarchal society. Gentle and timid, Haider (Ali Junejo) lives with his wife Mumtaz (Rasti Farooq), his father, and his elder brother's family in Lahore, Pakistan. Following a long spell of unemployment, Haider finally lands a job at a Bollywood-style burlesque, telling his family he is a theater manager, when in actuality, he is a backup dancer. The unusual position shakes up the steadfast traditional dynamics of his household and enables Haider to break out of his shell. As he acclimates to the new job, Haider becomes infatuated with the strong-willed trans woman Biba (Alina Khan) who runs the show—an unforeseen partnership that opens his eyes and ultimately his worldview, in ways both unexpected and intimate.
About the film, director, Saim Sadiq, said, " JOYLAND is a de-romanticization of a coming-of-age tale and a homage to all the women, men, and trans people who pay the human cost of patriarchy. It is also a celebration of the desire that creates unlikely bonds and the love that immortalizes them. Ultimately, it is but a heartbroken love letter to my homeland."
Adding, "I think cinema is special because of its subjective relationship with each viewer so I'd be happiest if everyone who watches it is moved, but moved in a different way. But overall, I do hope that this film allows audiences—both conservative and liberal—to allow for more compassion and empathy into the discourse for those across the aisle, especially whilst discussing complex issues such identity, desire, sexuality, and gender. I do find the conversations today have become stunted and reduced to labels and easy answers, hijacked by self-righteous tones and demands by many of us—and these attitudes aren't necessarily benefitting the people who are actually most affected by these issues. So I hope that JOYLAND provides the audiences a true moment of introspective silence first before anything else."