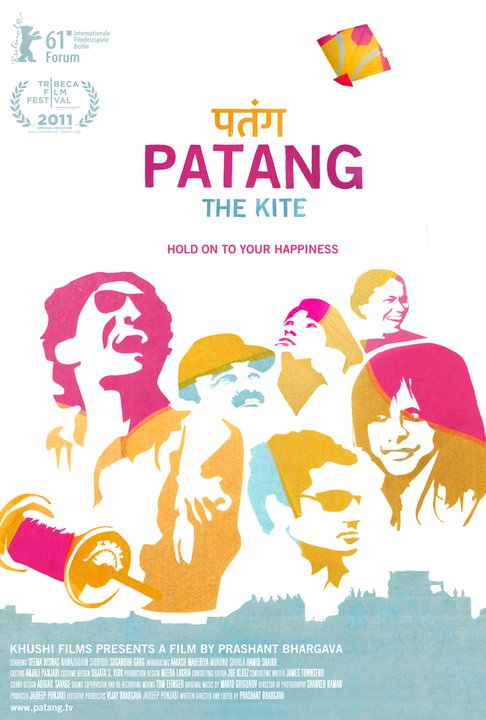 Patang is the first feature lead role of National Award winner Nawazuddin Siddiqui, star of Salman Khan's latest blockbuster KICK and indie hit Lunchbox. Nawazuddin Siddiqui recalls "Patang was a dream come true for me. I waited for the opportunity for fifteen years. The experience on PATANG transformed my acting style forever and made every role possible since."
Patang has been embraced by India's Prime Minister Narendra Modi, and critics call the film an "Anthem of Ahmedabad" (DNA Ahmedabad) hailing it as Gujarat's "most internationally-celebrated film in the past decade" (APN News).
Patang delights the senses and nourishes the spirit. In the old city of Ahmedabad, amid India's largest kite festival, a family duels, spins and soars like the countless kites in the skies above. Every year a million kites fill the skies above Ahmedabad-dueling, soaring, tumbling and flying high. When a successful Delhi businessman takes his daughter on a surprise trip back to his childhood home for the festival, an entire family has to confront its own fractured past and fragile dreams. With naturalistic performances from actors and non-actors alike, bold, lyrical editing, vibrant cinematography and a kinetic score, Patang is a story of hope and renewal.
The film's cast also includes National Award winning actress Seema Biswas (Bandit Queen, Water, Midnight's Children) and actress Sugandha Garg (My Name is Khan, Janne Tu Ya Janne Na).
Patang premiered at the prestigious Berlin Film Festival and Tribeca Film Festival, winning awards around the world including SAIFF's Rising Star award for Best Director and Best Feature, winner of the Best Feature Narrative at the HAwaii International Film Festival and Best World Narrative at the Indy Film Festival. The film had a critically acclaimed theatrical release in 40 cities across the U.S. and Canada.
"Hypnotically beautiful visuals…woven into a kaleidoscope of colors, faces, music and a little romance… MASTERFUL." – Roger Ebert, CHICAGO SUNTIMES (4 stars)
"Lovely" – Rachel Saltz, NEW YORK TIMES CRITICS PICK, NEW YORK TIMES
"Terrific Performances By Nawazuddin Siddiqui and Seema Biswas" – Rajeev Masand, CNN/IBN
"One of the most genuine films I've ever seen." – Paresh Jha, INDIA INDEPENDENT FILMS
"Visually Stunning" – Aseem Chhabra, MUMBAI MIRROR
"Uplifting… Colorfully Vivid – Reminiscent of Wong Kai Wai" – Robert Abel, LOS ANGELES TIMES
"Full of Color, Life, Energy and Hope" – Stacey Yount, Bollywood Spice
"Stunning… Bhargava handles the subject in a quiet gentle way" – Arthur Pais, INDIA ABROAD
"Gorgeous" – YAHOO MOVIES