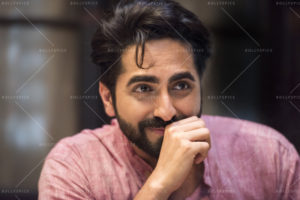 Ayushmann Khurrana is back to the big screen, this time playing a writer in YRF's romantic Meri Pyaari Bindu. The film tells the tale of, Abhimanyu Roy (Ayushmann Khurrana), a successful writer, who becomes fed up with the lack of critical appreciation for his work, and returns to his roots in Kolkata to write more meaningful literature. He decides on an old-fashioned love story – which was now, 3 years in the making. He had been experiencing writers block trying to get the story down and he knows exactly what this writer's block is called Bindu (Parineeti Chopra). How do you contain this unpredictable, crazy, restless, larger than life, live wire in the pages of a book?  So where should he begin? Where should he end? Will there be a happily ever after in the end of the book for our hero and his heroine? We will find out on Friday, May 12th!
I was able to have a very quick but fabulous chat with Ayushmann Khurrana about the film. We talked movies, music and of course Meri Pyaari Bindu. Check it out!
What was it about this character and script that made you say I have to play him?
This script is very novel. It is related to retro Indian music. You know, every particular retro song has a memory attached to it and it is that relationship between you and that retro song. It is about playlists, about mix tapes and all the nostalgic, beautiful things. It is about the relationship between these two characters Abhimanyu and Bindu from 5 to 35 years of age. That's why I thought this film was so novel.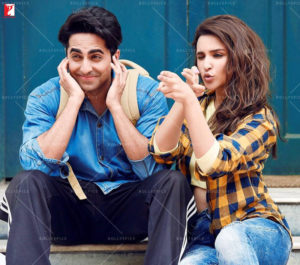 So if you had to make a mixtape of your life, say five songs, what would be on it?
So I'm a huge fan of Mohd. Rafi, Kishore Kumar, Nusrat Fateh Ali Khan and all the legends of the yore. So there is one 'Humme Tumse Pyar Kitna' by Kishore Kumar, number two is 'Dil Ka Bhanwar' by Mohd Rafi, number three is 'Pehla Nasha' by Udit Narayan from the film Jo Jeeta Wohi Sikandar, and number four could be 'Papa Kehte Hai' of Qayamat Se Qayamat Tak, and number five would be, there are a lot of songs in fact…(hums) 'Abhi Na Jao Chod Kar' by Mohd Rafi.
You are a singer so was it difficult to pretend not to be able to sing in this role?
(Laughs) Yeah. Not difficult, but quite funny in a way. Of course you love singing but here you have to pretend you can't sing. So that was the irony in this film. At the same time since Parineeti is playing a singer in this film, so I've not sung any song in this film. That's also unique, but I would love to cut my own versions of these songs when they release the film; later maybe.
It must have been interesting when you are doing the song sequences and you are lip-syncing and both of you singing that must have been really cool. Do you think is it easier to lip-synch because you are a singer?
Yes, it was cool. I think if you are a singer yourself you can mark certain notes, emote perfectly and really feel the tone of the song. It really helps if you are a singer. At the same time if you are a good actor – like I love how Shah Rukh Khan lip-syncs, he owns that song. It mostly depends on how good an actor you are. Identity of a singer is completely separate.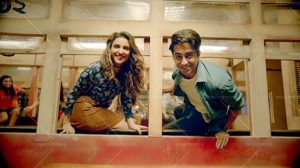 Recently you quoted Ian McKellen on your Twitter, 'Acting is a very personal process. It has to do with expressing your own personality'. How do you put that into play for yourself and when you are performing your roles?
I think till now I have taken up roles, which are close to my personality. I have had certain experiences in life. For example, Meri Pyaari Bindu is retro, you know. I have been through that generation of mix tapes and blank calls, and the usage of land lines when there was no caller ID, romancing through mix tapes and dedicating each other songs. So I've lived that life and I am just expressing whatever I've seen in the past. So I think it really helps when you have experienced something in the past, you can just incorporate that in your acting.
How was it working with Parineeti?
It was great. She is one of the natural actors, one of the gifted actors in our industry. We are quite similar as people. She is also Punjabi, like me, we have similar upbringings. We have grown up listening to old Hindi songs, and that has really affected our personalities. This film has perfect casting for it because the film is about retro songs and their relationship with old songs.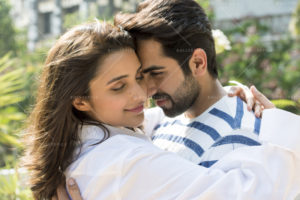 A couple of years ago, you released your book Cracking the Code. So what chapters would you add to it now about your experiences as an actor?
I missed Dum Laga Ke Haisha in that particular book and I would love to see how well Meri Pyaari Bindu does because I am very excited about the film as well. Of course I have had a lot of experiences as a live singer over the past couple of years. So I would want to cover that as well in the book. So I am evolving as a performer. I have evolved in the past two years as a stage performer. As an actor also I have evolved. So I think I have lot to say. But at the same time I am writing columns for DNA publication in India. It is a fun experience and it's a good expression to have as a columnist.
What drives you as an actor?
I think anything can drive you an actor from the highs to the lows to even the mundane things in life. Anything can drive you as an actor. Anybody can inspire you as an actor. I think life inspires me as an actor. The small little things because the kind of films I do, they are slice of life, they are real, they are rooted. The simple joys of life inspire me.
Be sure to catch Ayushmann Khurrana along with Parineeti Chopra at the cinema this Friday!